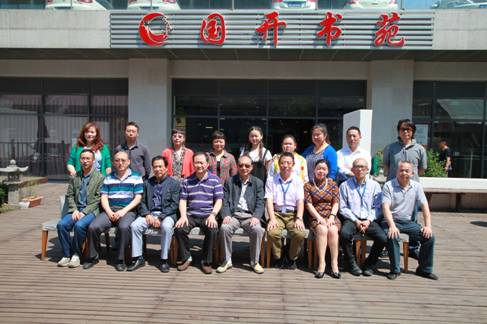 May 16, 2015 witnessed a cooperative forum held at the Wukesong campus of the Open University of China (OUC) between the OUC Painting & Calligraphy Art Education Research Institute (hereinafter referred to as the "Institute") and Yunbaozhai – a renowned collection of the four Chinese study treasures (brush, ink, ink tablet and paper) from Anhui province, which showed that the Institute was taking the first steps in providing a service function.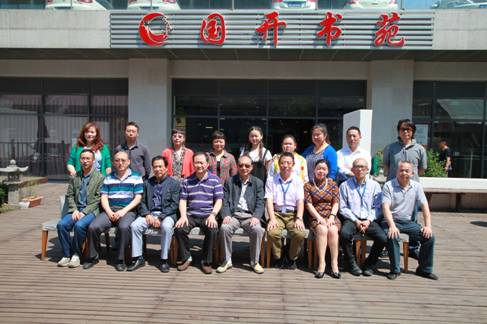 Mr. Liu Chen, Vice President of the OUC noted at the forum that the Institute based its orientation and functions on education and had set its six work goals as follows, i.e. conserving Chinese civilization, spreading excellent Chinese culture and teaching Chinese calligraphy and painting skills; constructing two platforms, one for professional artists and collectors and the other for art educators and art lovers, cultivating the art lovers through the platforms, attracting the public to join in the calligraphy and painting activities; meanwhile providing services for calligraphers, artists, collectors and art lovers. The cooperation with Yunbaozhai is the very first step that the Institute has taken in its role as a service provider. The OUC and the Institute work in a positive way to cooperate with external organizations and enterprises in many directions and through many channels so as to push forward the development of the cultural industry in West Beijing and create favorable social effects. 
Attendees to the forum included Ms. Zhang Chunhuan, General Manager of Yunbaozhai, Mr. Gao Runxiang, Chief Inspector of Art, Mr. Huang Yong, Director of doudier.com and special guests Liu Jian, Former Vice Minister of the Ministry of Agriculture, Fu Shuangxi, Vice Chairman of the National Foundation for the Aged, Yang Yongdong, Director of China National Radio, Xiao Sanxi, a calligraphy teacher from Haidian Worker University, among others. Related personnel from the OUC and researchers, i.e. Huang Dachun, Yang Jing, Wang Weijun and other colleagues from the Institute, also participated in the forum. Suggestions were discussed and proposed relating to the orientation and development of cooperation between the Institute and Yunbaozhai.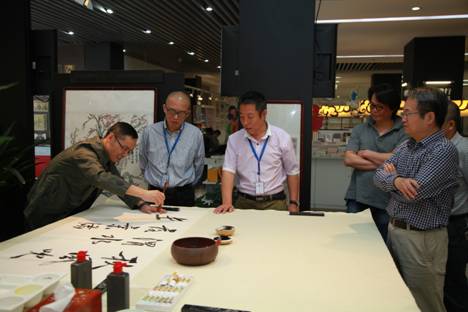 Exchanges of calligraphy and painting skills between the forum attendees
                                                                                                          By Xu Hang, the OUC