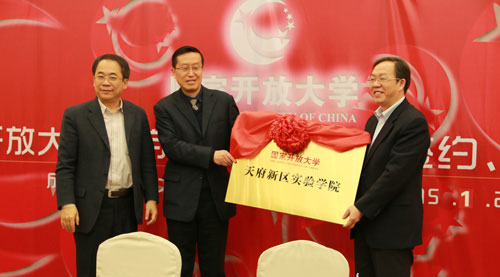 On January 24,2015, the Open University of China (OUC) and Chengdu Radio and TV University (RTVU) signed an agreement to jointly establish an OUC Experimental School in Tianfu New Area. President of the OUC, Mr. Yang Zhijian, and President of Chengdu RTVU, Mr. Zhou Jiping, signed the cooperation agreement. Mr.Yang Zhijian delivered the plaque to the Experimental School.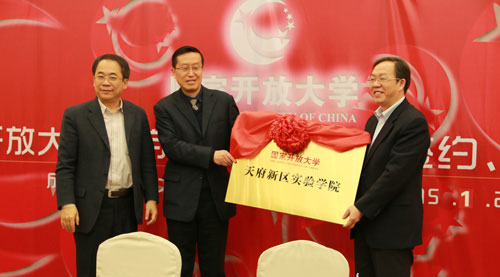 Mr. Yang Wei, Consultant to Chengdu Municipal Government, Yang Zhijian, President of the OUC, and Mr.Yao Kai, Deputy Director of Chengdu Municipal Education Bureau, addressed the signing ceremony.

Yang Zhijian expressed that the OUC and the Experimental School in Tianfu New Area would promote community education, the training of new migrant workers, and the training of front-line industrial workers and service staff, all of which are closely related to the promotion of national quality and the construction of a learning city. The Experimental School will positively participate in the construction of related courses, majors, training projects and learning resources for the OUC, according to the real requirements of enterprises and industries in Tianfu New Area.

Chengdu RTVU will use the OUC Experimental School in Tianfu New Area to organize and implement the OUC's Assistance Plan for Training and Developing New Industrial Workers and the "One College Student per Village"Scheme, and launch relevant teaching reform pilot programmes according to the real situation of the Experimental School.

The establishment of the OUC Experimental School in Tianfu New Area will construct a new platform for exploring promotion models for new industrial workers in Tianfu New Area, speeding up the transformation and upgrading of human resources, and stimulating the construction of a learning city.

                                                                                                           By He Jing, the OUC