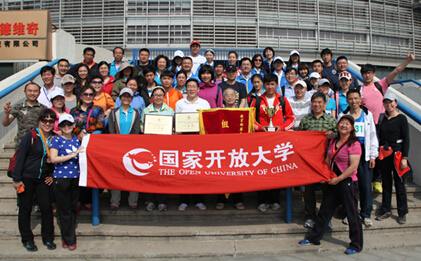 The Ninth Staff Sports Meeting of the Ministry of Education (MOE), a biennial sports event, was held on April 29 in the Beijing Olympic Sports Centre. The OUC continued to achieve good results, including placing third in total team score, as well as taking home the Best Organization award and the Advanced Propaganda Work award.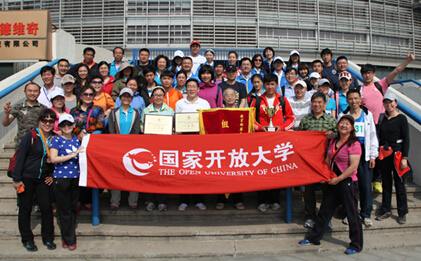 The OUC sent a delegation of more than 150 people to the meet in order to compete in more than 40 games. Among them, there were not only "green veterans" like Liu Shaohong from the Academic Affairs Department, Hou Ke from the School of Continuing Education, Mei Nan from the Department of Teaching Resources Management, Shi Xiuying from the President's Office, Liu Guo from the Retirement Office, and Wu Peng from the Press, but also "game rookies" like Wang Yuting from the Press and Zhao Dongwei from the Academic Affairs Department, who were new comers in the school; there were not only doctorate players like Dong Jiang from the School of Arts and Law, Li Song from the Academic Affairs Department, and Han Yi from the Experimental School, but also professor players like President Assistant Yang Xiaotang and Gu Jingxiang from the School of Education. They started training very hard before the games and went all out at the competition, which fully exhibited the OUC staffs' inspiring fighting will and the uplifting spirit. 
In the team event of Taijiquan held on April 18, the Taijiquan team of the OUC did very well and won first place. Also in the team sport of radio calisthenics held on the April 17, the radio calisthenics team of the OUC took second place.
Good results came from fine organization and preparation. The OUC has set up a leading team under the direction of two vice presidents, Li Ling and Zhang Hui, who provided full support in every aspect for the games. Every department in the OUC also took part in it in an active manner, which was a powerful guarantee of their good performance. 
Writer: He Jing
Photographer: Yu Zhangli  Yu Minsheng  Wang Shuo