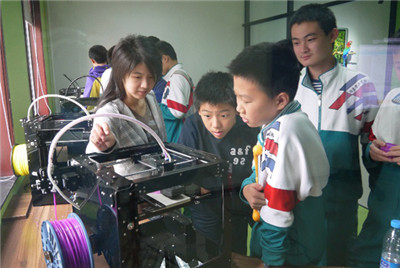 On October 25, 2014, the i-3D Print Experience Room designed and constructed by the OUC was officially put into use. Under the instruction of staff from the Research and Development Centre for Digital Learning of the Open University of China (OUC), more than ten teachers and students from Beijing Jingshan School learned about the operation of 3D printing technology, experienced the magical effects of the technology and printed 3D models in the Experience Room, which is located at Zhongguancun College in Haidian District.
3D printing has had a revolutionary impact on the traditional manufacturing industry. It has been deemed "an important productivity tool of the third industrial revolution" and has become a new benchmark for international science and technology competitiveness and the direction of international industry revolution. The "Horizon Report", released by the American New Media Alliance, has predicted that 3D print technology will become the mains technology influencing education in the next two to three years. 
The construction and design of the i-3D Print Experience Room explores the innovative application of new technologies in education with 3D print technology as the starting point. It is guided by the "i-Experiment" teaching model put forward by Researcher Zhang Shaogang, Director of the Research and Training Centre for Community Education under the Ministry of Education (MOE), and Vice President of the OUC. Its teaching activities focus on solidarity and cooperation, which embodies students' collective wisdom. It terms of teaching organization, it creates a teaching environment based on multi-network intercommunication and emphasizes the integration of the online and offline learning experience. Teaching methods focus on combining sensibility and rationality. 
i-3D Print Lab focuses on the three objectives: "Popularizing 3D printing technology", "The use and practice of 3D printing equipment" and "3D design innovation and creation". It is a new experience space combining educational interaction, design creation, operational experience and product display. The i-3D Print Experience Room is made up of the "Educational Interaction Zone", "Scanning and Design Creation Zone", "Operational experience zone" and "Product Display Zone". It is equipped with 3D printers, three-dimensional scanners, high-performance computers and 3D print consumables (for example PLA resin). As a complement and expansion to the physical lab, the online i-3D Print Lab (http://www.i-3d.org.cn/) has created sections to match each functional zone in the physical lab and releases news and resources about the newest international technologies and research into 3D printing, so that learners can follow the real-time development of 3D printing, participate in 3D printing competitions, appreciate relevant exhibits, obtain learning materials, download 3D models and set up groups to communicate with each other. 
The i-3D Print Experience Room of Zhongguancun College has also become the first offline experience room. Wei Shunping, the deputy director of the OUC Research and Development Centre for Digital Learning, said that more and more offline experience rooms will be developed in the future.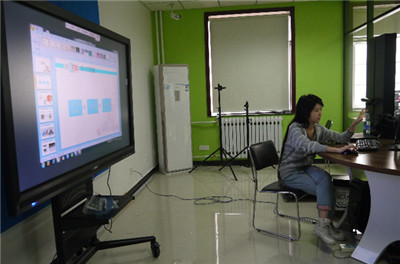 The i-3D Print Experience Room guidance and teaching zone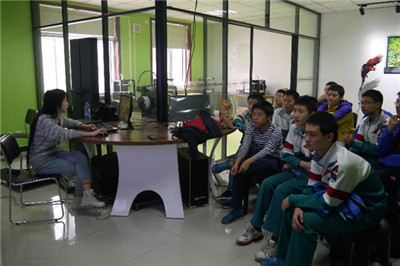 Students attend a lecture in the i-3D Print Experience Room guidance and teaching zone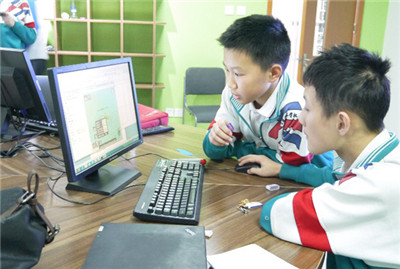 Students experience the slicing and outputting of a 3D model in the i-3D Print Experience Room design zone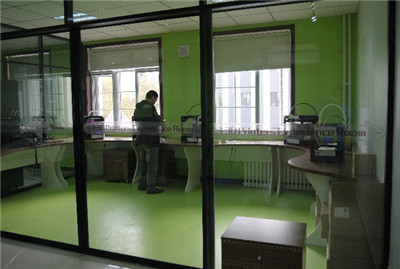 The i-3D Print Experience Room printing zone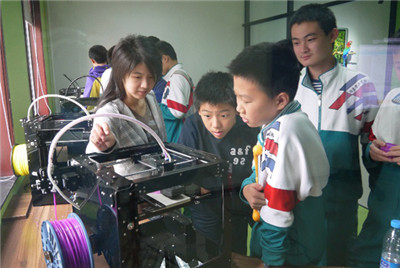 Students observe the printing process in the i-3D Print Experience Room printing zone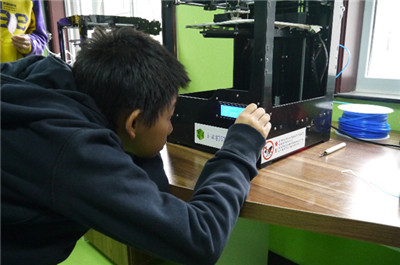 A student operates the printing machine in the i-3D Print Experience Room printing zone
By Wei Shunping, the OUC