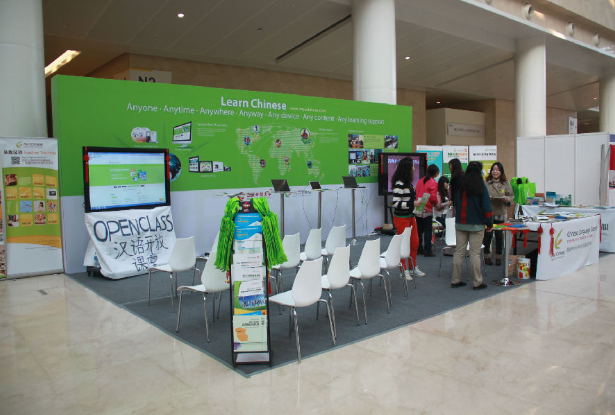 During the 25th International Council for Open and Distance Education (ICDE) World Conference held at the Tianjin Meijiang Convention Centre on October 16-18, foreign representatives could be
 frequently heard practicing Chinese phrases including
nihao
(hello),
xiexie
(thanks),
zaijian
(goodbye),
renshi ni hen gaoxing
(nice to meet you)
and more with their Chinese counterparts. They even began speeches with
nimen hao
(hello everyone),
shangwu hao
(good morning) or
xiawu hao
(good afternoon) to engage audiences at meetings. Learning and speaking Chinese took the ICDE conference by storm, with the "Chinese Open Class" launched by the Open University of China's (OUC) Chinese Language Centre at the center of this craze.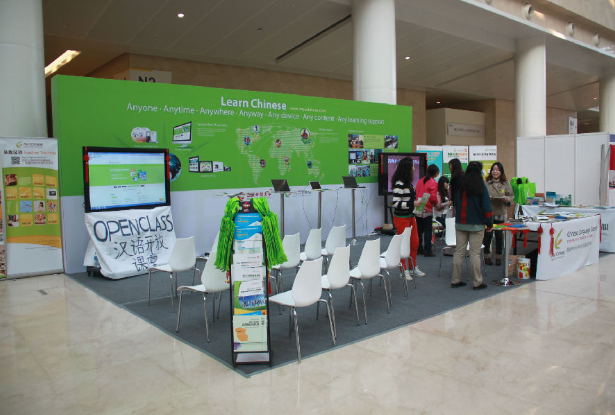 Take a look at our stall!
Every "Chinese Open Class" was full 
On the green wall was written: "Learn Chinese, Anyone • Anytime • Anywhere • Any way • Any device • Any content • Any learning support." The Chinese teachers, all of whom were youthful with overseas teaching experience, allowed "students" with virtually no Chinese speaking ability to make rapid progress through their special teaching methods. MyEChinese presented a uniquely blended learning mode. Holding class while having tea, the "classroom" of fewer than 30 seats was almost full.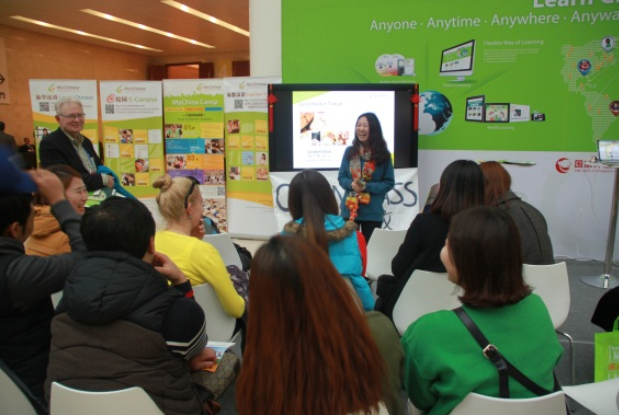 Too late to find a seat, isn't it?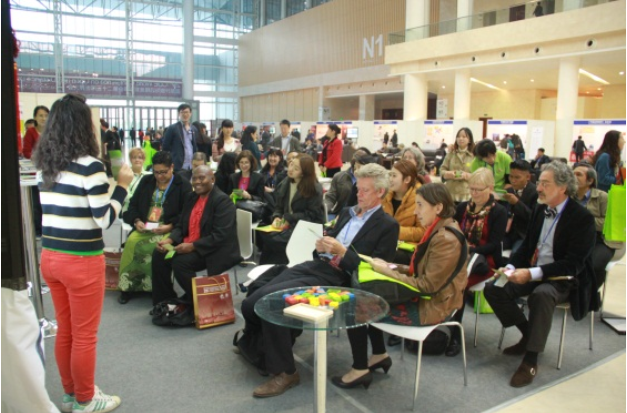 It's a full house at the "Chinese Open Class"!
"To survive, learn Chinese"
The Chinese Language Centre at the OUC specially compiled a pamphlet titled Golden Words to Survive in Chinese for foreign representatives. With 10 refined Chinese sentences and 10 classic Chinese situational dialogues ranging from simple greetings to seeking help in an emergency, it provides everything you need to survive. A continuous stream of visitors came to the stall of the "Chinese Open Class". Yang Zhijian, president of the OUC, was also attracted by the warmth and enthusiasm of the class and sat in as an observer. Yan Bing, vice president of the OUC, chimed in by joking: "Are you telling us to 'learn Chinese to survive?'"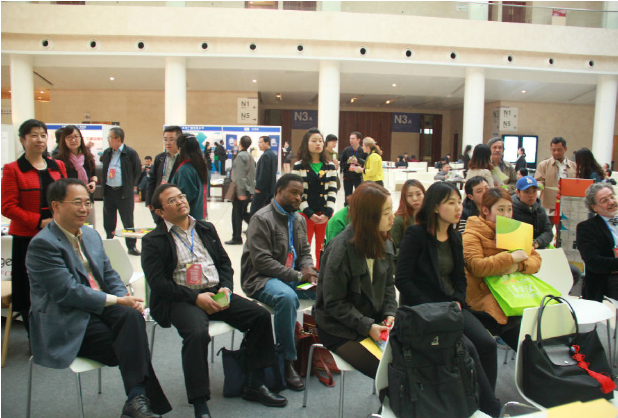 Yang Zhijian (seated far left), president of the OUC, observes the open class.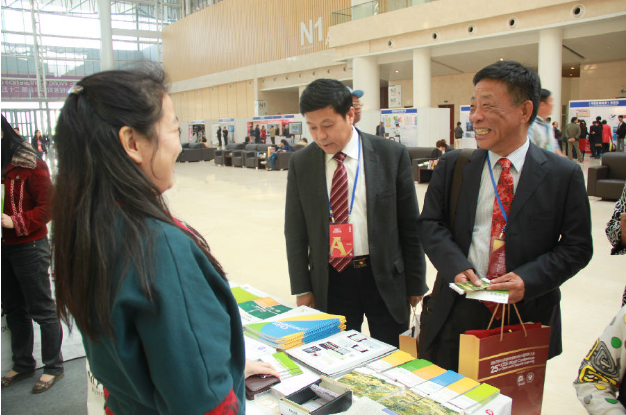 Yan Bing (right), vice president of the OUC: "Are you telling us to  'learn Chinese to survive?'"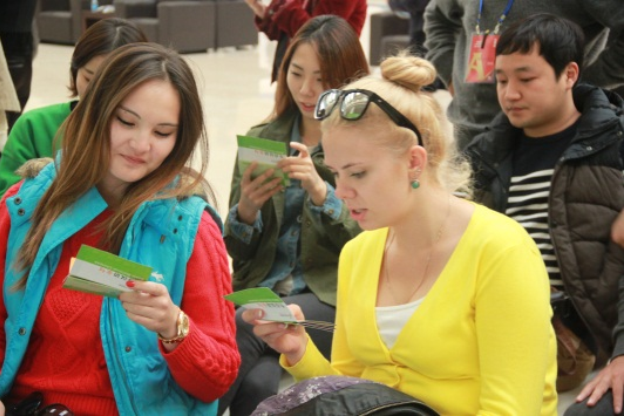 These sentences are useful! Let's learn them right now.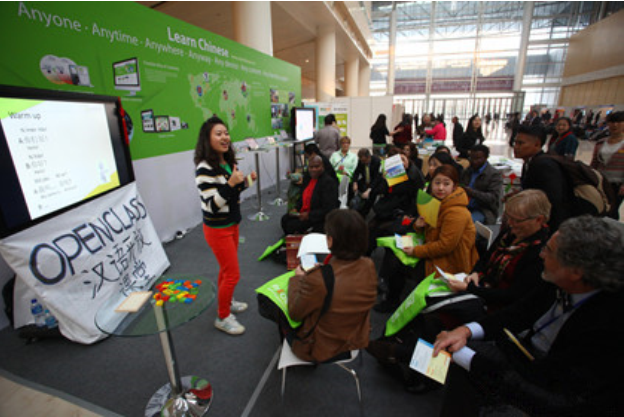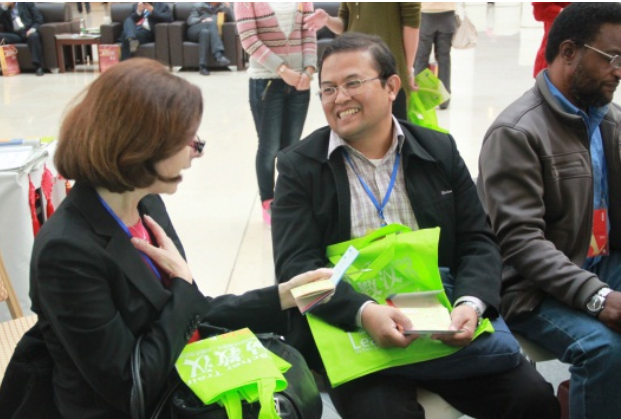 Learn to practice, practice to master. Put what has been learned to use!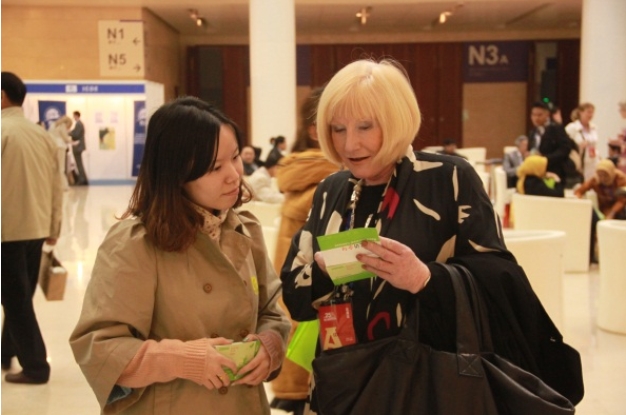 May I ask how to pronounce this sentence? 
To experience Chinese culture 
While the open class attracted many foreign representatives, at the exhibition area of the OUC Chinese Language Centre many cultural activities were being held. These included games, calligraphy, spelling block puzzles, crosswords, quizzes with prizes and more. Many Chinese representatives attended during tea time to participate in activities or engage with foreign representatives on language and culture. It was a bustling scene characterized by a fusion of Chinese and Western cultural exchanges. Zhang Shaogang, vice president of the OUC, greeted staff and tried his hand at a spelling block puzzle.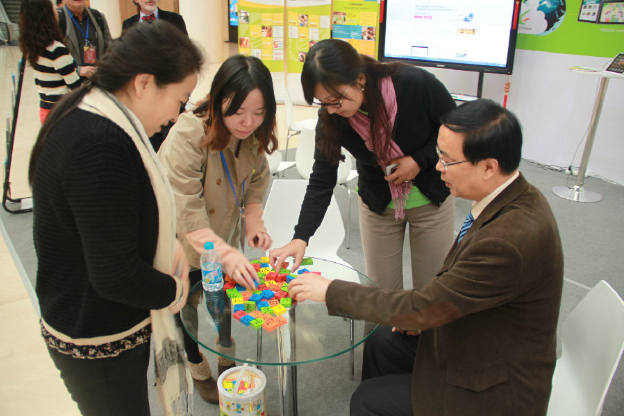 Zhang Shaogang, vice president of the OUC, participates in a spelling block puzzle.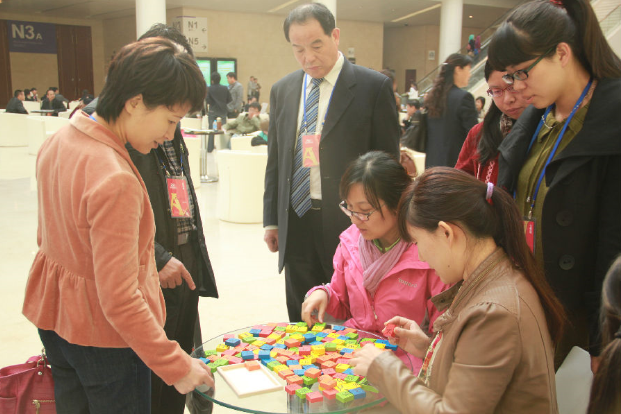 Chinese representatives focus on solving a spelling block puzzle.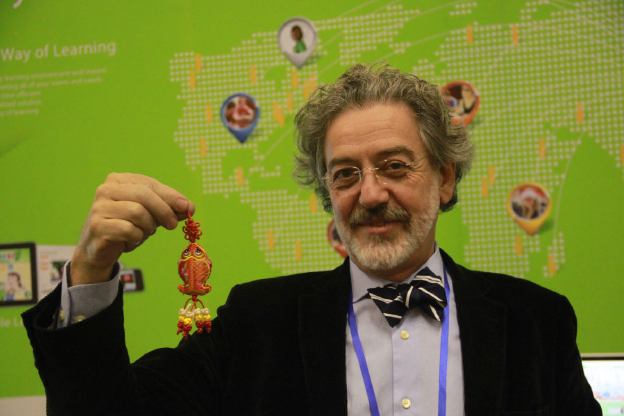 Paulo Maria Bastos da Silva Dias, president of Portugal Open University: Look at my prize! 
Some representatives who had come from afar brought their children to the conference. Whether Chinese or foreign, all found fun and interesting things to do at the open class. Parents felt at ease leaving them in care as they attended the conference and participated in discussions. They picked up their children after the conference concluded. The open class thus served a new function – a "temporary nursery" for representatives!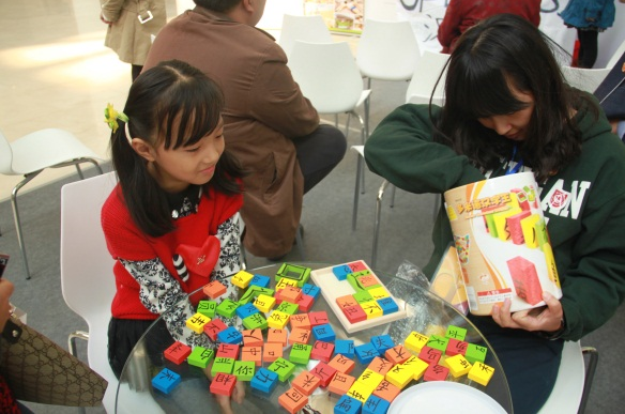 Sisters solve the mystery of a spelling block puzzle.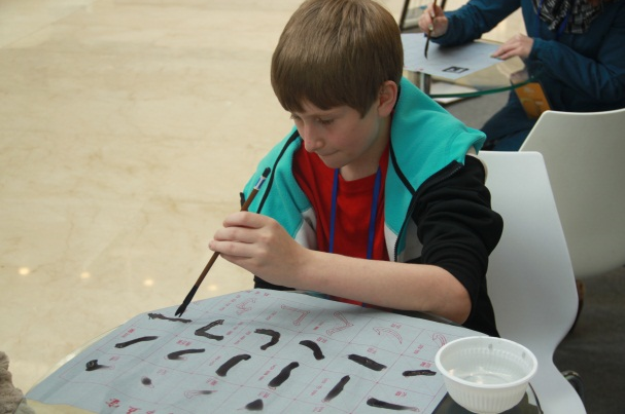 An American boy uses a brush to practice calligraphy strokes for the first time.
As one of the OUC's forms of sponsorship at the conference, MyEChinese provided foreign representatives with free online Chinese language courses. This is the first time that the host has provided foreign representatives with learner and support services related to a local language in ICDE's 75-year history.