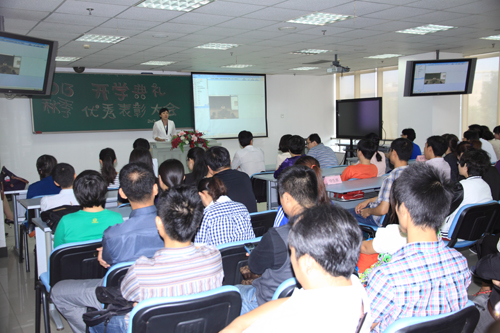 On September 14, 2013, the Open University of China (OUC, aka China Central Radio and TV University, CCRTVU) Beijing Study Centre held its autumn opening ceremony and commendation
 rally for outstanding students. This is first time that the Beijing Study Centre has used cloud technology and two-way video technology at this kind of event, helping the new students to experience the deep integration of
modern information technology and education, which is one of the unique charms of open and distance education. The Beijing Study Centre Weigongcun campus; the teaching unit of the Statistical Learning Centre (new for autumn 2013); the learning unit of Beijing Wantong Automobile School; and the learning unit of the Weishanzhuang meeting centre all took part in the ceremony.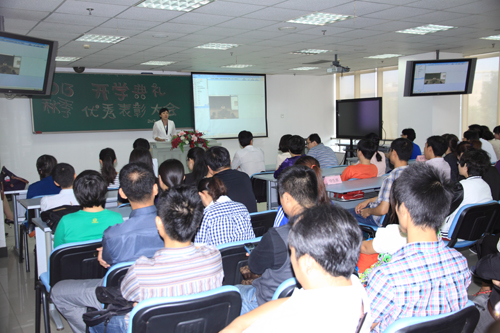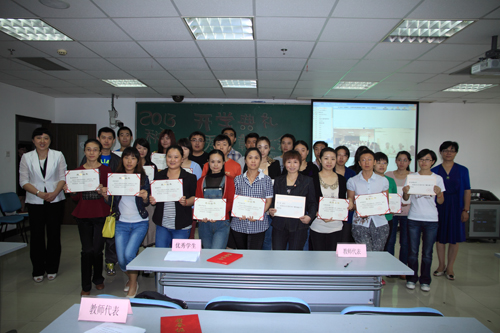 A promotional video for the OUC was played at the conference to help the new students understand the history, evolution and characteristics of the university. 
Chen Juan, dean of the OUC Experimental School and Han Yi, vice dean, awarded certificates and prizes to 2012-2013 Outstanding Teachers, Outstanding Teaching Staff and Outstanding Students of the OUC Beijing Study Centre; 2012 scholarship holders; and 2012 Outstanding Graduates.   
The award recipients and new student representatives gave speeches at the event. Zheng Mingwei, winner of the 2012 CCRTVU (OUC) scholarship, spoke about his experience of open learning. He reminded the new students to set study goals in advance, to create a study plan, and take an active part in teaching activities and group discussions. The student representatives from Weishanzhuang campus, the Statistical Learning Centre's teaching unit, Beijing Wantong Automobile School's learning unit, and Weishanzhuang conference centre's learning unit all gave speeches. With the help of two-way video technology, the representatives were able to hold active exchanges over distance. They asserted that, despite their different industries and job positions, they had the same aim of bettering themselves. They chose the OUC Beijing Study Centre because they believe that its advanced teaching concept, distinctive learning patterns and high quality learning resources would help them to finish their studies as soon as possible.   
Chen Juan said that she had four main hopes for the new students. The first is that they cherish this opportunity and try to achieve a good work-study balance, so that they can successfully finish their studies. The second is that they adjust to this new form of study and foster good study habits. The third is that she hopes the students can work with the Beijing Study Centre's teachers to contribute more extensive, long-lasting learning resources to the OUC by doing valuable experiments and forming good learning patterns. Lastly, she hopes that they comport themselves appropriately and realize a successful career.      
By Xu Gang, Hu Xiaoyu, Xie Ke, the OUC