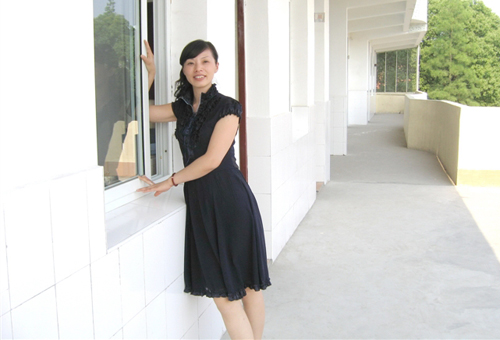 Guo Shirong, 34, is a female rural mathematics teacher. She teaches Class One of Grade Six at Yuxian Township Primary School in Caidian District of Wuhan, Hubei Province.
 During the 2011 autumn semester, she enrolled as a major in the undergraduate Chinese Language and Literature programme at Caidian School of Wuhan Radio and Television University (RTVU).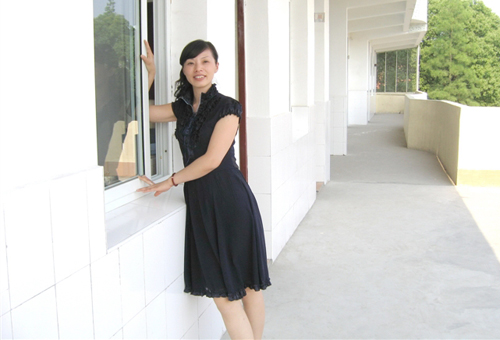 As a young teacher, Guo was troubled by the limited knowledge her job offered her. She therefore decided to return to school during her spare time – a pursuit that allowed her to study diligently and navigate a vast sea of knowledge. Guo's clever pair of hands set to work depicting a beautiful picture of youth. She set a good example as a skilled craftswoman at the top of her class. Guo's wisdom and innovation transformed her into an outstanding teacher at the forefront of educational reform.
Ⅰ. A good example — enriching life by learning
Since she enrolled at RTVU in September 2011, Guo has led a busy yet fulfilling life. From Monday to Friday, she teaches during the day and studies online at night without interruption. On Saturday, she attends face-to-face tutorials that she has never missed. On Sunday, she fulfills her course assignments without a hint of slackness. When colleagues invite her to go shopping, she declines and says she has no time. When classmates ask her to join them in seeing a movie, she tells them she has another task at hand.
Guo not only studies diligently, but also has her own unique study methods. When attending face-to-face tutorials, she listens with unwavering attention, underlining and making notes about focal points for later review. At home, she makes full use of online learning resources. This includes browsing the open education homepage of China Central Radio and Television University (CCRTVU) and accessing learning guidelines and information related to teaching, examinations and learning resources. Guo also adjusts her own study schedule and strategies accordingly. She joins in discussions hosted at online teaching and learning forums, communicating with teachers and classmates about problems and other issues related to her course. Guo also keeps in touch with her teachers and classmates via e-mail to seek their guidance and help. 
Her husband once asked her, "What are you so serious for? Do you strive to be outstanding?" But Guo just smiled and replied, "I feel fulfilled and happy! Don't you want me to be happy?"
Like a brave seagull soaring over a sea of knowledge, Guo feels empowered and happy.
Ⅱ. A clever class leader — providing love and warmth in classes 
On the first day of the new school term on September 1, 2011, Guo was worried when Wei Lishuang, a male student, failed to register for her class. After school ended that day, Guo hurried directly to Wei's home, a thatched mud house measuring less than 20 square meters nestled by a pond without electricity. The home had just a small stove and bed inside. Young Wei's grandmother told Guo that they were from Anhui Province. She recalled how Wei's father had passed away a few years earlier and that his mother had abandoned him to make a living by herself. Now, Wei's grandparents were responsible for raising him and another young grandchild. Wei's grandfather, a pig breeder, had been hospitalized a couple of days earlier after clashing with a crazed hog that broke several of his ribs. Upon learning young Wei was not attending school because the family lacked money, Guo immediately stressed that schooling was the most important thing for the boy. She said she would lend a helping hand to the family and take care of Wei's living costs so that he could return to school.
When Guo returned home that evening, she wrote in her blog what she had seen, heard, thought and felt. She asked for help from the public, and called on warm-hearted people to assist the poverty-stricken family. After reading her blog post, several parents with children at Wuhan Yucai Primary School contacted Guo and expressed their willingness to help. Guo, who had taught at Wuhan Yucai Primary School for one year as part of an "exchange study" program, remained popular with students and their parents, who didn't hesitate to help. A few days later, they sent schooling supplies for Wei and donated 3,000 yuan ($490) to cover his living costs. When Guo presented the supplies and money to Wei's grandmother, she was moved beyond words other than to repetitively say "thank you". Young Wei's eyes welled with tears.
Since then, Wei made obvious progress. He performed well in his assignments and undertook a greater share of housework. Wei even embraced the role of "guardian" by escorting younger students across the road and warning them not to run or play near traffic. His deeds demonstrate his gratitude toward society.
Guo is very receptive. She can always spot changes in students' behaviour, and is able to read their minds and aspirations.
On the eve of Children's Day in 2012, the attentive teacher found that several of her young students seemed to be preoccupied. She assumed that this was due to the advent of Children's Day. Many children had already received presents from their parents, but not the "left-behind" children of migrant workers in her class. These children didn't even have their parents' company, let alone gifts. Guo's assumption was later confirmed by indirect sources, so she decided to act as a surrogate mother to the "left-behind" children to ensure they had a happy Children's Day. On June 1, Guo ensured they were dressed in their best clothes and took them to Hankou, a Yangtze River port town. They played together in Jiangtan Park, browsed stores at the mall and ate at McDonald's. The children enjoyed themselves so much that they all had smiles on their faces throughout the day.
Through her words and deeds, Guo connects with each child in her class. Children learn gratitude, love, solidarity, cooperation, tolerance and understanding. Countless examples of upstanding students serve as testament to Guo's influence, as does class cohesion and unity. In 2012, her class was lauded as an "Advanced Class of Wuhan".
Ⅲ. A teaching expert — helping students master mathematics
Guo is a teaching mastermind. Her passion for teaching mathematics draws students into the curriculum. Her teaching philosophy is for students to "play well" with mathematics. She always tries her best to liven up normally dull theory lessons so that students can learn more easily. Sometimes this is done by teaching mathematics through magic tricks, which stimulate students' interest in learning and arouses their curiosity. Other times she organizes games to make theory more fun, with students often mastering relevant knowledge subconsciously. Her mathematics classes are always lively and interesting.
She is a close friend of the students. To reduce their workload, she tries to set a "limit" to assignments by providing clear targets. For example, she will ask students to measure the playground by themselves to see firsthand the length of 10 or 100 meters. She also asks students to make cylinders and cones by themselves to learn laws in comparison and identify both shapes' differing dimensions. 
Many teachers instill a fear of failure among their students, however making mistakes isn't taboo in Guo's classes. She believes that only by making mistakes can students learn and grow. She always turns children's mistakes into a valuable teaching resource, helping them understand where they went wrong and encouraging them to learn how to solve problems.
Through such training, her students are able to "play well" with mathematics. They fall in love with mathematics and gradually form good learning habits. Overall class results have gradually climbed from the bottom to the top of the township's ranking list. Some students have won numerous awards at various academic competitions at the district, city and provincial levels.
Ⅳ. A teaching reform pioneer — reflecting teachers' glory in children's performance
As a young teacher, Guo is a vanguard of the education system and its reform with her active thinking and courageous, innovative spirit. In 2011, she undertook the sub-topic Studies on Effective Cases of Mathematics Class Teaching in Primary Schools under a provincial topic related to her studies. Naturally, she became busier. Her son affectionately called her the "queen of occupation". Since she was not able to study at school, she took home her relevant course work. She spent every day at home scouring through books, searching for relevant materials online and writing case analyses or reflections on classes. She became so absorbed in her studies that she remained busy late into the night. She would "occupy" whatever she immersed herself in, even if it made it hard for others to be close to her.
"She is an excellent teacher, but not a good mother," Guo's husband said. One day last winter, her husband didn't come home until after 11 pm because he had worked overtime. When he arrived home, he found Guo was immersed in a research report and their son had fallen asleep on the couch while watching TV. Guo was unaware that the boy had developed a cold until the next day.
Guo's husband became angry, and questioned whether it was necessary for her to be so devoted to teaching research and reform even though she wasn't an expert. She answered, "I am a teacher, and it's a teacher's duty to ensure students learn more easily. A teacher's glory lies in their students' performance."
Furthermore, Guo has set up a family education QQ group that has attracted many young parents to address Internet addiction among young people. In the group, she gives advice on how to get along with Internet-addicted children and how to guide their learning. She also recommends to parents useful books on the matter that she has read.
"No pain, no gain" defines Guo's teaching philosophy. Her efforts have been rewarded, with leaders at all levels and departments recognizing her hard work and achievements. In February 2012, she was honored with the inaugural "Good Teacher in My Mind" award of Wuhan. In May 2012, she was runner-up in the inaugural "Curriculum Teaching Competition" of Wuhan. In September 2012, she was named "Disciplined Teaching Leader in Caidian District". In October 2012, she won first prize in the Contest of Quality Mathematics Classes in Caidian District Primary Schools. In 2013, she was named among the "Top Ten Youth Volunteers of Caidian District" by the Caidian District Committee of the Communist Youth League of China. Guo has won many other awards from the district, city and province for essays and case studies written by her.