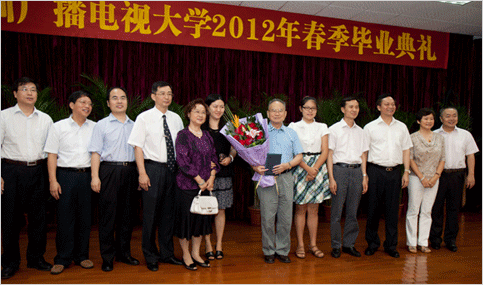 At Shenzhen Radio and TV University's (Shenzhen RTVU) graduation ceremony held on May 20, 2012, 78–year-old Wu Liangmei received his certificate of graduation and made his college dreams come true.
Wu Liangmei is the oldest student ever to graduate from Shenzhen RTVU and the oldest undergraduate student in the city of Shenzhen. In 2005,
Wu decided to fulfill his dream of going to college and enrolled in Shenzhen RTVU's associate degree programme for administrative management as a septuagenarian, graduating in 2007 with excellent marks. Thereafter, he applied for the undergraduate law programme at Shenzhen RTVU in the fall of 2008 and successfully completed his studies this year.
At the graduation ceremony, Wu spoke emotionally about how his long-cherished dream of going to college was always deterred for various reasons. After the age of 70, he happened to learn that radio and TV universities offer open education with no age limitation for applicants—he still had a chance to go to college. He thus registered for the administrative management programme at the Shekou campus of Shenzhen RTVU. Mr. Wu vowed to make his university studies a second start in life and to pursue a new career.
By Shenzhen RTVU