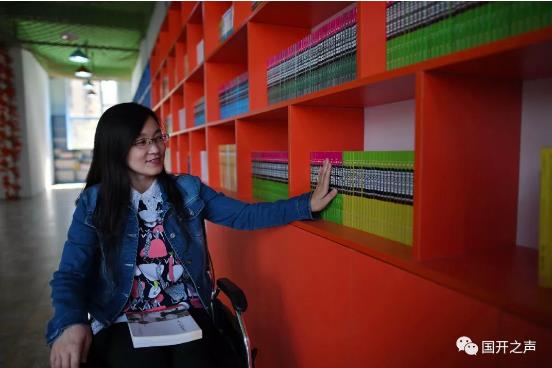 Li Fengyan, whose pen name is Li Ziyan, is a member of the Communist Party of China, and comes from Yushu city, Jilin province.
She is an assistant to the director of Publicity and Culture of the Jilin Disabled Persons' Federation, a member of the China Writers Association, president of the Jilin Disabled Writers Association, vice president of the Jilin Disabled Persons' Literature and Art Federation, a member of the Changchun Writers Association, president of the Yushu Writers Association, and a member of the Yulin Committee of the Chinese People's Political Consultative Conference.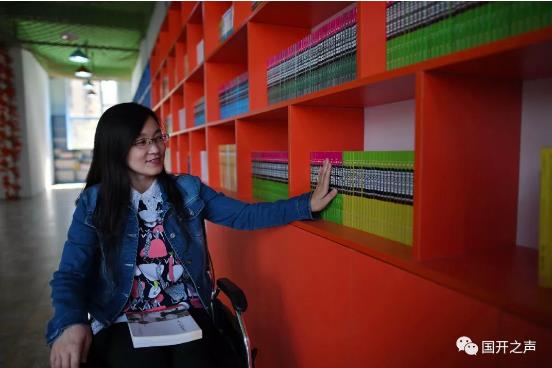 In March 2011, she began her studies at the School of Special Education of Changchun Radio and TV University (now the Changchun School for the Disabled of the Open University of China) in the junior-college Social Work programme, graduating in September 2013. At that time she became a Social Work undergraduate, and received her degree in March 2016. By then, her book "Longing for the Sky" had been published by the China Central Radio and TV University Press.
Given wings by her loved ones
She was born into a farm family in Yushu city, and a car accident when she was 18 led to her being paralysed from the waist down. She struggled against despair, but found new meaning in life through writing, and the encouragement of those closest to her. She is called "a contemporary Zhang Haidi".
Hard work rewarded
Li Ziyan is the only disabled person in the China Writers Association from Jilin province. She works for the China Written Works Copyright Society, the Yanbian University Press, and the China Writers Association, and in 2016 was named a special editor of Warning Line Magazine by the Jilin Provincial People's Procuratorate.
In 2017, she was hired by Hongqi Press as a writer of books for its national "Reading Promotion for Women" activity. She has participated in the compilation of a series of books for national literary activities, and of classic studies of Chinese ancient civilization. In 2010, she studied at the Lu Xun Institute of Literature, and in 2016 her work received support from the Chinese and Jilin Provincial Writers Associations.
Extensive achievements
She has written 17 novels and hundreds of short stories totaling over 6 million words since 2008, including a long, inspirational and emotional work of fiction titled Left Hand Love, a collection of essays, Longing for the Sky, and five inspirational books for young people.
Left Hand Love was given the award for novels in the themed-competition section of the First Cross-strait Writing Contest for online literature in 2012. It was included among the themed books chosen for publication by the Publicity Department of the CPC Jilin Provincial Committee; named "a popular book of 2015" in Jilin province; and was given the first "Junzilan Literature and Art Award" by the Changchun Municipal People's Government, and the fourth "Changchun Literature Award" by the Changchun Writers Association. Changchun Radio and TV Station has been making it into a 33-episode radio play, the first of its kind, and a short film based on it was shown by Jilin TV in 2014. In 2017, she was invited to share her experiences in more than 80 libraries in Jilin during the Provincial Construction Conference of Library Engineering. In April 2018, she was named an excellent "leading reader" of the city by the Changchun Bureau of Culture, Radio, Television, Press and Publications, and the Changchun Literary and Arts Federation. In 2018, Li Ziyan, in cooperation with her son, translated three classic foreign works of children's literature, which will soon be released nationwide.
Enthusiastic about public welfare
She founded a WeChat account called "Ziyanwowo", and in May 2017 founded the "Yanwo" library in Yushu with the support of many others. It is the first private library in Jilin dedicated to public welfare, and allows users to read, borrow and purchase, as well as undertake teaching. Li Ziyan is doing what she can to popularise reading while pursuing her own work.
Li Ziyan has also taken part in programmes for the disabled run by the Changchun Disabled Persons' Federation and Changchun Radio, reaching audiences over the radio every week. She has donated proceeds from the sales of her books to disabled persons in need, and given inspirational lectures organised by the youth-league committees of Jilin, Changchun and Yushu as well as institutions of higher education, libraries, and primary and middle schools. She has been named an"excellent volunteer of Jilin province" by the Youth League Provincial Committee of Jilin, and one of the"top-10 most-outstanding volunteers" by the Youth League Municipal Committee of Changchun.
An inspiration
Her inspirational deeds have been reported on three times by CCTV, and major media such as People's Daily and the Xinhua News Agency have also run big stories about her. Her novels, popular on the internet, are called "love myths". Her story has attracted thousands of fans and become an inspiration. 26 years after her accident, the swallow with the broken wings is flying high.
By OUC WeChat Official Account