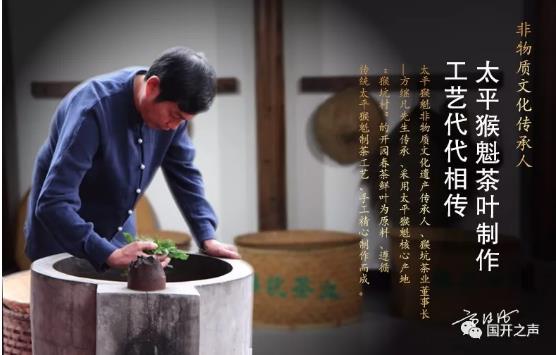 Fang Jifan, a member of the Communist Party of China (CPC), now serves as secretary of the General Party Branch, head of the Village Committee of Houkeng Village in Xinming Township, and chair and general manager of Hong King Tea.
He has been named an "excellent member of the Communist Party of China in Anhui Province", "a labour model of Anhui Province", an "ethical model of Huangshan City", a "leader of science popularisation in China", one of the "10 leading rural figures in China", a "leader of rural entrepreneurship in Anhui Province", an "excellent builder of national brands", and so on. He was also selected a deputy to the ninth and tenth provincial CPC congresses of Anhui Province and to the sixth People's Congress; he is a member of the sixth Huangshan CPC District Committee, and an inheritor of Taiping Houkui tea-production skills, a national intangible cultural heritage.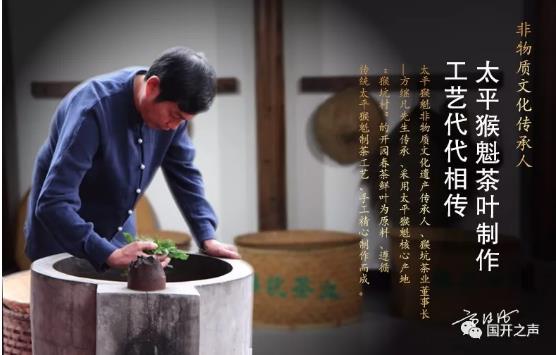 Fang Jifan began working in 1986, and started his own business in 1988. He founded the Xinming Houcun Village Tea Farm, the predecessor of Hong King Tea, in 1992, and entered the Huangshan District Work Station, the Huangshan City Branch of Anhui Radio and TV University (Anhui RTVU), in 2007 to major in Agricultural Economic Management, graduating in July 2009. In 2006, Fang Jifan established Hong King Tea on the Houcun Village Tea Farm.
Fang Jifan is well-known in the Huangshan district of Huangshan city. Though his story is not news, he is still spoken of with praise as a model of an entrepreneur finding success despite difficulties.
He is esteemed for his insights and his indomitable and helpful spirit.
Under his leadership, Hong King Tea has progressed by leaps and bounds. It has been named one of China's "time-honoured brands", a national demonstration enterprise for the processing of agricultural products, one of the top 100 enterprises in the industry, and a leading enterprise of Anhui province. It is a model for the development of the tea industry as a whole.
From stability to entrepreneurship
Fang Jifan, who was born in the mountains, became a soldier in 1982, and his experience in the army made him unwilling to live a mediocre life. After working for two years, he quit to start his own business. He has a passion for entrepreneurship, and is always thinking of doing something big. With his unique attachment to Taiping Houkui tea, Fang Jifan registered Xinming Houcun Village Tea Farm in 1992 with the aim of revitalizing the Taiping Houkui tea industry. He worked hard to promote it in cities like Beijing and Shanghai, put his money into the "Hong King" trademark, and became its legal owner, putting himself on the path toward wealth through entrepreneurship.
With Fang Jifan at the helm, Hong King underwent strong development, and at this point six centres for the production of Taiping Houkui tea, Huangshan Maofeng tea and Qimen black tea exist. Hong King is now the leading producer and processor of Huizhou tea in the Huangshan area.

From Huangshan to China and the world
The reform and opening up and subsequent economic and social development have raised living standards. Organic produce is becoming popular, the demand for up-market green tea is rising, and the tea market is becoming more open. Fang Jifan has taken advantage of these trends to enhance the market presence of Taiping Houkui tea. His tea won the gold prize at the China (Wuhu) International Tea Expo 2002, and auctioned for 70,000 yuan per 500 grams. It was at this expo that he decided to hold a free tea-tasting event for ten thousand people with 200 jin (100 kilograms) of quality Houkui tea, which greatly boosted its profile. After this, the Hong King brand of Taiping Houkui tea was named a "famous agricultural product of Anhui", "top 10 famous Anhui tea brand", "famous Anhui brand", and so on. It was also named a China "time-honoured brand" by the Ministry of Commerce in 2011, and recognised as a "Famous Chinese Trademark" by the State Administration for Industry and Commerce in 2012, a first for the Huangshan area. Hong King appeared at the Expo Milano 2015, and was praised as a tea brand that "influences the world and represents China", and he himself was named an"excellent representative in the building of national brands". In June 2016, the Hong King "folk tour of the hometown of Taiping Houkui Tea" was recognised for its contribution to tea tourism in China.
From quality to brand
Fang Jifan has been planting and producing tea since childhood; his experience is rich, his accomplishments are many, and he is a master of the traditional skills of the area. After becoming head of the Houkeng Village Committee in 2005, however, he began to modernise production processes in the village. The first was to sign order contracts with multiple tea farmers; the second, to form a consortium for tea production, unifying production standards, giving farmers professional guidance, updating technology, and ensuring the quality of Taiping Houkui tea. In order to safeguard its brand reputation, he made a careful plan to protect its core production areas, allying villagers with the police to ensure that no one else would process or sell fresh tea leaves or dried tea, and guaranteeing the purity of Taiping Houkui tea.
From responsibility to public welfare
While gaining prosperity for himself, Fang Jifan has never forgotten his responsibility as the General Party Branch Secretary and head of the Village Committee. He is conscientious in implementing Party policy and upgrading technology and know-how to the benefit of his constituents.
Fang Jifan initiated the establishment of the Tea Association and Professional Tea Cooperative in the village in an effort to make Taiping Houkui tea its economic focus. As its wealth grew, he began to make plans to improve living conditions. In 2006, he worked hard to gain support, and had the villagers of Sanmentan moved to a new village. In order develop tourism, he also promoted the development of transportation and electrical infrastructure there, investing more than 10 million yuan of his own money. On top of that, sewage has been renovated, a Houkeng Tea Culture Square has been built, and dozens of acres of new tea cultivation have been developed. Houkeng Village has been named a national "ecological cultural village" and "beautiful village" by the Ministry of Agriculture for integrating agriculture and tourism. Finally, with the village economy growing, he set up a special foundation to help retired Party members in need.
Houkeng village has also been named a national demonstration of "one distinctive industry for one village", a provincial demonstration of "beautiful village construction", a characteristic provincial "village of tea", and a provincial "special demonstration village" for Taiping Houkui tea.
As Fang Jifan says, the meaning of life lies in dedication to others. For years, he has been devoted to the future of Houkeng village, the orderly development of the Taiping Houkui tea industry, and the happiness of the villagers.
By OUC Voice WeChat Official Account