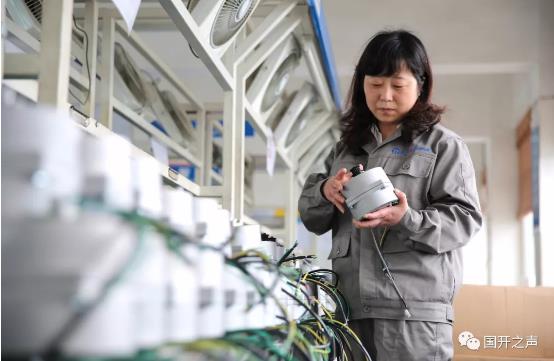 "The spirit of craftsmanship can endure loneliness and resist temptation. It is a cultural heritage of excellence," said a representative of the provincial Federation of Trade Unions.
Shi Wenmei, a junior-college graduate of Township Enterprise Management at Huzhou Radio and TV University, who enrolled in the fall of 2013, is currently director of R&D at Huzhou Taiping Micromotors. She was given the 2012 "Golden Hammer Award" for outstanding workers in Zhejiang province, the 2015 May 1st Labour Medal of Zhejiang province, and 2016 National May 1st Labour Medal, and was named a 2013 March 8th Red Banner Pace-setter of Zhejiang Province and 2014 Advanced Individual of the National Staff Professional Ethics Construction.
The essence of craftsmanship, for her, is ceaseless attention to detail. We need to concentrate on our work and insist on innovation in order us to develop new products and perfect the old ones. This kind of attitude has been quietly promoting the progress of manufacturing in Zhejiang.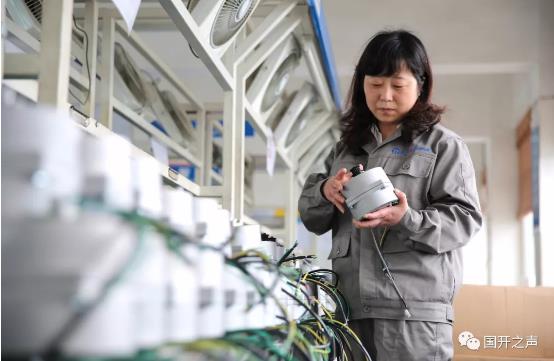 Our trials and tribulations make us strong
At the age of 21, Shi Wenmei returned to her hometown and joined Huzhou Taiping Micromotor. At first, she was an ordinary worker, embedding wire in the workshop, and had this position for five years.
Coming to her job knowing nothing about micromotors, she made every effort to equip herself with knowledge and skills. Her perfectionism even led her to develop a unique method of stator-wire embedding. At the time, a domestic research institute was preparing to develop a product in cooperation with Taiping Micromotors, but the wire-embedding device was unsuitable. She came up with a new design, tested it, and was able to make it work, even gaining a patent for her innovation. She is hardworking, modest, and eager to learn, and these qualities led the company to send her for further studies.

In 1998, the company received an order for a special low-noise motor for an elevator door. Fresh from her studies, she was given the task. After more than a month, the end was in sight when the final test showed deviations in the resistance value of the rotor, with excessive noise and vibration. Only 10 hours were left before the deadline.

After overcoming her frustration, she sought help, and began looking for new brush material. She got the motor running again, but then found a problem with the insulation, which it took her the rest of the night to deal with.
The 110SZ DC servo motor was delivered on schedule, and has been praised for its high quality, low noise, excellent insulation and low vibration. It also was the first product Taiping Micromotor itself developed, and for Ms. Shi it marked the transition from an ordinary worker to a designer and developer.

One of the best at research and development
In 2006, a Swiss buyer requested a custom brushless DC motor for craniotomy, requiring high speed, stability and accuracy. Its tolerances needed to be within 0.1 dmm, far less than the thickness of a hair; 1 um of deviation would lead to excessive noise and vibration. What made it even more tricky was that the customer could only give rough parameters, not exact specifications.
Nonetheless, she was determined to satisfy the customer, and do everything possible to meet the highest standards. She made improvements to the design time and again, and oversaw the entire R&D process, including preparation of documents and accessories, as well as testing. Two months later, the buyer personally flew to Huzhou to inspect the result, and was highly satisfied.
Two years later, she completed a brushless DC motor with numerous technical improvements and innovations. It too was praised by customers, and won the 2011 Excellent Industrial New Product and New Technology Award of Zhejiang Province.
She has spent almost all of her time in the plant, testing and producing, for more than 20 years, arriving to work at 7:30 in the morning and not leaving until after 9 pm.
She has developed hundreds of products for Huzhou Taiping Micromotor, creating more than 10 recognized as national or provincial "scientific and technological achievements"; set up three corporate standards; and applied for 54 patents (including 2 inventions). Thanks to her contributions, the company's annual sales have continued to grow for more than 20 years, making her the industry's "invisible champion".
Taking on responsibilities and making contributions
Though Huzhou Taiping Micromotor is a small private enterprise, its products have replaced ones produced in other countries. Its elevator-door-opening motor has half the global market, and it has become a supplier of well-known manufacturers such as Siemens and Zimmer.
In 2006, under her guidance, the company cooperated with the 21st Institute of China Electronics Technology Group Corporation (CETC) to found the "Taiping Micromotor R&D Center", which was named a 2011 Zhejiang Provincial High-tech R&D Centre. Based on this, the company consolidated its long-term R&D relationships with Shanghai University, Shanghai Jiaotong University, and the Shanghai Institute of Microsystem and Information Technology (SIMIT), among others. In this way she has helped the company stock its R&D team with postgraduate students.
She has had extraordinary achievements, grown with the company, and contributed to China's industrial progress.
By OUC Voice WeChat Official Account