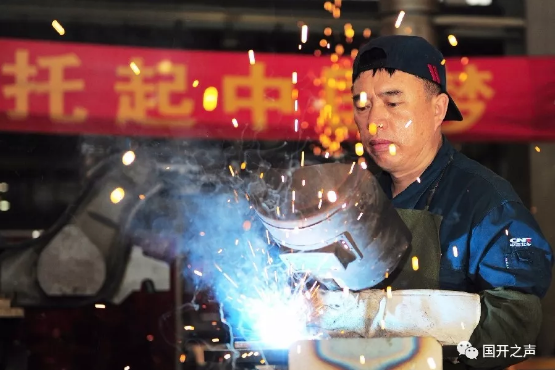 Li Wanjun, a member of the Communist Party of China (CPC), is a senior technician and chief operations expert. He began work in the now-defunct Changchun Bus Factory in August 1987, and soon became expert at welding. He won a national welder-skills competition in 2005, came first in a Changchun-based competition in 1997, 2003 and 2007, and was named"a welding master of high-speed rail" in 2011.
In the spring of 2016, he entered Changchun Radio and TV University (Changchun RTVU) on a scholarship to further his study of mechanical design, manufacture, and automation, and obtained a certificate from the Open University of China (OUC).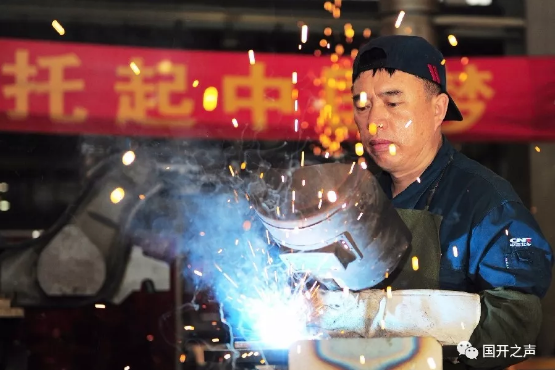 Technical breakthroughs
Li Wanjun's job is bogie welding, one of the 9 core technologies of high-speed MU trains. As a participant of the initial welding of scores of transit vehicles and MU bogies in China, he helped formulate bogie-welding standards and methods for over 20 kinds of bogies, making more than 100 technical breakthroughs, 21 of which have obtained national patents.
As the major element of the enhancement of the Chinese railway system, French MU trains with speeds of up to 250 kilometers/hour were put into trial production at CRRC (China Railway Rolling Stock Corporation) Changchun Railway Vehicles. Since the bogie ring can carry a weight of up to 50 tons, it is a key part of the manufacture of MU trains, and its welding is highly demanding. At first, quality problems, such as non-fusion, were common in the welds due to the numerous segments that needed to be joined. Li Wanjun was able to work out a seven-step operation that turned out to be a breakthrough, and loaned itself to large-scale production. His technique amazed the French experts, and has now been included in the production process.
China CNR Corporation has introduced from Siemens of Germany the MU train technology with a speed of up to 350 kilometers per hour, increasing the difficulty of bogie manufacture. Li Wanjun was entrusted with a role in the process of bogie-welding evaluation. With the data he obtained, a welding code for ultra-high-speed bogies was compiled by the company, offering solutions to the major problems facing mass production.
Li Wanjun overcame many technical difficulties while participating in the production of high-speed cars, passenger-railway cars, urban-transit vehicles, and trains exported to Australia, New Zealand, Hong Kong, Brazil, Thailand, Saudi Arabia, Ethiopia and other countries and regions. He was named one of the "Move China Ten Great People of 2016".
A national patent and other innovations
In his 28 years of work, Li Wanjun has not only become a skilled welder but has also been diligent in research and courageous in innovation. He has 6 international welding qualifications related to carbon-steel and stainless-steel welding. He is proficient in manual arc welding, carbon-dioxide arc welding, MIG welding, TIG welding, and other welding methods; he also has a good command of flat, vertical, horizontal, tilted, pipe and other welding shapes and positions.
Li Wanjun's invented"welding tongs", corresponding to the welding characteristics of dissimilar metals, have been patented and popularised nationally.
In 2012, Li Wanjun devised more than 20 methods of bogie welding, such as "gun-dragging-style backhand welding" to meet the special requirements for the welding of Australian stainless-steel bogies for double-decker railway coaches. They have been widely used, with about 8 million yuan of value created.
Li Wanjun used automatic argon-arc welding for the first time in the ring welding of bogie beams for single-layer railway coaches to be exported to Iran, and devised a set of steps for the process that had not heretofore existed in China, and would give a basis to the development of high-speed rail there.

Esteemed as a teacher
Another great contribution of Li Wanjun has been to train Chinese workers to help build trains with speeds up to 380 kilometers per hour, taking less than 2 years to enable around 400 workers to gain international welding qualifications. His teaching materials, such as the ones he wrote on plate-butt welding with protective carbon-dioxide gas and single-side welding with double-side welding technology, were easy to understand and very popular. In 2011, he was named "Master Teacher" by the Ministry of Labour. Over the past four years, Li Wanjun has trained more than 10,000 welders for his company, and they have received over 2,000 national and international welding qualifications, meeting the production needs of over 20 types of vehicles, including high-speed MU trains, urban-transit vehicles, and vehicles built for export. Several of his apprentices have become technicians and senior technicians; one has been named a "high-skilled talent instructor of Changchun"; and 5 have received international welding qualifications. He himself has also often been employed as a technical instructor by the Changchun Federation of Trade Unions, and in 2013 was recognised for his outstanding teaching skills.

On top of everything else, Li Wanjun is active in public welfare, such as by helping students with their tuition fees. In March 2014, he visited the Jilin Orphanage to speak with the residents, and in May 2014 was named a "good person of Jilin" by the CPC Jilin Provincial Committee; he was included on the national list in July.

Li Wanjun grew from being an ordinary welder into a high-speed-rail welding expert. He has been named a "special labour model of Changchun City", "special model of Jilin Province", "senior expert of Jilin Province" and "national technical expert"; has received a special government allowance from the State Council; and has won a "national May 1st labour medal" and "China skills award". He was also elected a representative to the 18th National Congress of the CPC in 2012. On 28 April 2015, he read out a proposal as a labour-model representative in the Great Hall of the People in Beijing, where General Secretary Xi Jinping presented him an honorary certificate. In July 2016, he was named a national "excellent CPC member", and in 2018 was elected deputy once more, this time to the 19th National Congress of the CPC. He is recognised as a model high-speed-rail worker.

By OUC Voice WeChat Official Account