Gu Yao has been teaching since he entered Harbin Radio and TV University (Harbin RTVU) in 1999 after graduating from the Law School of Heilongjiang University. He has also been involved in management and research, and has experienced the development of open education under the leadership of the Open University of China (aka China Central Radio and TV University) while aiding in it through his own experimentation and innovation.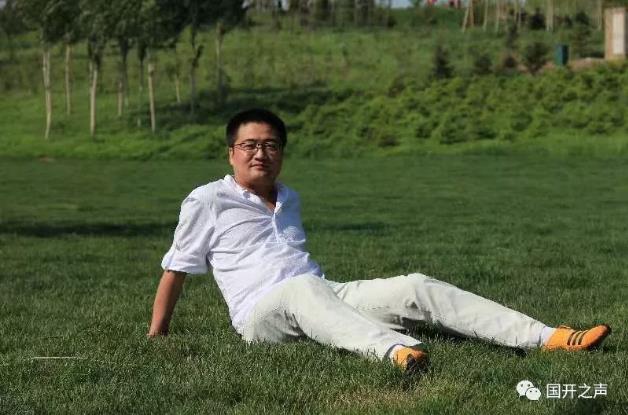 Numerous teaching achievements in open education
In 2000, Gu Yao began his contributions as a Law and Finance tutor, as well as through a paper titled Problems in the Management of Middle-school Students in Open Education, which represented the viewpoint of Harbin RTVU at an Open Education Seminar of the CCRTVU. He was encouraged then to try teaching reforms, and presented a paper, Teaching in Modern Open Distance Education, at the First National Modern Distance Conference in 2003.
In 2002, Gu Yao contributed to the development of teaching resources with multimedia courseware for the courses Evidence Science, Arbitration Law and Private International Law, as well as the webpage courseware for Evidence Science and Arbitration Law. He also helped other teachers with their courseware for Ancient Literature and Linguistics.
In 2002, as part of the CCRTVU pilot reform programmes, Gu Yao arranged for undergraduate Law Science courses and three classes (the 2001 and 2002 spring semesters, and the 2001 autumn semester) to be the platforms of teaching experiments. The lessons learned from this had a deep effect on teaching methods and resources in subsequent years, and he wrote two independent papers on classroom use of the internet based on the results of the experiment. The project was concluded in 2003, and placed third among similar China Central Radio and TV University pilot programmes.
In 2005, he was project leader of a multimedia courseware Interpretation of Evidence Science, which came third in the "Eastern Yanyuan Cup" multimedia-courseware competition of National Radio and TV Universities.
In 2006, he participated in a project studying legislation related to distance education in Heilongjiang province; it was awarded second prize for research achievement by the Heilongjiang Distance Education Society.
In 2007, through his tireless instruction, and emphasis on their ability to learn independently, his students came third in a case design and analysis competition for Law majors at Radio and TV Universities nationwide.
In 2009, he received a second and third prize for his law papers from China Central Radio and TV University and Harbin City respectively.
In 2012, his paper for the Annual Conference of Social Sciences of the Heilongjiang Federation of Social Sciences received the top prize.
In 2015, he came second among teachers of Literature and Law Science at China Central Radio and TV University for another paper.
In 2015, based on his years of multimedia-resource production and deep understanding of internet technology, his online course Evidence Science received an OUC commendation, while his micro course, Reverse Authentication of Witness Testimony, came first in the national Micro-course Competition.
In 2015, the textbook Prison Law Science, of which he was an associate editor, was widely used inside the national RTVU system for undergraduate Law majors, and received the top prize for research achievements in higher education from the Heilongjiang Association of Higher Education.
In 2016, Harbin RTVU took over the construction of the Civil Aviation Service major for the OUC, and he led the construction, operation and maintenance of the online course Civil Aviation Regulations.
In 2017, his micro course Value of Evidence was recognised at the third NEC Cup Micro-course Selection in National Community Education.
In 2017, he participated in a research project on the practical teaching of law in open education, and released his results.
Striving for excellence, and receiving numerous commendations
Gu Yao has undertaken the teaching of and research for the courses Evidence Science, Commercial Law, Financial Regulation, Introduction to Sociology, and Social Psychology for the undergraduate and junior-college Social Work, Law and Finance programmes. His workload consists of more than 400 periods of face-to-face tutorials and online classes every year, and he has completed the online resources for 12 courses, including text, audio, video and animations, instructing nearly 1,000 graduates. He was named "excellent teacher" by the Harbin Education Bureau in 2008, 2010, 2011 and 2013, "outstanding youth expert in the city of Harbin" in 2011, and "advanced individual" of Harbin in 2014 and 2016 for his teaching ethics and other positive features. He was also named a model teacher in 2015 and 2016, noted for his work with the disabled in 2016, honoured as an outstanding teacher with the "Huang Yanpei Vocational Education Award" in 2017, and recognised for his ideals and beliefs, moral sentiment, solid understanding, and benevolence.
Creating positive learning environments and enhancing teaching resources
Gu Yao tailors his teaching to the specific talents, needs, schedules and employment requirements of his students. In 2005 he introduced teaching modules closely connected to judicial practice, such as "moot courts", discussion of cases, classic readings, directed thinking, attendance at real-world trials, and law-firm internships. They greatly enriched the scope of teaching. He also continued experimenting with and refining module integration, combinations, and teaching resources on the basis of feedback. There was general agreement among students that teaching benefited remarkably from this. Furthermore, the university and two large Harbin law firms signed an agreement to expand the opportunities of students for real-world practice, enabling them to handle typical cases while being guided and observed, and making rapid progress in the application of their learning.
Making himself a "dual qualification" teacher
To answer the university's call for teachers with "dual qualifications", Gu Yao became involved in judicial practice as a part-time lawyer while still undertaking teaching and research. Since launching his practice in 2000, he has taken part in over 100 litigations, acted as legal counsel for both governments and enterprises, educated the public on legal issues, and helped resolve many potential complaints. The Harbin Judicial Bureau named him "excellent lawyer of Harbin" in 2003 and 2004.
Moreover, Gu Yao has worked as a legal expert and law-enforcement supervisor for the Heilongjiang Provincial People's Government; consulted and collected data for the Harbin Political Consultative Conference; and been active as a member of China Law Society and Heilongjiang Provincial Lawyers Association, leading to him being named "excellent member" for 2007-2008 by the Harbin Law Society. In January 2015, he gave lectures on the topic of Legal Psychology and Life as director of the Heilongjiang Provincial Legal Psychology Committee, and has also lectured in regular universities such as the Heilongjiang University of Chinese Medicine and Harbin University of Science and Technology, to welcoming receptions.
By OUC Voice WeChat Official Account