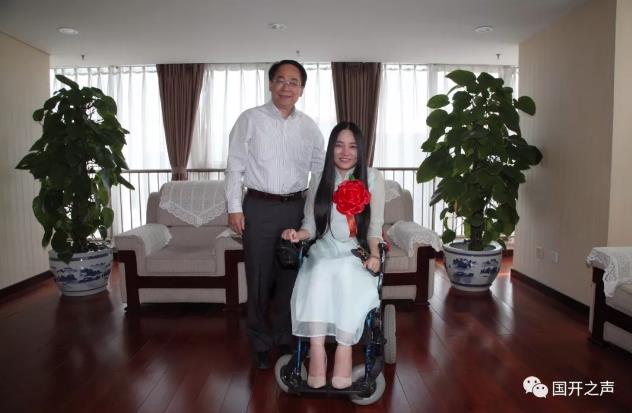 On 16 May, 2019, the 6th National Conference for the Disabled was held in Beijing. OUC alumnus Dong Ming won the highest award for those furthering the cause of the disabled nationwide, and received a cordial reception from General Secretary Xi Jinping. Hearing that Dong Ming had volunteered at the 7th Military World Games, Xi Jinping told her: "You are awesome!"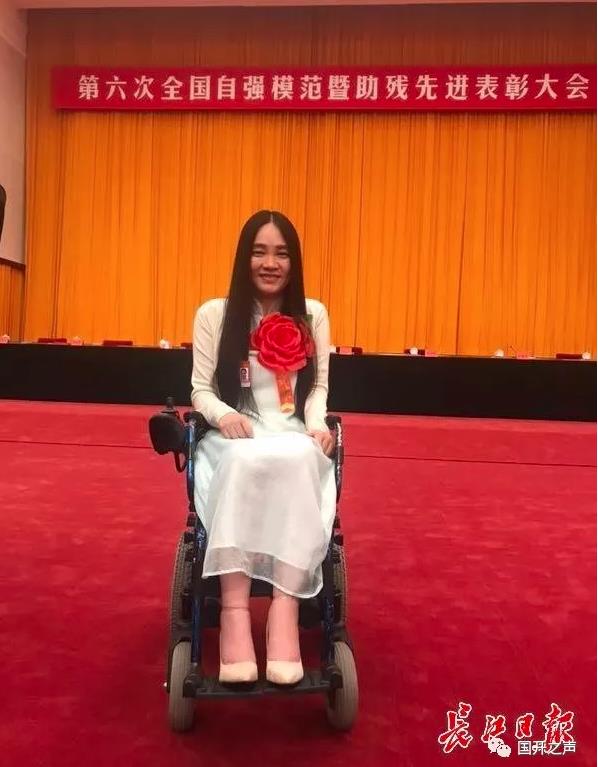 "At 10:50 that morning, all of the representatives began to get excited, and my heart was in my mouth." Dong Ming's voice still betrays the excitement she felt.
At 11:00 sharp, General Secretary Xi Jinping walked into the Great Hall of the People. The delegates broke into applause, and Dong Ming could not help but shed tears; her hands already hurt from clapping, but nothing could stop her.
Dong Ming had an aisle seat in the front row on the southern side. General Secretary Xi first shook hands with the representatives on the north side. When he came to her she took his hand in both of hers and introduced herself. "Hello, General Secretary Xi! I am Dong Ming from Wuhan, and a teacher at Wuhan Vocational College of Software and Engineering." The General Secretary asked, "Are you also a volunteer?" "Yes, I served at the Beijing Olympics, the Paralympics, and the Shanghai World Expo, and now I am volunteering at the 7th Military World Games." At this he said happily: "You are awesome!"
Dong Ming suffered an accident when she was nine years old that made her a paraplegic, and even compromised her ability to speak for a time. However, she did not give up. Since she could not read out loud, she did so silently, and since she couldn't hold a pen, would imagine herself writing. She spent ten years independently studying courses from elementary to high school, and taught herself English and Japanese along the way.
In 2007, at age 20, she enrolled to study Social Work at the Jianghan Campus of the OUC's Wuhan Branch. Learning gave her a sense of meaning, and she was grateful for the flexibility of the RTVU, which enabled her to deal with any obstacles.
With the help of her parents, she took her wheelchair onto a bus to Wuhan RTVU every week, and since many of the bus drivers and passengers came to know her, they would help her onto and off the bus.
"The reason I chose Social Work as my major was that I want to help others," she said after having studied for six years. In 2013, she obtained a Bachelor degree as a result of her amazing perseverance, and also a national psychological-counselor certification. Volunteering is part of her desire to help, though many people ask: How can a disabled person be a volunteer?"
In her view, the disabled have that ability, providing services through what they have learned. She has offered translation services at the Beijing Olympics, the Paralympics, the Shanghai World Expo, the Guangzhou Asian Games & Asian Paralympic Games, and the Shenzhen Universiade. She also used her own income to organise over 50,000 people into the "Dong Ming Love Volunteer Team"; from someone not thought to be able to volunteer at all, she has now become "the most beautiful volunteer in China".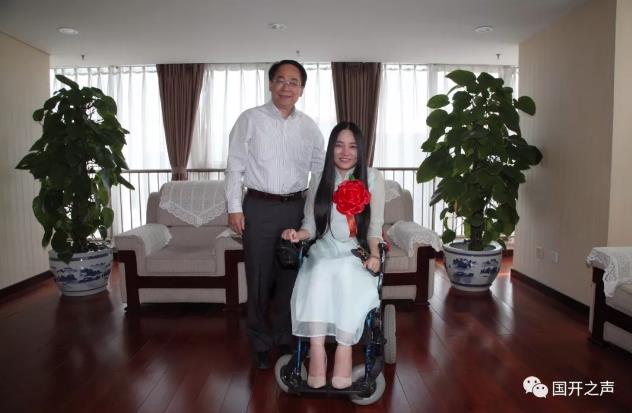 On the afternoon of the day she met the General Secretary, Dong Ming returned to the OUC for a meeting with Yang Zhijian, Party secretary and president of the OUC, who briefed her on the recent development of the OUC, and preparations for its 40th anniversary, while Dong Ming reported to the secretary on the conference, as well as her work and life. Secretary Yang expressed pride in her outstanding achievements, and called on OUC students to learn from her.
By OUC Voice Official WeChat Account