Xu Yufan, a senior teacher, is currently principal of Tian 'an Primary School in Xiamen, Fujian province. In the autumn of 2002, she started studies in the undergraduate Chinese Language and Literature programme at Xiamen Radio and TV University (Xiamen RTVU), and graduated with honours in July 2007. Xu Yufan was named "OUC Outstanding Graduate" in 2007, and her accomplishments were broadcast on the CCTV education channel.
As a two-term member of the CPPCC district committee, she has been active in political discussion. In 2017, she submitted a proposal to solve the parking problem of the school and surrounding areas by using the spaces available under the schools and parks; it was highly rated, and finally adopted, with some schools, including Shuangshi Middle School and Tian 'an Primary School, chosen to pilot the development.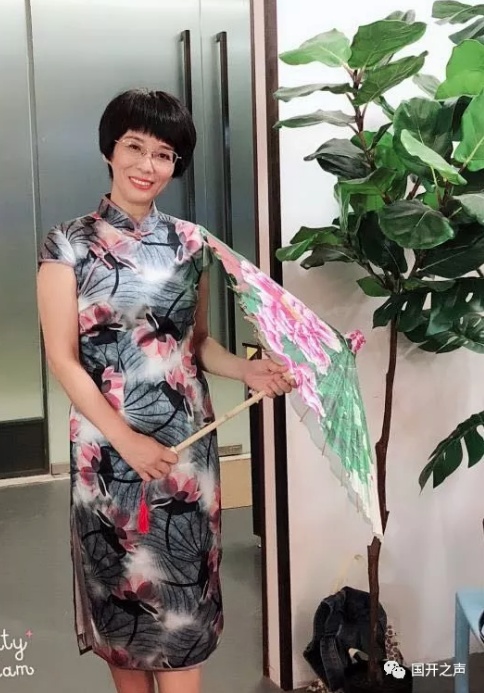 She also takes part in the training of principals at the Fujian Institute of Education, and since 2016 has trained three classes of principals from all over the country.
As one of the leaders of Chinese education in Xiamen, she often volunteers as a teacher and teacher trainer through face-to-face instruction, class observation and evaluation, and in-class guidance. She has also led research projects at the national, provincial and municipal levels, and since 2007 has published numerous articles in domestic journals. She has also participated in the compilation of textbooks used in Xiamen schools, and worked as chief editor of the school curriculum.
Reform and development
In August 2007, Xu Yufan was transferred to the Huli Central Primary School to be principal there. Her goal was to return it to its former status as a top school by focusing on enhancing education for all students, and their all-round development, improving teaching, and making reforms where needed while retaining what was good from the past. In three years, the school had regained its leading position.
Quality is a principal's main concern. The function of schooling is to find and develop the potential of students, and for Ms. Xu, every student is a unique individual whose potential it should awaken and develop. Based on this belief, she constructed a system intended to enhance five aspects of the school – its campus, classes, curriculum, teachers and students, particularly focusing on the continuous growth of the latter two. Ten years of efforts greatly enhanced the quality of the school, so much so that in 2013 the journal Fujian Basic Education published a special report on it.
Continuous learning for teachers
Ms. Xu is a diligent and hard-working principal, and her belief is that reading and learning should be daily habits, like drinking tea. She often shares her learning experience with teachers, and encourages them to learn as well.

Teaching, observing and evaluating classes, while also studying and doing academic research, have become routine for her. In her ten years at the school, she has always been involved directly in teaching and reform. In 2013, she was recognised as one of the top primary-school Chinese teachers in Xiamen city, and became the first principal to take part in the teaching-skills competition. In 2012, she participated in a teaching-subject competition on behalf of Huli district, and placed second in the second Xiamen teaching-skills competition for teachers from Kindergarten through secondary school. The school has a group of teachers who have been motivated by her to further their education, and she has personally undertaken the training of teachers and of management personnel.
The importance of a green campus
Ms. Xu believes in using plants to enhance the beauty of a campus, and in the past ten years annuals and perennials, including shrubs and vines, a cactus garden, a small tea garden, a peach orchard, a plot on which students can put plants of their choosing, and other features, have appeared on it. They may be for ornament, food or shade, and teach the students about plant diversity while giving the campus a harmonious and vibrant atmosphere.
Giving children opportunities for growth
Ms. Xu believes each student has his or her own special strengths, and should be given opportunities to develop and display them. These include a hula-hoop competition, a campus arts festival, and above all the Lufan wind band, the first student band in Huli district, founded in 2010. In October 2013, at the "Bird's Nest"sports centre in Beijing, the band took part in the first China youth drum-band performance, and won four awards. In August 2014, it visited South Korea, and won awards there, and in 2015 and 2016 took part in the World Wind-instrument Festival Competition, with excellent results. Currently it is in collaboration with the Xiamen Philharmonic Orchestra, has grown from 60 to more than 240 members, and is considered the best primary-school orchestra in Fujian province. Among sports, table tennis, swimming and football are all prominent, with teams and individual competitors having won awards and other forms of recognition
In addition, since 2008, the school has made efforts to get every student involved in annual culture activities in four areas: reading, sports, the arts, and science and technology. The school's development has attracted attention from the news media, and delegations from home and abroad have visited it.

In her ten years at the school, Ms. Xu worked hard to make it loved by both children and teachers, and to become the phoenix depicted on the school badge. In February 2017, she was transferred to Tian 'an Primary School, where she will be reinforcing its strong emphasis on traditional Chinese culture.
By OUC Voice WeChat Official Account