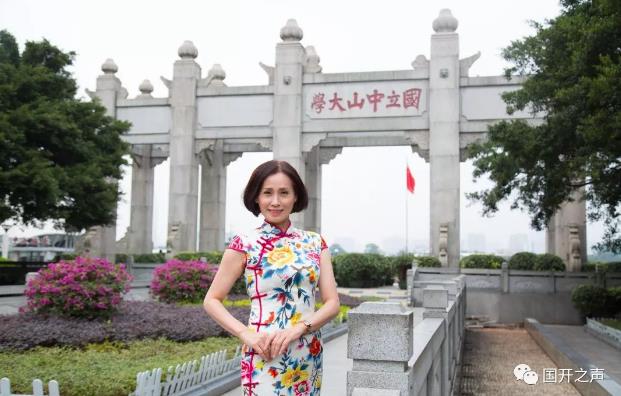 Chen Qiong graduated with a degree in Philosophy from Sun Yat-Sen University in 1986, and started to work for the Open University (OU) of Guangdong that same year.
She has been teaching for 32 years, and is now an associate professor, administrator of both the undergraduate and junior-college Administrative Management programmes at Guangdong OU, a member of Teaching Research Centre in Administrative Management with the Open University of China (OUC), and a key member of the teaching team for the course Introduction to Public Policy at the OUC.

She has been received a number of honors, including national "Model Teacher" and "Excellent Teacher" in Guangdong Province, "Excellent Teacher" of Guangdong RTVU, "Excellent Party member" of Guangdong RTVU etc. She is law-abiding, and has contributed greatly to the development of the OUC.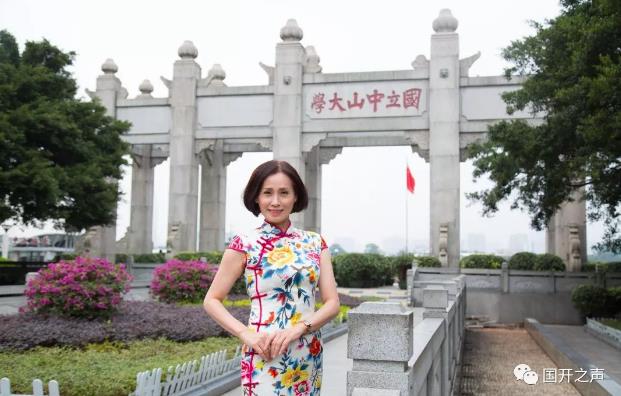 Watching flowers bloom and become fruit
For 32 years, she has been loyal to the position she started in, giving up opportunities to study abroad, or become a civil servant or section chief. In her decades of teaching and administration, she has affected government, public-security, military and cultural sectors, and taught more than 400 class hours on average each year. She has no regrets.

A pioneer and builder of the major
The OUC (formerly China Central Radio and TV University, or CCRTVU) began preparations to offer a junior-college Administrative Management programme in 2000, with Chen Qiong as one of its founders. In 2001, the OUC began enrolment in the programme, and she took charge of it at Guangong RTVU that year.
In 2003, through her involvement in the development of an undergraduate programme in Administrative Management, recruitment of degree students began. In the 16 years since then, she has been deeply involved in learner development in both the undergraduate and junior-college programmes.
Beginning with an enrolment of just over 1,000 students in its first year, Administrative Management had become the largest major at Guangdong OU by 2008, and has maintained a stable enrolment of over 60,000 students since then. Between 2011 and 2013, the number reached 100,000, one third of Guangdong OU's total enrolment, and the largest enrolment in this major in the OUC system.
In 2008, she proposed that the OUC establish a Social Work major, and gave suggestions for its construction. Pilot enrolment subsequently began.
Doing what she can to help build the major
She was appointed to the second teaching and research group for Administrative Management at the OUC in April 2018, and to the teaching team for Introduction to Public Policy in 2017, taking part in meetings, especially in Zhanjiang in November 2017 and Zhuhai in November 2018, and assisting in the construction of the major.
As a core member of the course team, she gives supervisory and teaching support to six branches, including Jiangsu, Shanghai and Sichuan.
She also participates in numerous training sessions held by the OUC every year to continue her self-improvement.
Promoting teacher training inside the system
In order to maintain teaching standards in Administrative Management, she offers teachers numerous forms of training opportunity.
In 2009, Chen Qiong was invited to be dissertation course leader at the CCRTVU, and trained teachers at provincial universities to become dissertation-defense moderators.
Through Chen Qiong's efforts, teachers of Administrative Management have taken part in 15 training sessions since 2012, and in October 2018 eight teachers from Guangdong OU participated, the highest number from any province. Ten training sessions have also been conducted at the National Public Servant Training Centre.
Teacher competence is also improved by way of work conferences and teaching-team meetings that involve sharing of experiences and consultation on the development of the major.
Since the Administrative Management teaching team was established in 2012, members have been involved in final review of dissertations (over 10,000), construction of resources for three different courses, and other tasks, with its professional competence constantly improving.
Both a teacher and manager
Since the launch of Administrative Management as a major, Chen Qiong has taught over ten courses, including Administrative Management, Introduction to Public Policy, Government Economics, Government Assessment, and Introduction to Sociology due to teacher shortages. Before 2008, she taught over 380 class hours a year, focusing on careful preparation and design, as well as the use of modern education technology in her teaching. She won an award for outstanding teacher in the 2002-2003 school year.
Furthering reforms through technology
Early in 2002, Chen Qiong began building a website for the Logistics course, and it won a multimedia-courseware award in 2005. Over the last three years she has been developing micro-courses, and these have also received awards, from both the government and university. Furthermore, she has led the reform of two areas, Deep Learning and Agriculture, in terms of web-based approaches, and published papers including A New Perspective of Public Administrative Values: On Ecological Thinking and Construction of Ecological Government.
In other reforms, she began in 2013 to use QQ for remote dissertation defenses in Zhuhai, Xuwen, Xinxing and other tutorial centres, an innovation that was popular with both teachers and students, and recognised by OUC administrators as well.
Training young teachers
Chen Qiong helps teachers new to the university, taking them to training sessions and arranging for course oversight. The growth of young teachers is important to her, and she even recommended a young tutorial-centre teacher from Guangdong to join the OUC teaching and research-centre group for Administrative Management.
By OUC Voice WeChat Official Account