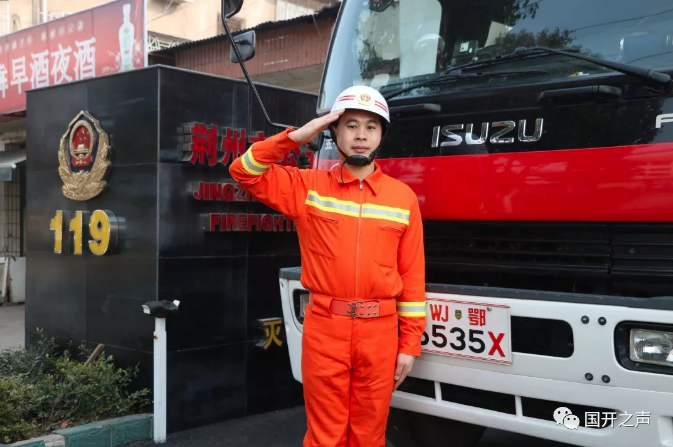 Yang Qiu, a member of the Communist Party of China, joined the army in 2005, completed the Administrative Management undergraduate programme at the Jingzhou branch of Hubei Radio & TV University in 2014, and now serves with the Hubei Jingzhou fire brigade. In his 13 years of service, comrade Yang has never forgotten his original mission, and focuses on always enhancing his studies and service;
he is skilled at emergency rescue, and diligent in educating others about handling disasters. He has won a third-class merit award and been named a provincial "Excellent Communist Party Member" and "Excellent Soldier"; has been commended many times by his superiors, and had his deeds reported by China National Radio, the People's Public Security Newspaper, Hubei Television, and other media outlets. At school he was twice awarded scholarships for academic excellence.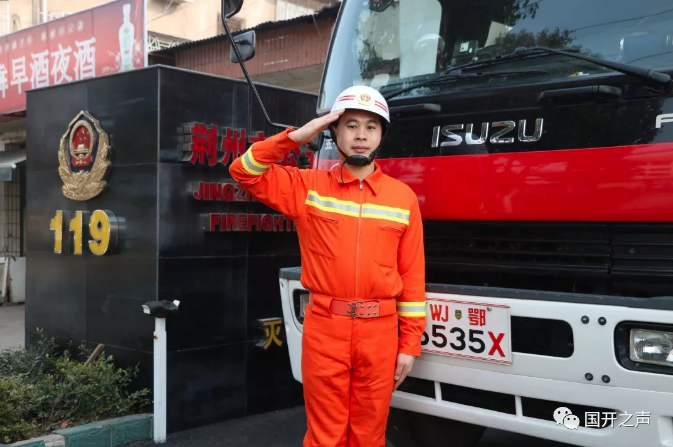 Making time to study despite his busy schedule
Yang Qiu is an active-duty soldier, and in order to make time for his studies he would get together with his tutor to make a plan at the beginning of each semester, finding 2-3 hours to study every day at lunch and in the evenings. Even on business trips, he often took his textbooks and laptop with him to use in his spare time. He managed to finish all his homework on time, and consulted teachers or classmates by telephone or email if he encountered a problem. Before every final exam he prepared carefully, and his scores in all subjects always placed him near the top of the class.
Educating people about fire safety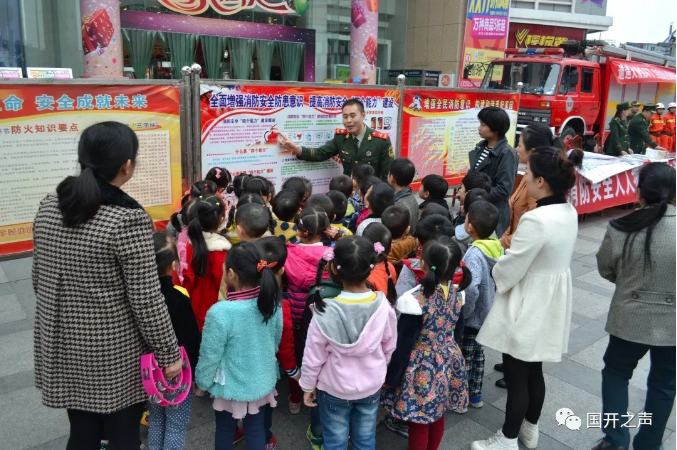 Yang Qiu is often called on by his leaders to educate workers, students and others in hospitals, supermarkets, schools and kindergartens about fire safety and the regulations pertaining to it. He has formed long-term partnerships with 27 communities in Jingzhou City for this purpose, and has been hired as an instructor by many communities. He has conducted 235 teaching activities, led 459 emergency evacuations and fire drills, and given 67 fire-control lectures, reaching a total audience of 100,000 and receiving praise from both leaders and the general public.
Distinguishing himself in times of crisis
Over the past 13 years, comrade Yang Qiu has participated in more than 3,000 firefighting and rescue operations, and rescued more than 30 people. Jingzhou covers a large area, and often he would no sooner have dealt with one fire than he immediately found himself called on again; one time he had to participate in four rescue missions in a single day.
On the morning of 14 January, 2014, 22 cars collided in a chain-reaction on the Shanghai-Chongqing highway. As one of the rescuers, comrade Yang Qiu was resourceful in his actions, and managed to pull five injured people to safety.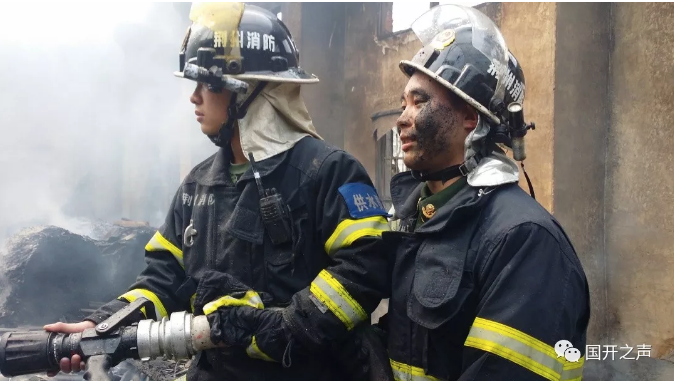 On 1 July, 2016, the Xinzhou district of Wuhan city was hit by a heavy rainstorm; the Jushui River embankment at Phoenix and Sandian towns broke, and both property and lives were in grave danger. 160 people attended training at the Wuhan Fire Corps training base to participate in rescue operations, with Yang Qiu among them. He and three comrades guided an assault boat along both sides of No. 106 state road, and with priority given to the elderly, children, and pregnant women, they rescued trapped people throughout the area, with Comrade Yang jumping into the water to offer assistance. Some were reluctant to leave, and he did his best to convince them of the severity of the risk, and that they could rebuild their homes after the flood had receded. He also instructed those whose still had to wait to do so on their roofs. Yang Qiu helped fight the flood for 18 hours, rescuing 40 trapped people over the course of 11 sorties in the dangerous waters.
On 15 January, 2018, a hair salon under renovation on the Xinnan Men inner ring road in Jingzhou district burst into flames. Due to the large number of combustible materials there, smoke was soon billowing from the structure; many passers-by stopped to watch, but none helped. Yang Qiu happened to pass by; he jumped from his car, found two fire extinguishers on the first floor, and rushed to the third floor where the fire was. Because of its size the fire extinguishers were insufficient, and he organized the workers there to carry water. After about 20 minutes, the fire was out, and no one had been injured. He went his way, but a video of his actions went viral on social media, leading to widespread reporting in the mainstream press. On 13 April, Comrade Yang was named the city's "most beautiful volunteer" by seven departments of Jingzhou City, including the Jingzhou Municipal Party Committee publicity department.

By OUC Voice WeChat Official Account