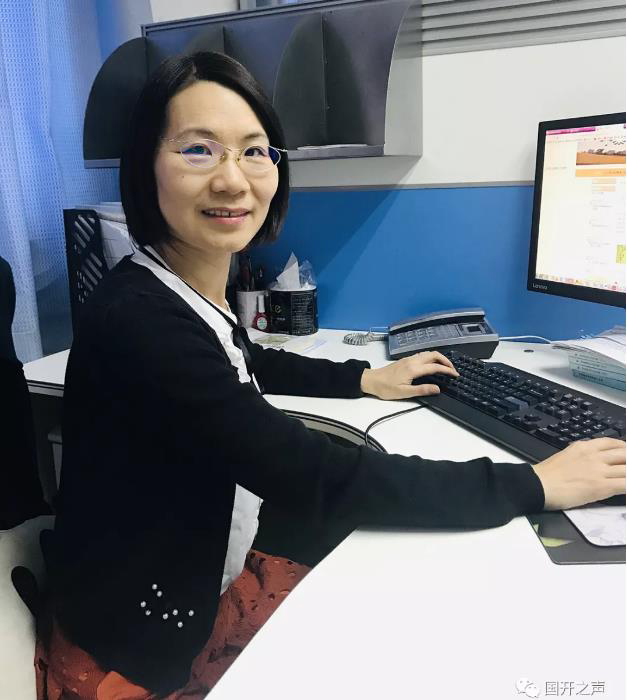 Lai Xiaole graduated from Peking University's Department of Sociology with a master's degree in 2007. Ever since then, she has been engaged in distance higher education at the School for the Disabled. Lai Xiaole has been forging ahead quietly at the forefront of teaching and research.
She works with assiduity and is fully dedicated to her work, possessing both strong ambition and responsibility. She is competent in both politics and business. With her tireless pursuit of the educational cause, support for disabled students, diligence in professional knowledge, and effectiveness in education and teaching, she is always ready to make contributions. Her courage is praised by the leaders, colleagues, students, and parents of the university.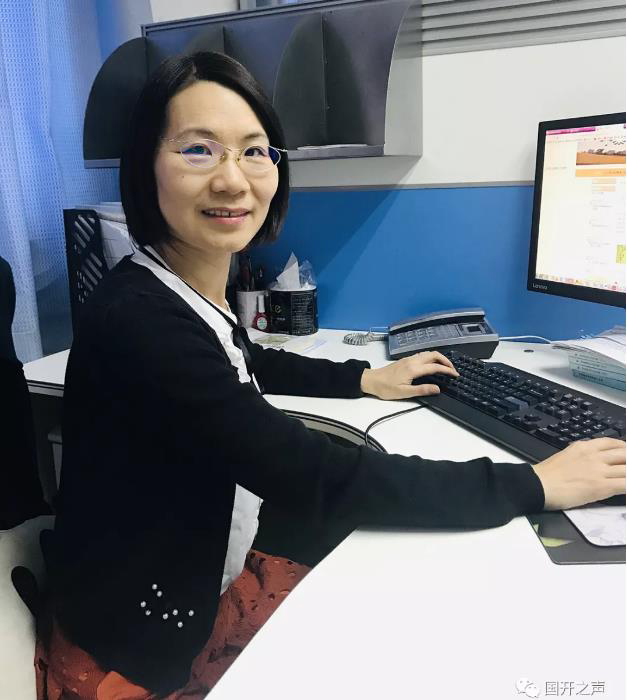 To remain true to the original aspiration with firm political beliefs

Lai Xiaole is loyal to the educational cause andadheres to the educational policy with firm ideals and beliefs, noble moral sentiments, solid education, and benevolence. She implements the education policies and other principles and policies in a correct way. She takes a firm and clear-cut stance on major moral issues. She pays attention to fostering virtue through education and is a paragon of virtue and learning for others.
Since the time she began working, Lai Xiaole has been at the forefront of teaching and research. At the School for the Disabled ("School"), she undertakes tasks related to teaching, teacher management and administration, student work, and publicity with full enthusiasm, yet remains responsible and ethical in transmitting wisdom, imparting knowledge and solving issues, which shows her strong organizational skills and ability to think about the big picture. Miss Lai Xiaole chose her mission to meet the learning needs of disabled students, and takes the courage to explore teaching modes suitable to their learning needs. She breaks spatial restrictions by making full use of modern distance education technology to meet individual learning needs with high quality learner support. So far, the school has set up 53 tutorial centers nationwide, helping over 10,000 disabled students realise their dreams for university education.
Tirelessly dedicated to the front line of teaching
Over the past 10 years, she has never slacked off in her teaching. She has been passionately enthusiastic for teaching, which has been praised by her leaders and colleagues, and recognised by her students and their parents. She has taught approximately 10 different specialised junior college and undergraduate social work courses. She has taught over 20 grades, totaling over 5,000 students, including in online courses. She instructed the writing of about 300 dissertations and practicums. Because of her careful instruction, many disabled students express their desire for her instruction on their graduation dissertations and practicums.
In 2007, when Lai Xiaole first came to work at the School, about 34 disabled students in their freshman year of social work were enrolled in a Shenzhen tutorial center. This class was recognised for its three "one hundred percent" features. The first "one hundred percent" was that all of the 34 students were physically disabled, the second was that all of the 34 students completed their studies and were graduated on schedule, and the third was that all of the 34 students worked in the field serving the disabled. Thirty-four disabled students graduating from college on schedule was a real challenge, and it was achieved through the sweat and hard work of Lai Xiaole. Upon beginning her work at the school, she quickly familiarised herself with teaching methods for the disabled, relying on her strong perseverance and passion for the educating the disabled. She was ready to take care of each student in class. The students with visual impairments had to learn with the help of screen reading software, so she carefully arranged all of the coursework into readable word documents; for hearing impaired students, she did what she could to make extremely explicit PPT courseware for their autonomous learning. Chen Junliang, who is totally blind in both eyes, continued into the undergraduate programme after completing the junior college programme. He said, "I am really lucky to have had Miss Lai Xiaole as my teacher. It is she who gave me the courage to go to university. It would have been impossible for me to successfully graduate without her." Due to the shortage of teachers at that time, Lai Xiaole had to teach 3-4 courses each a semester, and she rarely took a full two-day weekend. She won the disabled students' love with her kindness and professional knowledge. Whether in class or out of class, the students would always think of her when they came across difficulties in study and work, and they would affectionately call her "heartfelt teacher."
Lai Xiaole and her colleagues have devoted themselves to teaching, and worked out a set of teaching and assessment methods suitable for students with various types of disabilities. After years of efforts and several rounds of communications with relevant departments, the National Online Examination Office has given the School approval to independently compile examination questions for national online education, finding a way for students with visual or hearing impairments, and severe upper limb disabilities, to take the unified online education national examination. So far, four examinations with independently compiled questions have been given, which have been welcomed and recognised by the disabled examinees.

With the joint efforts of Lai Xiaole and her colleagues, a host of outstanding students have come to the fore. Yan Jiamu started Shenzhen's first intervention institution for children suffering from autism, and was awarded a special scholarship by Shenzhen Radio and TV University; Cheng Yuenan was honoured with titles such as the Top 10 Excellent Social Workers in Shenzhen's social work industry, and the Social Worker Star in Guangdong Province, and was given the excellent students award for the National Professional Training Plan of Social Work Supervision; Xu Yiyun was given the special award of Shenzhen RTVU president; and, Li Min started her own jewelry company, to name just a few.
Be willing to try, and committed to the reform of education and teaching for the disabled
Besides teaching and research, Lai Xiaole is also responsible for teaching and academic administration, publicity, student management, and other jobs. In addition, she is also the person in charge of sharing the junior college programme's practicum work, and responsible for various learner support work. Meanwhile, as the School for the Disabled's lead for both the junior college and undergraduate majors' practicums, she also offers both online and offline teaching support. Her profound knowledge in the discipline and major, together with her willingness to study in her daily work, makes it possible for her to introduce the latest achievements in the field to her teaching. As a result, she has achieved teaching reforms, course resource development, teaching team construction and education, and teaching research in disabled education, which have been leveraged to enhance teaching skills.
Lai Xiaole has taken great pains to achieve a barrier-free teaching mode for the disabled. Because of the physiological characteristics of the disabled, "normal" methods, suitable for healthy people, is not "normal" for them, and so traditional teaching methods are not a perfect fit. With the rapid development of information technology, many new possibilities have become available for the disabled to receive higher quality education. By way of researching topics and teaching courses, she is able to work with her colleagues to explore teaching methods to serve various kinds of disabled people with limited educational resources and modern information technology, making the barrier-free learning of the disabled a reality. To this end, she has presided over and participated in seven research projects on teaching, exploring perspectives on teaching methods, professional research, and resource development, and published approximately 10 essays.
She has made creative explorations into "online education methods" and "new types of blended teaching methods" as a major participant in the school. With this innovative teaching method, the lecturer is able to give real-time instruction and communicate in real-time online, supported by timely daily answers to questions via QQ, by way of team support. All of this has generated immense interest among students, and drawn the teachers closer to the students. It has played a strong good role in supporting students' autonomous learning habits and improving their ability to network. Her solutions tackled problems such as teacher shortages, geographically distant students, and mobility issues among disabled students. The quality of teaching and teacher management has been improved, and quality teachers and course resources effectively shared across the school.
With regard to course teaching, she has been active in teaching reform projects at the school. She has made explorations into integrated design, and the application of face-to-face tutorials and online teaching, using her course titled "Individual Case Work" as a pilot. The importance of practice was taken into full consideration during the design of the teaching process of "online teaching + face-to-face tutorial + online teaching." The entire teaching process consisted of four links: "pre-class guidance + in-class lecture + in-class practice + online assignment" to meet the teaching objective of "integrating the learning of knowledge with the mastery of skills, integrating class learning with practical training, and integrating professional training with individual progress."
In terms of practicum instruction for the Social Work major, she designed a method involving class practice, supplemented by online practice, and dominated by phased and gradual practice aligned with the learning styles of disabled students. Such practicums increased class participation in specialised courses, and made strict requirements regarding students' participation in phased and gradual practice sessions. She chose students from the School for the Disabled for the pilot, and changed the requirement concerning a dissertation, replacing it with a social work programme. She asked the students to read related essays and books, and watch related videos or films. She also encouraged the students to study and write argumentative essays to address practical, urgent problems in modern society through the practice of social work in China. In order to achieve regular and gradual practice, she organised for students to attend service institutions, including such relevant social organizations as community and social work service institutions, and federations for the disabled for practical trainings. The students were asked to keep a record of the process for practical trainings, using both photos and videos. After a semester, the students were able to write practical articles, enhancing results.
Dedicated to the construction of the specialty and its course resources in a down-to-earth way
Lai Xiaole is in charge of developing the junior college and undergraduate programmes of social work, online marketing, digital media art design, and other specialties at the School for the Disabled. She has organised teams to formulate training plans and rules for each specialty, as well as build course resources, and design and produce specialized course resources for students with visual impairments. As a lead for the junior college's social work programme, she has led the management of developing teaching materials and resources across six specialised courses, both foundational and advanced. She participated in the compilation of teaching materials for two courses, and independently compiled the assessment, exercise, and final-term review guide books for four courses. She helped develop online teaching resources, including leading recording six courses' video lectures. The online core course "Individual Case Work" was developed in 2016. As a course leader and major lecturer, she was in charge of the overall design, teaching team organization and operation management, teaching resource development and maintenance, scripting, and other jobs, and she was also the major lecturer of video courses. Meanwhile, given the great number of learners with visual impairment studying "Individual Case Work," special learning channels were opened for them. When it went online in 2017, unanimous praise came from both teachers and students.
To further encourage the use of online resources, she organized the issuance of a series of rules and regulations to promote online teaching activities. Through that brainstorming, all kinds of measures were taken to promote online learning among disabled students. An objective was set for students to study online for at least one hour each week, with data related to the online learning behaviours of teachers and students published and evaluated regularly. Excellent results came of the program, and students' online study time greatly increased.
To improve flat teacher management at the school, Lai Xiaole wrote an "Implementation Plan for the Establishment of Teaching Teams," and made explorations into online teaching teams by using her own online course "Individual Case Work" as an example. In the building of the teaching team, the strength of the previous graduated have been fully released to promote the development of online volunteer service. She hopes to offer the disabled students all-round learning support to shape a virtuous circle of "the old students leading the new" based on the realisation of individualised learning.
To be strict with herself in an effort to improve the level of scientific research
Teaching and research benefit each other. While undertaking a great deal of teaching and teaching management work, Miss Lai Xiaole has never given up scientific research. She pays attention to the cutting-edge trend of the discipline development, the latest development of open education theory, and the latest research on the law of education and teaching for the disabled. Good achievements have been made in scientific research with her efforts. She has led and participated in seven research topics, participated in the compilation of two textbooks, and published about ten essays.
By OUC Voice WeChat Official Account