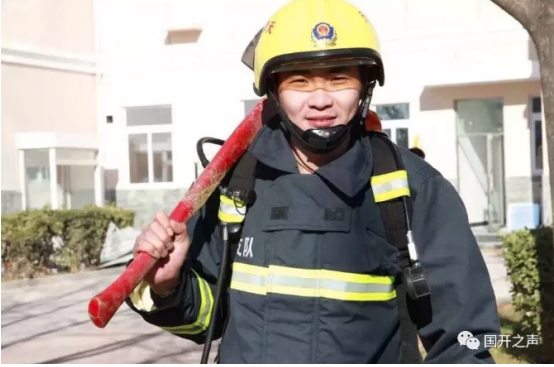 Yang Jianjia, a member of the Communist Party of China (CPC), was enrolled at the Sanhe Branch of Langfang Radio and TV University (Langfang RTVU) from March 2014 to July 2016. He is currently the leader of the driver class of the Eighth Avenue Squadron of the Development Branch of the armed police force with a rank of grade 4 chief sergeant. He has been awarded a first-class merit once, third-class merits twice, personal awards twice, and been named an "outstanding soldier" twice.
He participated in handling the "8.12" dangerous chemical warehouse accident at Ruihai Company in Tianjin Port, a particularly serious fire and explosion accident, and was awarded the honorary title of "Outstanding Communist Party Member" by the Organisational Department of Tianjin Municipal Committee.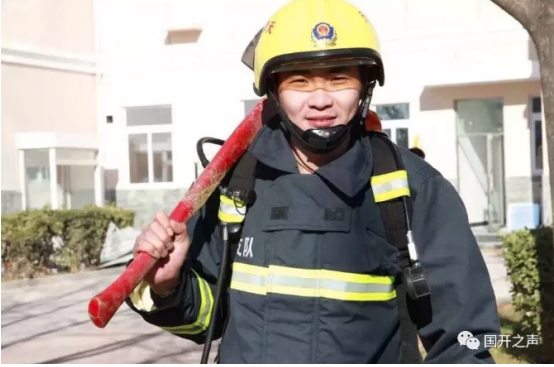 A model driver who is proficient in and dedicated to his work, Yang Jianjia has been enlisted in the army for 14 years and has safely driven more than 100,000km. As a firefighter and monitor for the drivers class, he always reminds himself of the importance and necessity of continuous learning and improving his professional skills. He often buys books on automobiles at his own expense, studies professional knowledge, and talks to his fellow soldiers when he has questions. Having laid a solid foundation for the improvement of his driving level and maintenance skills, he constantly imparts his learning experiences to his classmates, so that the whole class of soldiers can repair and solve simple issues with the machines and fire trucks by themselves, which has saved a lot of money. As a result, Yang Jianjia has gradually become a well-recognised "King of Trucks" and more and more people come to him for help with repairing vehicles. For this reason, he created a special "treasure chest" containing spare parts he collected in his spare time. During a rescue mission, Xiao Zhang's vehicle suddenly broke down and would not start. The situation was urgent but fortunately the "treasure chest" demonstrated its magic powers and Yang Jianjia solved the problem in less than 10 minutes, which ensured the smooth completion of the rescue mission.

The Eighth Avenue Fire Squadron is a model squadron among the city's fire fighting forces. It has many tasks, including dispatching fire fighters, firefighting exercises and drills, and security. Whatever the weather, every time a vehicle returns to the squadron, Yang Jianjia will clean and maintain it, check whether the transmission shaft is loose, and make sure the wheels are not too hot. He always puts his oath of "Sacrificing One's Family for Everyone's Safety" into action. He often says to his parents that, "I am not a filial son, I have no time to stay by your side as much as I should. But as a firefighter for the people, I will do my best to protect my country and safeguard thousands of families, so that they can live and work in peace and contentment." Yang Jianjia has been obsessed with the idea of "serving as a soldier" since childhood. He chose to join the army despite the objections of his parents and became a firefighter, which fulfilled one of his long-held dreams. After he joined the army, he always called his mother once a week to tell them about his life. When talking about the situation in his team, he only told them the good news and never mentioned the dangers in rescues and injuries and wounds from exercises so that his families would not worry about him too much. During the 14 years of his military life, Yang Jianjia only took two annual holidays and always had to stay away from his wife and son. When every vacation came around, he buried his guilt about not seeing his family and always let other comrades take vacation first. In the eyes of the soldiers, he is an elder brother. In the eyes of the leaders, he is a good soldier. But in the eyes of his son, he is a father who is "always busy with something."

A loyal firefighter who has dared to risk his life and fight at all costs. While dealing with a particularly serious fire and explosion accident on 12 August 2015 in the dangerous goods warehouse of the Ruihai Company in Tianjin Port, he was among the first group of people to reach the site as a driver of a water source guiding vehicle in order to ensure that the water supply for the fire fighting vehicles on the front lines was adequate. When he arrived at the scene, the smoke was rolling up to the sky. The first explosion sounded as they searched for a water source and laid water belts. At this time, he was so anxious to complete the task that he had no time to take into account the danger: the second explosion came less than half a minute later, equivalent to 21 tons of TNT explosives, and sent Yang Jianjia and his comrades-in-arms flying. When he awoke, he found himself trapped under a small tree trunk. At the same time, debris and hot dangerous objects were falling and hitting him on the head and back. This lasted about a minute, after which time he climbed up dragging his injured leg and shouted to check the situation of his comrades-in-arms. He found two soldiers up ahead and they helped each other out of the vicinity of the fire. Doctors found that he had suffered from multiple third-degree burns on his back and waist, as well as bilateral lung contusion and multiple fractures. Afterwards, he was asked "Yang Jianjia, do you regret being a firefighter?" But he answered "Not at all. We need to rebuild the Eighth Avenue Squadron after we are dismissed from the hospital, continue with the firefighting work, and complete the unfulfilled wishes of our comrades in arms!"

Yang Jianjia is a strong man, an optimistic father, a responsible husband, and an ambitious son, who has given his blood, sweat, and tears to the cause of firefighting.
OUC Voice WeChat Official Account