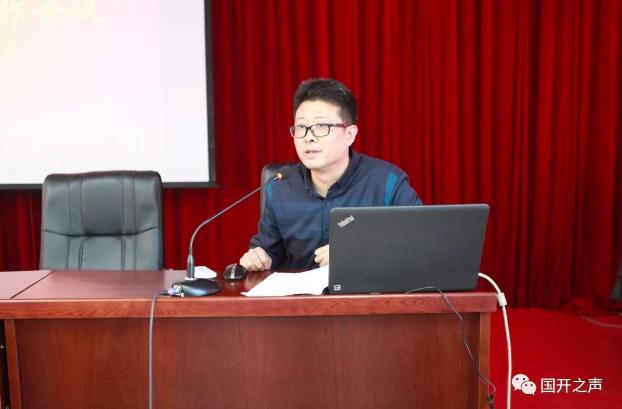 Zhang Jian, who majored in finance, is an associate professor and currently holds the position of head of the teaching section of the Academic Affairs Department of the Liaoning Branch of the Open University of China (OUC).
Zhang Jian started work in 1999, the first year of open education, and since then he has always been closely involved in open education. He worked at a grassroots-level school in Huludao for 14 years and was transferred to the OUC Liaoning branch in 2013 and has been working there since. During this period he has undertaken several positions, including director of the economic teaching and research department of Huludao school, a member of the financial teaching and research centre group of the OUC Liaoning branch, and chief director of the finance major online teaching team.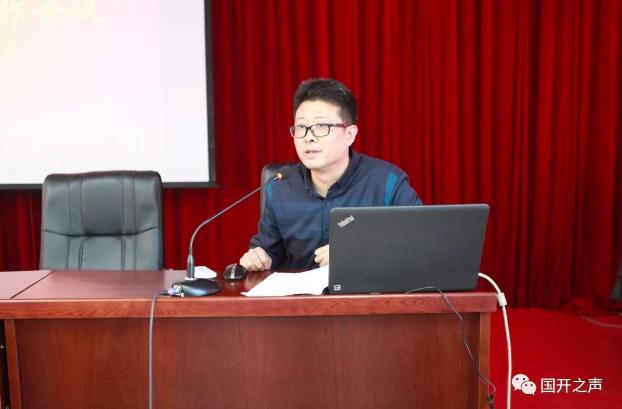 Zhang Jian has a deep passion for teaching in open education. He is diligent, thoughtful, and has morals and professional ethics in teaching. He is an "Outstanding Tutor," "Outstanding Educator," and an "Individual with Advanced Teaching Ethics" at the grassroots school in Huludao and an "Outstanding Curriculum Course Coordinator," "Chief Leader of an Outstanding Team," and "Outstanding Teacher" at the Liaoning branch. He started from the grassroots-level, accumulated experience in learning, and raised himself up through his actions. He has now become a leading figure in the teaching of open education in Liaoning branch.
Profound Knowledge of the Finance Discipline
Finance was one of the first pilot majors in open education in 1999. After graduating from university, Zhang Jian devoted himself to academic research and teaching practice in the finance major, which has given him a steady foundation of professional knowledge.
In terms of academic research, he has published one monograph, four textbooks, one patent for utility model, and 18 academic papers at or above the provincial level, and has completed 23 scientific research topics at or above the provincial level. His academic achievements won him second prize for "National Outstanding Scientific Research Achievements in Adult Education," third prize for "Outstanding Scientific Research Achievements of China Central Radio and TV University (CCRTVU)," third prize for "Outstanding Papers in Teaching Management in the National RTVU System," second prize for "Outstanding Scientific Research Achievements of Liaoning Adult Education Society," and first, second, and third prizes from "Liaoning Modern Distance Education Society." He is currently employed as a member of the Academic Committee and the Academic Degree Review Committee of Liaoning RTVU.
In terms of teaching practice, he was responsible for more than 10 courses, including Modern Financial Business, at the grassroots school in Huludao. The "3A" teaching model for the course of Monetary Banking that he initiated was promoted as an outstanding case of teaching reform in the province. He worked part time in a bank on six occasions in order to accumulate practical financial experience and he was in charge of the construction of two teaching practice centres for the finance major. He has instructed more than 600 graduation theses from the finance and accounting majors, some of which some have been awarded first prize in the evaluation of outstanding graduation theses by Liaoning RTVU. Mr. Zhang's academic theory and practice level have been recognised by teachers and students.
As a chief director of the finance major online teaching team in Liaoning branch, Zhang Jian has been awarded "Outstanding Professional Teaching Team" twice and "Outstanding Course Coordinator" once. The online course, Modern Financial Business, based on the OUC Learning Network, was listed as an outstanding case in the OUC's teaching inspection work in 2016. In 2018, the Research and Practice of the Online Teaching Team Based on the Moodle Platform won third prize for "Outstanding Teaching Achievements of Adult Education in Liaoning Province."
Advanced Educational and Teaching Ideas
In his work, Zhang Jian learns from history and keeps pace with the times. Across different periods, he has always kept abreast of the latest trends, made bold attempts, innovated bravely, and vigorously promoted advanced educational and teaching concepts.
Advocating for the individualised teaching concept in the initial stages of the pilot open education project. In the initial stage of the pilot project of open education, he put forward the theory of "student-centric" personality constraints in his paper "Research on the Design of Teaching Activities in Modern Distance and Open Education", which won third prize in the evaluation of papers on teaching reform in the RTVU system. He compiled the Commercial Bank Operation and Management manual and produced a CD-ROM for the Modern Financial Business course, both for self-study purposes. He also developed the online course of Monetary Banking, which met students' needs for individualised learning.
Designed the "3A" teaching model during summative evaluation. During the summative evaluation period of open education in 2015, he designed the "3A" teaching model and applied it in the Monetary Banking and Computerised Accounting courses, which was promoted as an outstanding case of teaching reform in the province.
Established a demonstrative RTVU and proposed non-degree education projects. In 2010, when the establishment of national demonstrative RTVUs was proposed, he proposed setting up two follow-up projects, "University for the Elderly" and "Community Education", and an agreement was signed with Huludao Veteran Cadres' University and Huagong street office of Lianshan district, Huludao, to jointly build a digital learning centre, in order to find a breakthrough point for the school to serve local areas.
Carried out research into the online teaching team and online assessment. In 2014, before the concept of "Six-Network Integration" was put forward in the OUC, the OUC Liaoning branch had begun to set up a professional (group) online teaching team. Zhang Jian was an important executor of this project. Under his leadership, a system of "one regulation, two methods, and three standards", a technical platform consisting of "one network, two databases, and three platforms" and an operational mechanism integrating "two main bodies, six pillars, and internal regulation and external supervision", were formed. In 2016, he tried to connect the platform for assessment of courses offered by Liaoning provincial RTVU with the OUC Learning Network and carried out "one-stop" network-based assessment and research into the online teaching service system. These two studies, one of which he was in charge of and one of which he participated in as a key member, were both listed as key scientific research projects.
Outstanding Online Teaching Ability
The RTVU Online Network has been replaced by the OUC Learning Network. Despite being different platforms from different periods, Zhang Jian not only applied what he learnt from typical examples to many other similar cases, but also made use of other auxiliary tools and demonstrated strong online teaching ability.
Played a demonstrative role during the RTVU Online Network period. Zhang Jian was the first one to try out the "offline homework" and "online examination" functions on the platform of "RTVU Online Network" at the Huludao school and truly realised those of "learning, doing exercises, practicing and testing" online, for which he was appraised as an "online teaching expert." He was the first one to attempt to organise online discussions with the integrated use of BBS and Email, which attracted active responses from the students. He was also appraised as an "outstanding course forum moderator" for this reason. He was the first person to integrate MSN, QQ, and other tools in order to explore the "3A" online teaching model on the provincial platform of the RTVU Online Network, for which he was named an "outstanding part-time course coordinator." As a result of his online teaching work, he has played a demonstrative effect in the province and he has been granted third prize for online teaching in the system.
Played a leading role in the application of the OUC Learning Network. In 2015, Liaoning branch courses were first applied in the OUC Learning Network. In less than a month, he effectively maintained teaching order by formulating online teaching work standards and producing videos to assist with the operation of the OUC Learning Network. He then conducted three rounds of Moodle platform training for nearly 400 trainees and produced 10 operation instruction series micro-lectures for the Moodle platform. In 2017, he designed a unified template for the courses launched at the provincial RTVU, with additional online teaching modules and a unified online teaching schedule for the RTVUs in the whole province. Under his leadership, the OUC Liaoning branch was at the forefront of the OUC System in online teaching for two consecutive years in 2016 and 2017.
Rich Experience in Distance Education

Zhang Jian has not only accumulated rich experience over the past 19 years that he has worked in open education; he has also applied and put into practice this advanced experience at home and abroad and gaining abundant experience in distance education as well.
Accumulated experience in open education. Fourteen years' working experience in grassroots Huludao schools and five years in the Liaoning branch has enabled Zhang Jian to become one of the few teachers in the Liaoning branch who are familiar with both grassroots school-running and the operation of a branch university. During the period of summative evaluation when he served as head of the material group and was responsible for the decomposition, collection, collation, and archiving of all kinds of information, he participated in research into modern distance education teaching and teaching management models, put forward constructive suggestions for the enhancement of teaching staff and teaching, management, and service model, and won an outstanding contribution award in the summative evaluation. While serving as director of the Project Office for National Model RTVUs, he authored the construction plan, follow-up construction project plan, future development plan, application report, and other major documents, which played a decisive role in expanding school-running projects for Huludao school. From 2013 to date, he has been engaged in open education teaching and teaching management at the Liaoning branch, leading the staff of his department and teachers in the RTVU system to carry out teaching reform and continuously innovate the teaching model. Thanks to his efforts, distance education teaching has been significantly improved throughout the province.
Introduce advanced experience from at home and abroad. In recent years, Zhang Jian has participated in more than 10 related training sessions organised by the School Planning and Construction Development Centre of the Ministry of Education (MOE), the MOE Online Education Research Centre, the National Collaborative Group for Modern Distance Education in Colleges and Universities, the OUC, and the National Digital Learning Resource Centre. He has visited universities engaging in distance education in Shanghai, Jiangsu, Chongqing, Fujian, and Henan and written nearly 30 learning experience and examination reports, in which he summarises the experience of distance education at home and abroad and applies it to practical work. In 2017, the Liaoning Branch Intelligent Education Pilot Project, whose application materials were mainly written by Zhang Jian, was successfully approved as an MOE online education research project (a total of three RTVUs nationwide were approved). He was awarded the title of "Star of Intelligent Education" for the introduction of intelligent teaching tools into the teaching work of open education.
Continuous Innovation and Stronger Cohesion in the OUC System
Zhang Jian has a strong sense of innovation and deep rooted passion for education in the OUC system. He is always willing to be the first person to try new things and his continuous innovation has added strong cohesive power to the OUC system.
As the first person to make micro-lectures in the Liaoning branch, he put micro-lectures into practice immediately after he heard about them in 2015. Over the course of two years, five micro-lecture training sessions were conducted for his team of teachers and young teachers at the Liaoning branch and grassroots levels, with the number of trainees approaching 400. Two micro-lecture contests were organised and 246 outstanding works were evaluated. The enthusiasm for micro-lecture production in the system reached unprecedented heights.
As the first person in the Liaoning branch to engage in smart teaching, he explored the "Rain Classroom" intelligent teaching tools of Tsinghua University in 2016 and was responsible for the application of the MOE's online education research centre "Intelligent Teaching Pilot Project" in 2017, which was a success. He carried out three training sessions for the application of the "Rain Classroom" for more than 100 people in 2018 and set up three smart teaching sub-projects for open education, which achieved good results in the first half of the year and was named satisfactory by 92% of students. Today, the "Rain Classroom" is being popularised and applied across the whole RTVU system.
As the first person in the Liaoning branch to attempt Mobile Educational Administration, after studying the application technology of Enterprise WeChat in 2017, he successfully registered and built a Mobile Educational Administration system, which realised functions such as Information Release, Mobile Approval, Information Query, and Intelligent Customer Service facing different groups of people in the system and facilitated the work of the branch, grassroots schools, and his team of teachers. The Mobile Educational Administration system has become a main channel for remote communication between the branches and grassroots-level schools.
"A man of sincerity does not need to speak much to attract admiration." Instead of claiming credit for himself and becoming arrogant, Zhang Jian dedicated himself to his work, never pursuing profit or fame. He has not only made outstanding individual contributions but has also influenced and driven many people around him to devote themselves to the development of education in the OUC. He is an indispensable part of the OUC system.
By OUC Voice WeChat Official Account