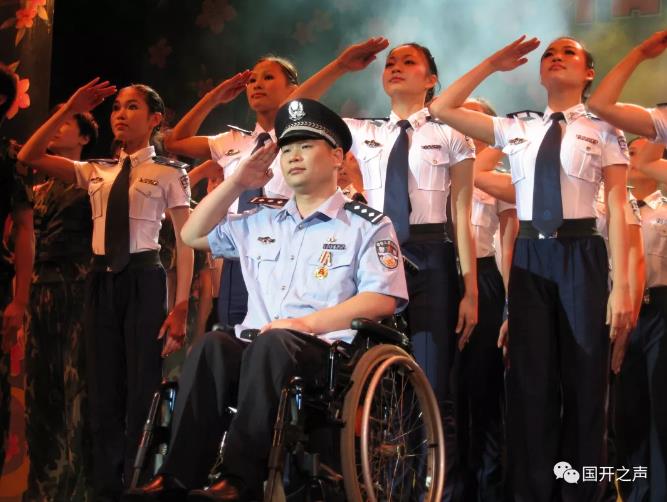 Tan Jianyong is a police officer in police detachment 110 of the Nanning Public Security Bureau in Guangxi Autonomous Region. He began his studies in the Sunshine Social Work class of China Central Radio and TV University (CCRTVU) as a junior-college student in the autumn of 2010, and graduated in January 2013.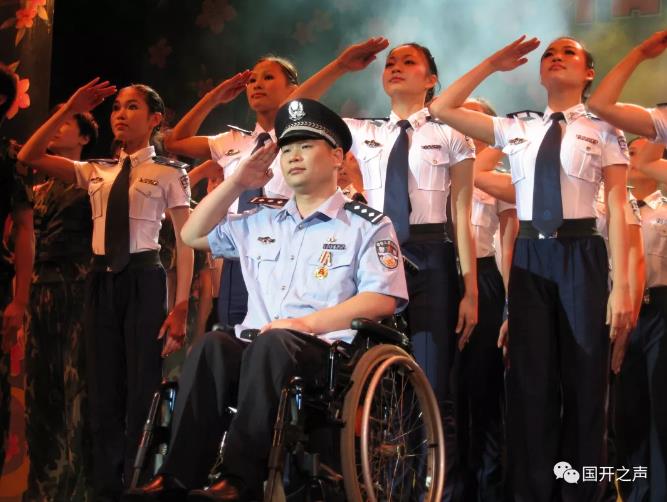 On the night of 6 May, 1998, during a patrol of Nanhu Park in Nanning, he and some colleagues saw a motorbike being stolen, and chased the suspect. Tan Jianyong rushed ahead, and was shot in the chest, and paralysed from the chest down. For his bravery, Tan was awarded a first-class merit by the Ministry of Public Security. Afterward, Tan did his best to stay optimistic in order not to cause his parents trouble, and worked hard on his skills. In his twenty years in a wheelchair, he has been active in public welfare, such as by finding volunteers to help low-income children with their education. Tan embodies what makes the police special, adapting to the new requirements of public security, studying hard, and contributing to the development, peace, and stability of Nanning, the capital of Guangxi Province.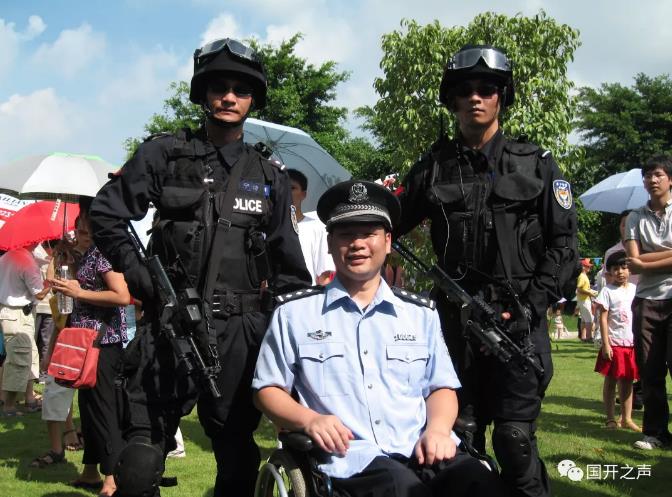 In the autumn of 2010, with the help of the Nanning Disabled Persons' Federation, Tan enrolled at Guangxi Radio and TV University (Guangxi RTVU) and began studies in the Sunshine Social Work class as a junior-college student. He overcame the inconveniences of his disability, and insisted on going to school by electric wheelchair, regardless of the weather. The support of the Disabled Persons' Federations of Guangxi Autonomous Region and the friendliness of the campus gave him a strong desire for independence, and even to stand out. His studies gave him not only learning but also richer experience and a broader vision, creating a good foundation for his future work. In addition to attending classes, he often took part in the ideological work of the detachment, and participated in local performances sponsored by the art troupe attached to the traffic-police detachment of the Public Security Bureau. Tan was awarded a scholarship by the CCRTVU in 2011 after two and a half years of studies, and then applied what he had learned to his work, helping other disabled people with their physical and psychological recovery.
Furthermore, Guangxi RTVU has hired him as a special off-campus counselor for teachers and students, who have also learned about his heroism through lectures and talks. His deeds have helped Guangxi RTVU create a special cultural environment in which students are encouraged to uphold ethical standards and study hard, follow models of the Party's path of "socialism with Chinese characteristics," and persevere in all aspects of life. Staff has also been inspired to put dedication to excellence above personal benefits.
Tan is also deputy director, conductor and instructor of the Light of Nanguo disabled persons' art troupe in Nanning city, playing an important role in promoting the participation of the disabled in the arts. He has taken part in all kinds of performances and competitions, receiving many prizes, including second place in the 2008 Nanning Public-benefit Singing Project, gold in the 2009 Guangxi Autonomous Region Art Exhibit for the Disabled, third prize in the National Disabled Persons' Literary Competition, second prize in the 2009 Jiangnan Hualian Cup Vocal Music Award, a special award in the 2010 Nanning City Disaster Relief show, first prize in the second and third Rural Community Harmony Exhibitions (2011 and 2012), and third in the 2012 Guangxi Arts and Crafts Show, among numerous other awards. He also represented Guangxi Radio and Television University as a singer in the "July Passion" show on June 20, 2012, to great acclaim, and has appeared several times on the stage of the Nanning Citizens Song Festival.
By virtue of his determination to "stand up" again, Tan Jianyong has never given up pursuing a valuable life. We hope he continues to persevere!
By OUC Voice WeChat Official Account