In 2013, after graduating from a higher vocational college in Hubei Province, I came to Wuhan alone, longing for a better life, and with an unlimited vision of my future. When I first arrived, everything here excited me. I fell in love with this city, and decided to settle down and make my life here. Renting an apartment and finding a job kept me very busy, but I was happy, and filled with a sense of achievement and seemingly inexhaustible energy.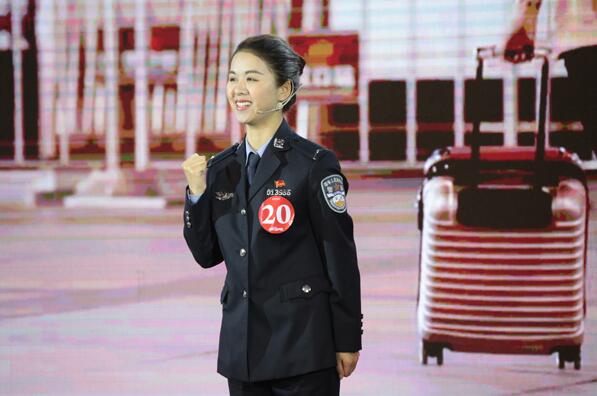 Jiang Chang, female, 26, majoring in Law at Wuhan branch of the Open University of China

But probably because of my low educational level, I received no responses to my job applications. With no work, and bills piling up, I began to feel lonely in this strange city, and to lose my passion.
By chance, however, I saw a recruitment notice for assistant police posted by the Wuhan Municipal Public Security Bureau. It was a glimmer of light, and after rounds of written examinations and screening, I was given the job.

I cherished this work. My duty was to take charge of female suspects, most of them minors. These young girls, still immature and easily influenced, had turned to crime through mistaken ideas and bad influences. They make me very sad, and often I wondered: What can I do for them? I wanted to help them get back on the right track.

But to become a policewoman, I had to pass the civil-service examination. For this I lacked a basic prerequisite: an undergraduate education. At this time I learned about an educational institution promising that applicants would pass the exam and be granted a Bachelor's degree for 8,000 yuan without having to attend any classes. I was very excited, immediately handed over the money, and started to prepare for the exams. However, after two years, I failed to reach the minimum score in one of my courses, and was refused a degree. I not only lost my money, but wasted two precious years. Was this a trick of fate, and an end to my new life? Had the fire of my dreams been extinguished? Once again, I seemed to fall into a hole, and did not know where to turn.

It was then that I learned from a colleague about the OUC. I went to its admissions office hoping not to repeat my mistakes, and signed up immediately. Although it hasn't been long since I enrolled, I have been deeply moved by everything here.

First there has been the company of my teachers. The long and dull study of laws, the lonely feeling of sitting in front of cold computer screens, and my self-doubt have all been alleviated by teachers who would assure me with their warm eyes: "Don't worry. I am here to help you."I have also been moved by my own perseverance and effort. Instead of going online like my peers to shop, I study with my mobile phone or laptop. Whenever there are problems I do not understand, I communicate with the teacher, whose patient answers help to increase my confidence. There are no shortcuts in life, only greater efforts.

Finally, I have been touched by the encouragement of my fellow students. They have offered me comfort with simple looks or smiles, extended me help when I have been frustrated and bewildered, and encouraged me with great patience.
It is a dream that helps the flower of youth to bloom. I have been confused, and felt lost and exhausted. Yet I continue to expect more of the future and to be persistent in pursuing my dreams. Here at the OUC I have launched a new journey. (This speech won third prize in the OUC "My Learning Story" speech contest.)

By OUC