I am a graduate of the Jimo School of the Qingdao branch of the Open University of China (OUC). The OUC has been a milestone on the road of my life and has left me with unforgettable memories.

I remember a philosopher once said that the goddess of fortune and prosperity does not give gifts, she gives opportunities. I never imagined I would have the chance to receive degree education after more than 10 years of work. When I signed up to study at the OUC, I was excited to have such a good opportunity for further study.
I was also nervous to see whether I could finish my studies due to my poor learning abilities and deteriorating memory. However, thinking of the inconvenience caused by my lack of professional knowledge, I resolutely took the entrance examination for the Jimo subdivision of the OUC's Qingdao branch and chose the construction engineering and management major.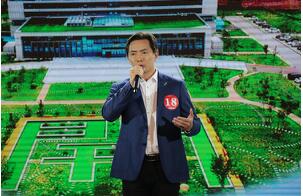 Sun Yanxi, 43 years old, majored in Construction Engineering and Management at Qingdao branch of the Open University of China

Every time I return to campus, I am full of anticipation for my new learning life. I even shed tears of excitement for being able to seize such a good opportunity to start a new journey.

After enrolling, I was faced with a new learning model which is different from the traditional model of face-to-face teaching. The OUC mainly uses multimedia resources, such as text, voice recordings, and video. In order to adapt to this learning mode, I learned computer knowledge in advance. Fortunately, I also met some very friendly teachers and students who were always ready to help. While studying, my teachers and fellow students would always help and offer encouragement to each other. We discussed the problems we encountered in our studies using the online platform. I want to thank my class teacher, Ms. Wang, who patiently and carefully responds to any problems we encounter in our studies. I want to thank my classmates for volunteering in answering questions put forward in the group and generously sharing their learning methods and experiences.

Through unremitting effort, I have gradually mastered the method of using and downloading online teaching resources from the OUC's distance teaching platforms and improved my ability to communicate with teachers and students online. At the same time, I have formed a habit of writing diaries and taking notes on everything I learnt during the day for my future reference. I learnt to record the problems I encounter in my daily work and my thoughts on applying what I have learnt. In this way, I have slowly accumulated a lot of valuable experience. Over the past two years, on the premise of not affecting my daily work, I have systematically studied more than 20 courses, including building materials, architectural structures, architectural surveying, architectural mechanics, and construction technology.

Rene Descartes said that the most valuable knowledge is knowledge of methods. The OUC's formal and systematic teaching style has helped me learn a lot of different self-learning methods and greatly improved my self-learning ability. I can apply the theoretical knowledge I have learnt in my actual work and demonstrate my new-found intelligence in various different ways. I have not only transformed from a "grassroots" migrant worker to a project manager of a building company, but also experienced a fundamental change in my way of thinking and working. Both of these could not have happened without the OUC.

President Xi has said that "happiness comes from hard work" and I believe that my happiness index has improved thanks to my hard work. I have improved my house and bought a new car. I see more smiles on the faces of my parents, wife, and children. Although my professional role has changed, my true nature and commitment to serving my country have remained unchanged. Your career is the guarantee of happiness in life and learning is the inexhaustible force behind success. If you do not keep learning, the world will leave you behind!

One can enjoy a grander sights by climbing to a greater height. I know that there is no road longer than our feet and no mountain higher than our heart. I will strive to constantly improve myself through learning and practice. I will make my due contribution to society with what I have learned in the OUC. I will do my best to live up to my conscience, continue to work hard, and elevate my life. (This speech won third prize in the OUC "My Learning Story" speech contest.)
By OUC