I was born in beautiful Yanji, the capital city of Yanbian Korean Autonomous Prefecture. I loved learning from an early age, finding it easy to learn maths, as well as the Hundred Family Names and the Three Character Classic. I always ranked top of the class at school and my father proudly collected my certificates of honour.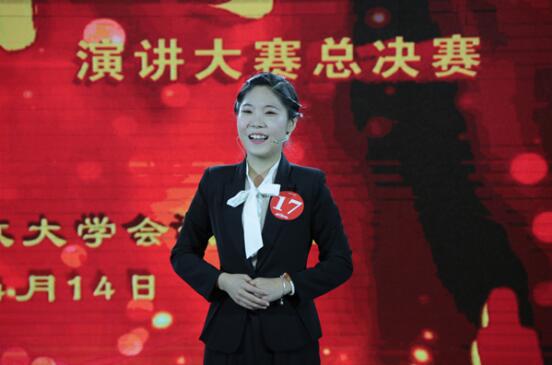 Zhang Lin, 22 years old, majoring in Preschool Education at Jilin Branch of the Open University of China (OUC)

However, when I was ready to continue my proud journey, my father's business failed and he got into a lot of debt. There was no money in the family, with only 300 or 400 yuan left to live on each month. Although I loved studying, I couldn't not turn a blind eye to the situation, so in order to ease the burden on my parents, I went against the wishes of my family and teachers and gave up test-oriented education, choosing a tuition-free vocational school instead.

Against this background, I became a kindergarten teacher when I was still quite young. I was so excited to hand over my first paycheque to my parents; I felt like I was grown up! I was gratified but still sad, because I had lost a chance to develop. I was eager to seek knowledge but now there was no opportunity. I confided in my friend, who told me about the OUC, where one can study while working.

I enrolled in autumn 2016. At the welcoming ceremony, I felt very emotional listening to the impassioned toasts given by the presidents and teachers.

The OUC's teaching model is different from traditional learning models. In the beginning, I often heard from my senior schoolmates that it was difficult to pass the OUC exams; the school is easy to get in to but hard to graduate from. At first, it was hard for me to adapt, but after a while, I found study was effective to study as long as you made persistent effort and applied scientific learning methods.

I feel so lucky to have studied at the OUC. I still remembered that the kindergarten I worked in had an open class competition. I had a deep analysis and discussion with my teacher who was very patient in helping me complete the details without complaint, even though her child was ill at the time. When I found out about this I was incredibly moved. I remember something she said to me, "Zhang Lin, I know this path has not been easy for you and I just want to stand behind you when you needed me." It was because of this teacher's devotion and sense of responsibility that I felt the greatness of education.

I would like to thank the OUC for giving us the opportunity to learn and I hope that it will continue to develop in the future and give more people the opportunity to change themselves. (This speech won third prize in the OUC "My Learning Story" speech contest.)
By OUC