I work at the Hebei Branch of China Construction Bank. I am very grateful to have been given this chance to meet all of you.

In 2015, when I was 45 years old, and out of school for 22 years, I enrolled at the OUC as a Chinese Language and Literature major. Many people had questions for me. One colleague said, "You already have an accounting certificate and an undergraduate diploma. You have a good job with a decent income, and you're old. Why bother studying Chinese Language and Literature?" And a friend wondered, "How can you focus on learning when you have your parents and children to take care of, not to mention your work?"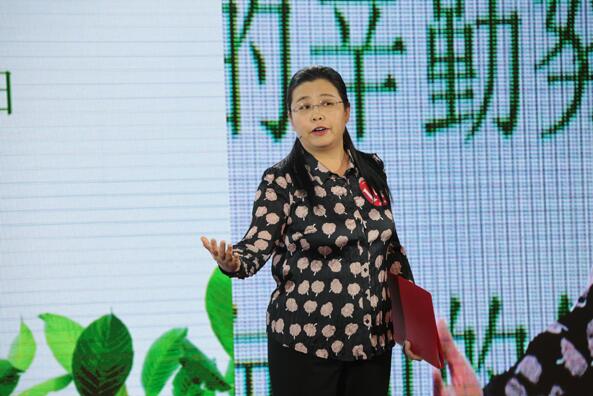 Zheng Liping, female, 48, major in Chinese Language and Literature at the Hebei Branch of the Open University of China (OUC)

In the face of all this doubt, I worked hard for more than 900 days and nights to answer these questions.

In the first half of 2017, I graduated from the OUC's Hebei branch with excellent grades. My thesis was highly praised by my teachers, and I was awarded a scholarship by the OUC.

Every one of you may be wondering: How, at nearly 50, with so many other responsibilities, did I accomplish this? My success can be conveyed in three phrases: making full use of my time, working hard, and continually practising.

How did I find the time? By making full use of every moment.

For example, when waiting for an elevator or a bus, I would look at the study materials stored in my mobile phone. On a train or beside a hospital bed, my textbooks were always to hand. It is important to maintain one's social relations, but I made an effort to decline any invitations that were not indispensable, and when I had no choice would stay up until midnight to finish my tasks.

2015 was the most difficult year in my life. My mother was hospitalised six times, and as the eldest daughter the responsibility was mine. Work was busy, and my parents lived at a distance; I had to keep going between my home and theirs. Only when it was very late at night and my mother had fallen asleep was I able to take out my textbook and study in the hospital corridor. But difficulties kept appearing. One time she pulled the IV needle from her wrist and started bleeding heavily. Her spirits would rise, only to fall again. I felt guilty for not being with her constantly, and I realised how much trouble can lie behind the most glorious achievements. However, as President Xi said, "No matter how high a mountain is, if you climb it, you will reach the summit. No matter how long a road is, you will reach the end of it if you keep moving."

How did I handle the problem of no longer being young? By studying hard.

Although I am young at heart, age has affected my memory. Therefore I filled notebooks and small cards, downloaded materials from the OUC website to my mobile phone, and checked them whenever I could. I studied ceaselessly, and the constant learning and repetition were what allowed me to succeed.

!I firmly believe that 'miracle' is just a synonym for hard work, and that if you work hard, no success is beyond your grasp.

How did I handle the problem of poor writing? By always practicing.

Over the two years of my studies, I read more than 50 books, especially about Shi Pingmei. Reading books and listening to lectures is essential to learning, but so is writing. Before starting my thesis, I completed more than 300,000 words of a diary-style draft. I also visited the hometown of Shi Pingmei in Pingding, Shanxi province, and her grave in Beijing Taoranting Park. When something confused me, I would communicate with my teachers through QQ, WeChat or by telephone. After all this preparation, my 7,000-word paper was completed very fast.

I believe that the opportunities always await those who are well prepared. In 2016, my writing ability allowed me to gain a management position in my company, and that same year I was for the first time paid for an article I had written.

Learning has given me a firm faith. The road of learning is like a serialized novel in which you never know what twists the story will take, and the only way to stay on it is to continually re-energize oneself. As an ordinary person, I feel honoured to stand on such a big stage to share my story, passing on love and spreading positive energy.

Seemingly easy learning can take painstaking effort. Success can seem easy but be very difficult. The last two-and-a-half years have passed so fast. My decision to enroll at the OUC will be rewarded for the rest of my life! (This speech won third prize in the OUC "My Learning Story" speech contest.)
By OUC