I come from Shangli County, Pingxiang, at the border of Hunan and Jiangxi Provinces, and am a self-employed entrepreneur. Even though Shangli County is located in a remote mountainous area, a strong respect for culture and education exists there.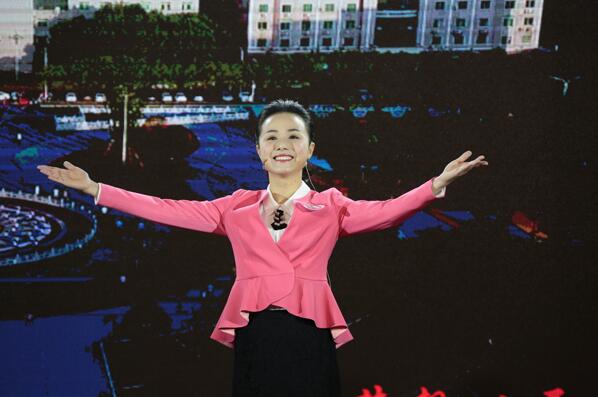 Li Bai, female, 34 years old, Administration Major, Jiangxi Branch of the Open University of China

"The roc will be able to rise with a wind one day, skyrocketing up to 90 thousand miles away." These two classic lines were written by Li Bai, the famous Tang Dynasty poet whose name I share. With this name, my parents intended to inspire me to become a cultural ambassador, and indeed my dream was to become a college student, to struggle for my ideals, and to burn my youth in the halls of learning.

In order to realise this dream, I worked constantly; however, I did not achieve a great deal. After graduating from junior high school, I was admitted to vocational school, and had to give up my dream of going to college. After graduating, I launched a small wedding company in my hometown, which soon stood out from among its peers there. However, as my customers grew more demanding, I felt my desires begin to exceed my abilities, and the old aspiration began to rise once again in my heart. I could not help shouting to myself: "I want to go to college! I want to go to college!" But with my family to take care of and business to run, where would I find the time to study? Was I doomed to never realise my dream?
Then, by chance, I heard about a new type of university: the Open University of China (OUC), which is based on independent learning, integrates face-to-face tutoring with remote services, breaks the constraints of time and space that traditional studies entail, and allows for studying, living and working to be balanced. Delighted and excited, I immediately submitted an application to the OUC workstation in our county.

On 1 March, 2017, a day I will never forget, I attended the opening ceremony for open-education students at the Shangli Study Centre of the OUC's Pingxiang School, and became an Administration major. From that day on, I began to live my dream of being at university.

The rich curriculum, wonderful instructors, and flexible learning available at the OUC made me devote myself to my studies avidly and happily. By taking Information Management Concepts, Public Relations and other courses, I gained a new understanding of business development and corporate management; what's more, my self-esteem rose enormously. In 2017, my business increased by 50% over the previous year, and my work became much more efficient. This year, I made a bold attempt to expand my business by setting up a big hotel and a talent agency. My company is now growing steadily thanks to what I learned at the OUC.

I am honoured and proud to be a college student, and confident and happy because of my access to learning. The OUC has allowed me to realise my dream of becoming an innovator and entrepreneur. Dear friends, if you have the same dream, and the same desire for learning, please do not hesitate to throw yourself into the embrace of the OUC; it is a place that will allow your dreams to rise with the wind! (This speech won third prize in the OUC "My Learning Story" speech contest.)

By OUC