Ladies and gentleman, my name is Tang Zhijie, and I am 80 years old. I am a retired senior engineer who used to work with metallurgical machinery for the Shougang Group. I was often called "Teacher Tang", and I have a story to share with you about this.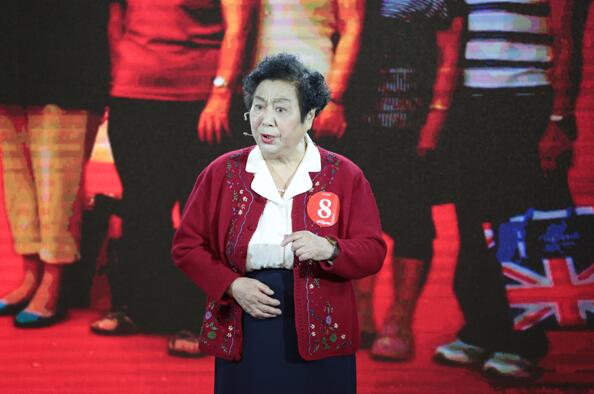 Tang Zhijie, female, 80, a student at the OUC University for Older Adults (Beijing branch) pursuing non-degree education

In 2001, Beijing won the right to host the 2008 Olympic Games, and I began to dream of being a volunteer providing language services there. In March of 2005, my husband and I travelled to South Africa with a tour group. One day, during breakfast, one of our group tried to communicate with a waiter using gestures, since she couldn't speak English. However, the waiter failed to understand her. She just wanted a glass of hot water, so I said to the waiter, "Hot water, please." He went to the kitchen and brought her a glass, exchanging an understanding smile with me. Two simple English words were enough, and it made me feel how helpful it is to know English when travelling abroad. Many seniors in China, when they have retired, like to travel abroad, and to help them avoid embarrassment, I wanted to motivate my older friends to learn English with me when I went back to China.

In May of 2005, with the strong support of the residents' committee, and through the Beijing Shijingshan Community College, an English class for older adults was set up. Since we did not have a full-time English teacher, I recommended myself as the counselor for the class. It was not easy without the teacher, since my level was not high enough to make me qualified. What I could do was to seize the time and opportunities I had to read and study. I took English classes at Shijianshan Community College every week, and then taught my students; I was constantly busy. To help students who could understand but had trouble remembering, I created a jingle using the Chinese tones with English words to make the English easier to memorize. "Wo I, ta he; 1, 2, 3, is one two three. Jianmianwensheng, how are you; fine, thank you, huidani." The residents' committee loved it, and wanted me to perform it in a show held by the street district, which I did several times. The jingle, "Learning English with a Senior Couple", was also selected by Shijianshan District to be part of the "Beijing Citizen English Language Capability Demonstration Gala", where it won the "Best Creative Idea" award, which gave a great boost to my enthusiasm for learning.

In 2008, during the opening ceremony of Beijing Olympic Games, I led a class of 21 students with an average age of 65 in providing volunteer services to Chinese and foreign audiences, regardless of rain or heat. We received high praise, and were recognised as a "Beijing Olympics Service Team", while I was named a "Chinese Capital Olympics Service Pioneer" and "Advanced Beijing English-Speaking Citizen". After the Olympics, we continued to study English. In 2015, Beijing and Zhangjiakou were awarded the 2022 Winter Olympics, and our class cooperated with an English class for older adults in Zhangjiakou to strive to become qualified as volunteers for it. We arranged to hold one English competition every year, and so far have held two.

The class has taught its students how to use English in daily life, and now they do not worry about travelling abroad. Some can even do so on their own; their English is sufficient for dealing with any issues they encounter. As the saying goes, one is never too old to learn. We are living like younger people, and learning helps keep us youthful.
(This speech won the first prize in the OUC "My Learning Story" speech contest.)

 
By OUC