An old saying goes: "Never forget why you started, and you will succeed". It has been made famous by General Secretary Xi Jinping of the CPC Central Committee. So what was my goal when I began?
As a child in the mountain city of Chongqing, I dreamed of becoming a teacher. I graduated from secondary school at 18 and became a kindergarten teacher, as I had wished, and fondly imagined that my dream had come true. Only after 20 years of teaching did I realize that it had been just the first step. Learning has been a constant throughout my professional career.
I followed secondary school with junior college, and was transferred from a county kindergarten to a prefectural one in the city. In 2015, I entered an undergraduate preschool-education programme at the Open University of China.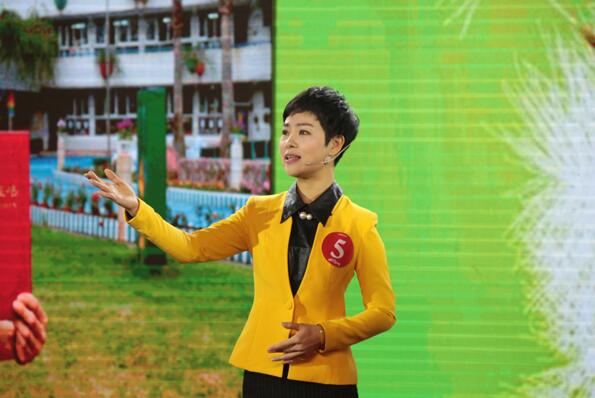 Li Li, female, 39, and a student of Preschool Education at the Fujian branch of the Open University of China (OUC)

There I am an ordinary student; in my work unit, I am an ordinary teacher; and at home, I am an ordinary wife, daughter-in-law, and mother. In November of 2015, my mother-in-law was hospitalized for an operation, and needed looking after; my young daughter had to be accompanied to and from school; and my kindergarten was making preparations to qualify for enhanced ranking. At that time I was constantly on the move. When my teacher, Mr. Yang, learned of this, he had a patient talk with me, and what impressed me most was that he told me: "Your dream must be followed. Nobody can help you unless you work hard. Only steady work will make it come true." His words have never left my mind.

Mr. Yang adjusted my study plan, and my classmates shared materials with me via WeChat. When I was busiest, I would turn to OUC teachers online for help. Sometimes I asked questions at work, and would get timely answers from them as well. Shaowu is over 300 kilometers from Fuzhou and more than 1400 from Beijing, but at the Open University of China this has never been a problem. What's the distance between the dream and its realisation? Give up, and it's as far away as the sky; insist on it, and it's right before your eyes.

In 2016, I took part in a micro-class contest for kindergarten teachers held by Shaowu City. A part-time teacher at the Shaowu Radio and TV University gave me tips before the contest, and for several evenings in a row I applied the teaching theories I had learned to the design of my class. There was no lack of experienced teachers among my classmates, who listened to my class before the contest and gave their advice. At the same time, there was another mysterious team of teachers from the headquarters of the Open University of China; it was you who showed me the best approach, and broadened my understanding of how such a class could be taught. Filled with confidence, I ended up winning the contest.
My dream is to become a good teacher, and I will never stop pursuing it. Each recognition is a small step for me, and every word of praise reminds of my original aspiration.

Not long ago, a poem on the CCTV programme Classical Chanting helped me find words to express my original dream. "In places without sunshine, youth still germinates. Tiny as a moss flower and the size of a piece of rice, it still blooms as proudly as a peony". Though I am only an ordinary OUC student, like a tiny moss flower in the Wuyi Mountains, I am eager to bloom like a peony in the spring breeze. Only with an aspiration like mine will millions of OUC students be able to reveal their talents and realize their dreams. If each and every tiny moss flower can show the splendour of life, the great Chinese dream will be realized in a vast land of hundreds of blooming flowers.
(This speech won first prize in the OUC "My Learning Story" speech contest.)
 By OUC