Wang Qide, deputy to the National People's Congress and president of "Wulang" Yellow Goat and "Hongqi" Pig Breeding Professional Cooperative in Nangjiang County, Bazhong City, Sichuan Province, sat down for an interview with China Economic Network (ce.cn).
"The promulgation of so many preferential policies to farmers and the government's strong support for agriculture has really stirred me up — I feel I can hardly sit still! How I wish I could return at once and go out to work with the villagers," Wang Qide, a deputy to the National People's Congress and a student of the Open University of China (OUC), said as he walked out of the Great Hall of the People on 20th March 2018.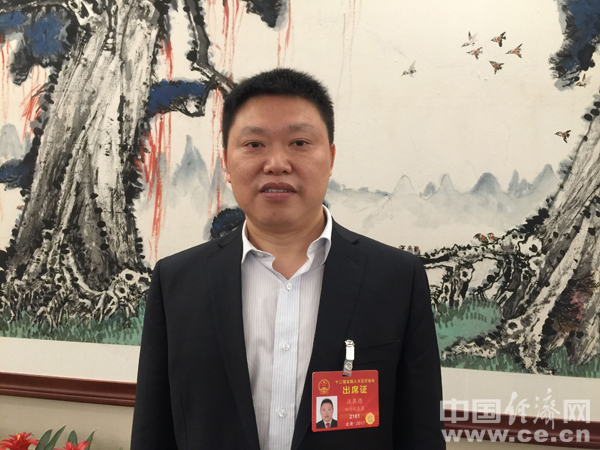 Wang Qide is president of "Wulang" Yellow Goat and "Hongqi" Pig Breeding Professional Cooperative in Nangjiang County, Bazhong City, Sichuan Province. He has been taking the lead in helping the people in his hometown out of poverty for over a decade. He founded the mutual assistance poverty reduction cooperative and Nanjiang Yellow Goat Breeding Professional Cooperative. He has created a goat farm, pig farm, and vegetable industrial park. Taking into consideration issues such as the breeders' loss caused by fluctuation related to the seasonal need for yellow goats, he has built a down-stream processing factory for Nangjiang yellow goats with an investment of 200 million yuan. In 2016, the factory was put into full operation and annual output value of 30 million yuan was generated.
"With concerted efforts, we will win over the fight against poverty alleviation," said deputy Wang Qide to the reporter.
Return to the village to make creative innovations
Wang Qide is a native of Nanjiang County, Bazhong City, Sichuan Province. He went to southern China to seek development, where he worked in transportation and real estate. He has stayed in Guangdong, Xi'an, and Fujian. He has lived in temporary sheds and slept on the street. After experiencing many hardships, he became the leader of a team of over 300 migrant workers.
"The first days were the hardest and most unforgettable." To those working away from home, more money is made but with less sense of belonging. As Wang Qide explained, "When I was working as a migrant worker, I received A Letter to Migrant Workers from the government in my hometown, which showed me that a number of preferential policies have been issued in my hometown to encourage the migrant workers to return and star businesses.
At the time, I thought to myself "although I can make money as a migrant worker, my roots will always be in my hometown." "I would like to make contributions to my hometown as well as making money. Therefore, I have made up my mind to lead the villagers in starting their own business in order to get rid of poverty through prosperity," Wang Qide said to the reporter with a smile. At the end of 2004, he returned to his hometown with 600,000 yuan of capital.
Quickly develop the "borrowing and returning goats" model
Wang Qide conducted an in-depth analysis of the conditions and market in the village. Wang discovered that the village was a good place to raise yellow goats. In the end, he decided to rely on yellow goats, pigs, vegetables, and other featured local agricultural resources, and chose to take a new path for ecological and standardized development.
"Nanjiang Yellow Goat" is a geographically limited trademark brand of Nanjiang County. However, Wang Qide knew nothing about breeding. As a result, he went to Sichuan Agricultural University to learn practical skills at his own expense. He went up to the mountains to look after the goats in the daytime and studied breeding theory at night. In this way, Wang Qide became a real "shepherd".
In 2004, Wang Qide invested 1.6 million yuan and built "Wulang Yellow Goat Farm." Thanks to the instruction of experts in the government animal husbandry departments, a net income of 80,000 yuan was generated in the same year. Likewise, he founded "Nanjiang Wulang Yellow Goat Breeding Professional Cooperative" in 2006 and encouraged the people around him to invest as shareholders. With Wang taking the lead, the farmers raised about 80,000 Nanjiang goats. In 2008, Wang Qide rented 2,360 mu (about 157 hectares) of land with an investment of more than 17 million yuan. A pig farm with 4,000 pigs has been built and 1,200 walnut trees and about 50,000 honeysuckle trees have been planted, achieving the integration of economic return and ecological benefit.
Wang Qide said, "I made a lot of money by raising goats when I returned at that time. After several years of goat raising, I wanted to pass on the experience I had gained and the techniques I had learned to other people."
At first, the villagers were not in favour of Wang's proposal, as the financial input before the breeding, technology needed during the breeding, and sales process after the breeding were all difficult obstacles. However, Wang didn't lose heart; instead, he found a solution.
After several rounds of trial and improvement, Wang Qide has explored a "professional cooperative + leading households + farmers" operation model and a "borrowing and returning goats" poverty reduction model. As he explains, "borrowing and returning goats" means lending reproductive ewes by weight to the poverty-stricken farmers and offering unified technical support free of charge. The lambs born from the ewes belong to the farmer and the ewes are returned to the cooperative at the same weight as they were borrowed. Any excess weight is subsidised to the farmers in cash at one yuan per jin (half a kilogram) higher than the market price. The professional cooperative also provides goat-raising households with free unified technological training, disease prevention and treatment, and sales management.
It was not long before the cooperative founded by Wang Qide grew bigger and bigger. After just a couple of years, five townships and 16 villages had been developed. Over 1,000 households were involved in the cooperative as members and more than 20,000 goats were raised. However, then the problem of subsequent marketing emerged.
Setting up a down-stream processing factory for yellow goats
One villager named Wang Qizhong said that the goats were well raised but money was being lost due to the pricing. It is the general practice to sell Nanjiang yellow goats in winter and the outside traders would use this as an opportunity to force the prices down. They knew that the goats would be raised for another year if they were not sold out in the winter of that year.
The villagers were worried and Wang Qide himself had to expend a lot of effort to alleviate their concerns. He began to explore the idea of establishing a downstream processing factory for yellow goats so as to eliminate the need to rely on external purchasing.
By taking into consideration the loss caused by seasonal fluctuation, the sales problem, and the leading of more households in raising yellow goats, Wang Qide reached a cooperation agreement with Sichuan Beimu Nanjiang Yellow Goat Group Co., Limited. In 2005, a downstream processing factory was built in the industrial park with an investment of 300 million yuan.
As such, the investment, sales, and technology-related problems worrying the farmers have been solved, giving them more confidence. Other support measures have been deployed for poverty-stricken households unable to develop large scale breeding due to a lack of labour, such as sending goats to them to be raised free of charge, and prioritising their employment.
Nanjiang is a poverty-stricken county and Wang Qide is fully aware of the responsibility on his shoulders. As a deputy to the National People's Congress, he has actively devoted himself to the battle against poverty alleviation. He has invested 200 million yuan into Dejian Agriculture and Animal Husbandry Technology Co., Ltd. By relying on the downstream processing factory for yellow goats, more than 120 households have been lifted out of poverty and more than 300 local farmers have been given jobs in the company. Meanwhile, villagers in about 13,000 households in the surrounding villages have been led on the path toward poverty alleviation. Wang Qide has become a renowned leader in achieving prosperity.
Materials related to NPC deputies and CPPCC members:
Wang Qide is a native of Nanjiang County, Sichuan Province. He graduated from the animal husbandry department of Sichuan Agricultural University. Now, he acts as president of "Wulang" Yellow Goat and "Hongqi" Pig Breeding Professional Cooperatives in Nangjiang County, Sichuan Province.
Speeches at the Two Session: Build the road first if you want to become rich
Wang Qide is deputy to the 12th and 13rd national people's congresses. In spring 2016, he joined the legal science major in Sichuan Nanjiang Radio and TV University. At the opening ceremony of the 13th National People's Congress, he was honoured to be seated on the platform as a farmer representative.
When the deputies from the Sichuan Delegation gathered to deliberate on the Government Report during the conference, Wang Qide was very excited and made a speech around effective investment promotion. He said that roads have to be built first if people wanted to become rich. Bazhong is situated in the geometrical centre of the three major cities of Chengdu, Chongqing, and Xi'an. Due to inconvenient transportation, it used to take a long time to reach the cities. In recent years, five expressways running through Bazhong have been opened to traffic and it now takes just three hours or so to reach the three major cities, which has brought about improvements in life, production, and development conditions. In recent years, a total of about 360,000 people have been brought out of poverty in Bazhong City, including about 60,000 people in Nanjiang County. All the villages have got access to clean drinking water, electricity, roads, broadband internet, and radio and TV. With expressways open to traffic, the ordinary people now hope for a railway. In Sichuan, there are quite a few cities and prefectures like Bazhong that are inaccessible to railway. According to the Government Work Report, the central and western regions will continue to be the priority for major infrastructure construction; policies and measures designed to encourage private investment will be implemented and a number of attractive projects will be introduced in sectors such as rail, civil aviation, oil and natural gas, and telecommunications. The Hanzhong-Bazhong-Nanchong Railway will run across the geographical centre of the Chongqing, Chengdu, and Xi'an triangle. It is a foundation project for regional economic coordination in the western region. The railway will accelerate the connection of the Municipality of Chongqing with the provinces of Sichuan and Shanxi and fuel economic construction in the old revolutionary areas along the railway. Wang Qide also suggested that greater support be given to the construction of village roads in order to reach the "the last mile" of rural development.
By OUC News Centre Integrating Reports of China Economic Network and News Network of Cichuan RTVU
Photographed by Hao Hongbo, reporter from China Economic Network