In the early morning, on his way to the Songxian branch of the Luoyang Radio and Television University (Luoyang RTVU), a solemn-looking middle-aged man hurries to the university ahead of schedule to prepare a computer exam for RTVU students.
That man is Zhang Weidong, a beloved teacher from Henan Province and the director of the Adult Education Centre of the Songxian branch of the Luoyang RTVU. In Songxian county, just the mention of his name to many people, including company employees, primary and secondary-school teachers, and even the village head and Party branch secretary, leads to a thumbs-up and the proud statement: "He is my teacher!"
In August of 1991, Zhang Weidong graduated from the Physics Department of Henan Normal University, and in 1998 found a job teaching at the Radio and Television Secondary Specialised School, where he stayed for eight years. Since 1999, he has been working in teaching and management for open education at the RTVU, and has taught over 7,000 college students. In 2017, the Songxian Community Education School was established. He was appointed director of the Community Education Office, and set out on the difficult path of exploring community education.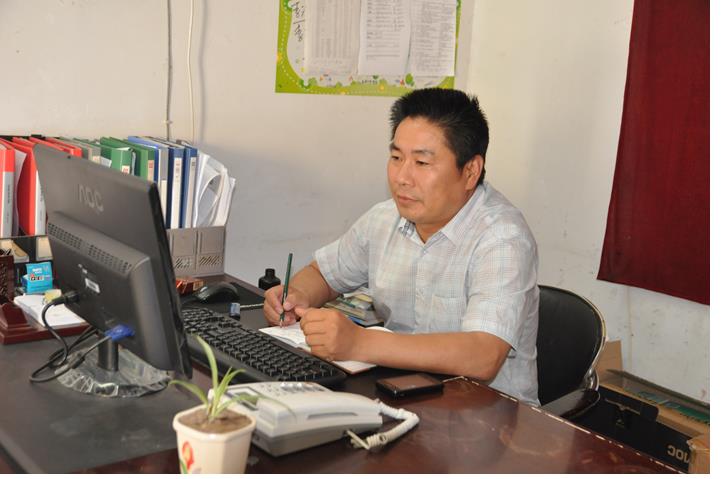 For a teacher, the essence is morality
Zhang Weidong is the oldest of his siblings. He has parents who are over sixty and in poor health to take care of, school-age brothers and sisters to worry about, and a wife and small child to care for. These would be heavy burdens for anyone to shoulder! When he started working, the school was close to his home, and these difficulties were manageable, but RTVU is forty or fifty kilometers away. What should he do? He always kept in mind what his father told him on his first day as a teacher: "A teacher must possess moral integrity in order to do the best for his students!" This was what his parents and his own teachers taught, and the idea has remained close to his heart.
When Zhang Weidong started working, he was responsible for all the classes related to electro-mechanics, giving 27 lessons a week while also taking on the role of homeroom teacher. However, having a young man's motivation and ambition, he was recognisd as the best teacher in the city. In 1994, computer science was added as a major at the school, and he was given responsibility for it. Everything is hard in the beginning. He felt troubled and lost, but kept in mind his father's words, and regained his determination and confidence. He studied computer science on his own and supplied the new department with all the software it would need, even compiling the teaching materials on his own if they were lacking. He also guided the students in making their own training equipment, and the hand-drawn sketches for the programming frameworks, as well as the wooden training keyboards, all testified to his devotion and hard work.
In order to prepare for an open-education pilot programme, he even moved his bed into the machine room at a time when he was having a new house built. He set the interests of the university above his own, suspending the construction of the house but managing to bring the debugging of the school computer room to a level where it met the standards of the provincial-level RTVU. When his child had a high fever, he had to leave his wife to take the child to the county hospital. His parents, missing their son, walked tens of miles to visit him, and were distressed and sad when they saw him so busy while living in extremely poor conditions.
Developing a link with the RTVU, and a great aspiration
In the autumn of 1991, his first class at the Radio and Television Secondary Specialised School was Physics, which was then taught in cooperation with the Luoyang RTVU and Songxian Technical Senior Middle School. As the only qualified teacher there, he taught more than 20 courses, including Physics, Basic Electricity, Theoretical Mechanics, BASIC, C-language, and so on. Because the students in three of his courses ranked first in the unified examinations organised by the Luoyang RTVU, Zhang Weidong was honoured by the university, and recommended to head the research group at the Electromechanical Professional Centre of the Luoyang RTVU, as well as to be a researcher in the research group at the computer centre of the school board in Luoyang.
In 1999, Zhang Weidong was transferred to the Songxian Branch of the RTVU, where he happened to discover an open-education trial programme taking place, and began to devote himself to the management of this programme. His painstaking efforts extended to almost every area, including the debugging of IT facilities, the hiring of teachers, promotion, curriculum design, compilation of teaching-assistant materials, and student counseling.
As a teacher, he has always used love and patience to help his students. Zhang Xiangyang, a graduate of the "One College Student Per Village" programme, once thought about dropping out of school, but with Zhang Weidong's encouragement not only graduated, but became a civil servant after passing the examination. In the spring of 2017, Liu Shuanghe, an RTVU law graduate and retired legal worker, told Zhang Weidong: "I had planned to earn a manageable degree, just to kill time. However, thanks to your detailed and clear instructions, I passed the examinations for two courses, and have made up my mind to continue with undergraduate studies after I have finished."
Zhang Weidong has never ceased writing, or undertaking scientific research. He has published more than 20 papers, completed four research projects, and been named an outstanding teacher in Henan province.
He feels no regret for his devotion to the Open University of China (OUC)
In the spring of 2017, 308 students enrolled at the Songxian branch of the Luoyang RTVU, ranking first in Luoyang and second in Henan province, and raising high hopes for open education in Songxian. At the same time, however, it put more pressure on Zhang Weidong. He refined teaching management in four aspects. First, course registration was divided into four steps: score verification, registration, feedback, and exam application. Second,tutorials were refined into four forms: lecture, small-group class, , online and offline . Third, course assessment was divided into eight types: regular tests , Internet tests, computer-based tests, unified tests, self-taught examinations, major homework assignments, written tests, and field activities. Finally, graduation was refined into six steps: information verification, preliminary assessment, final assessment, archiving, graduation, and the grant of the graduation certificate. Through these enhancements to the system both counseling and teaching were improved, students were more satisfied, and the school gained recognition from the community.
On 26th April, 2017, the Songxian Community Education Institute and Songxian Community Education Network were opened. Half a year earlier, Zhang Weidong and the school leaders had traveled to Zhengzhou and Luoyang to discuss preparations for the project with the leaders of the provincial and municipal-level RTVU's. Back at the university, he joined with the Songxian Community Education Office to investigate more than a dozen communities and contact several associations of elderly residents. Having gained a full understanding of community education, he set up 3 community-education rooms at the RTVU, assigned two community-education study bases, and founded the Songxian community-education network.
From teaching a Radio and Television Secondary Specialised Class at the RTVU to working on the construction of an open-education pilot, from managing open-education teaching to founding a community institute, from when he was in his twenties until now, Zhang Weidong has experienced 27 of the glorious 40 years of the RTVU. With the sun and moon as his paper, sweat as his ink, and devotion as his pen, he has drafted a new blueprint for grassroots education at the OUC. We must cling to the grassroots level at the RTVU and stay dedicated to the cause of the OUC!
By OUC