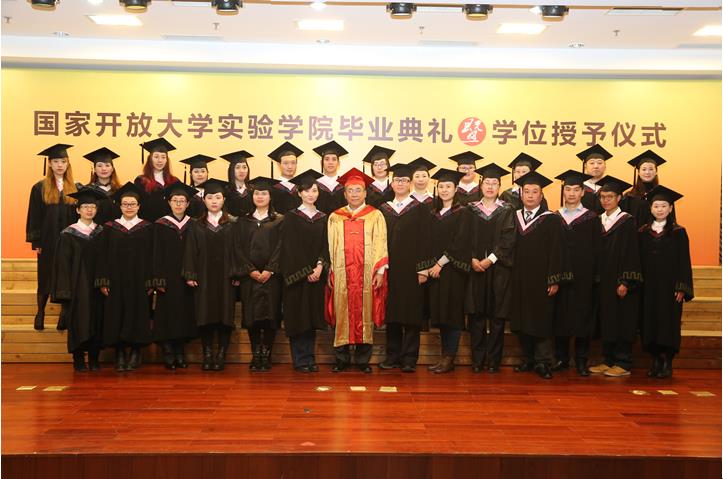 On 3rd Dec., 2017, to the rhythm of the school song, the OUC Experimental School Graduation & Degree Conferring Ceremony was held at Wukesong Campus, the OUC's headquarters. Fifty-one graduates went up onto the platform, shook hands with and saluted president Yang Zhijian, and received their graduation certificate. Twenty-six students were conferred Bachelor's degrees.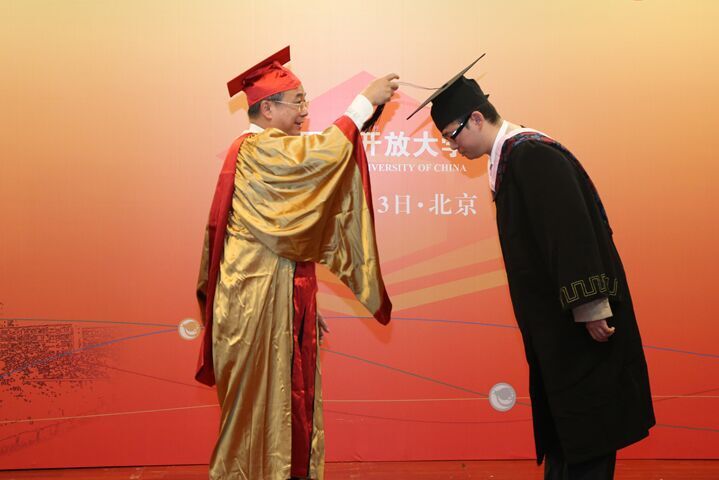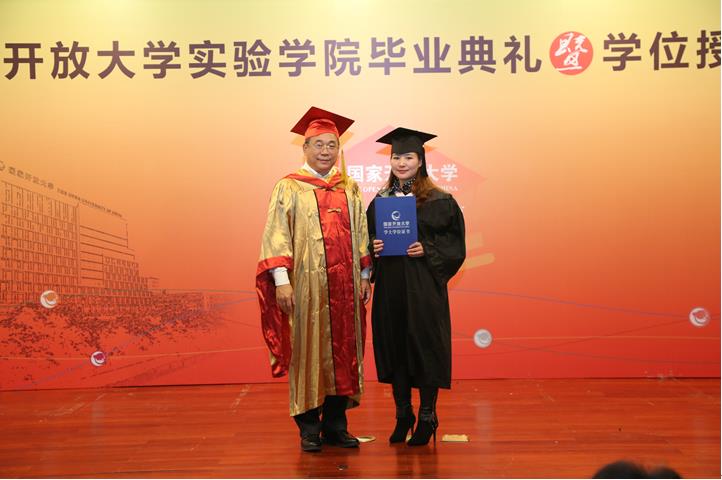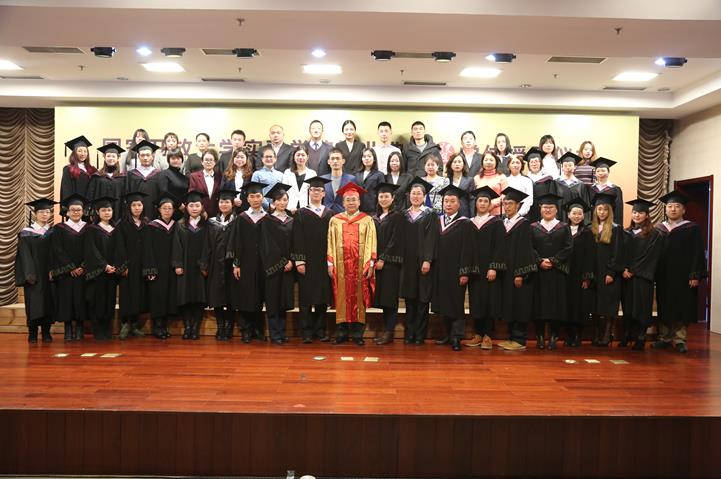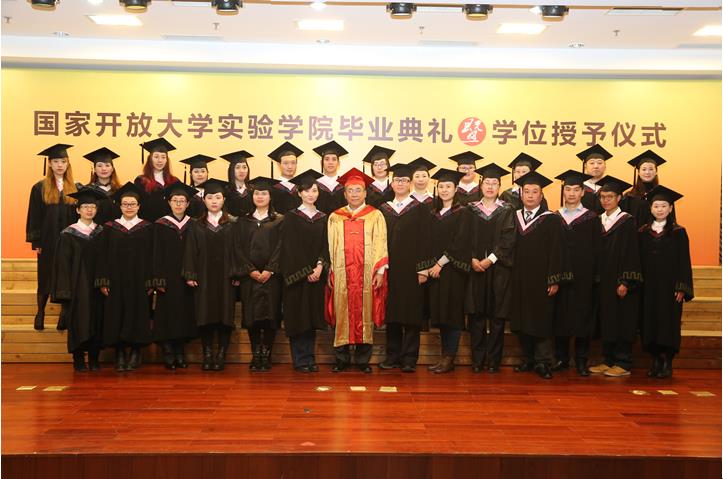 OUC president Yang Zhijian and graduates
Over 300 people were present at the ceremony, including OUC president Yang Zhijian, vice president Liu Chen, CPC Party Committee secretary and Discipline Committee secretary Liu Xianghong, vice president Qi Yanwei, leaders and heads of various departments, tutor representatives, Experimental School leaders and staff, student representatives, and representatives from Nanhai Experimental School, Wangtong Automobile Repair Study Centre, Tianxiang Study Centre, and Weigongcun Study Centre.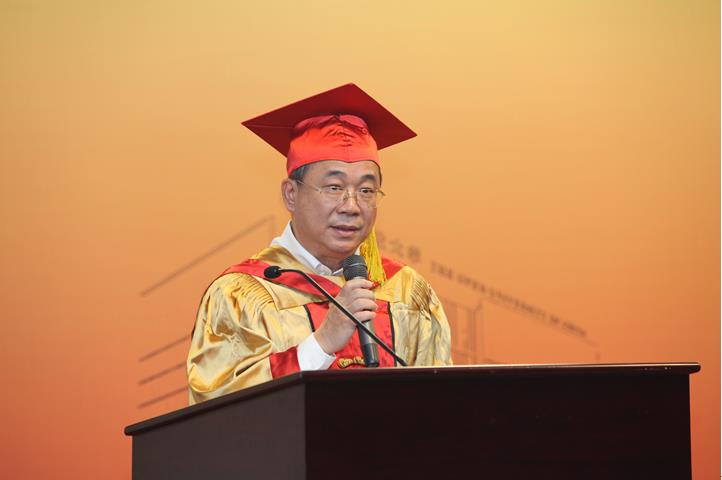 OUC president Yang Zhijian delivers a speech
OUC president Yang Zhijian delivered a speech in which he expressed, on behalf of the OUC, sincere congratulations to all Class of 2017 graduates. He also paid lofty tribute and extended his gratitude to every tutor. He looked back upon the CCRTVU's progress, the predecessor of the OUC, and mentioned several excellent alumni working in different positions. On the occasion of the successful opening of CPC National Congress and the socialism with Chinese characteristics entering the new era, Yang Zhijian hoped that students could take what they've learned on their future journey, prove their social value through their wisdom, diligence, and courage, and add inspire others in this new age. He said, "Your height is the height of your alma mater; your achievement is the pride of your alma mater!"
At the certificate issuance ceremony, OUC vice president Liu Chen gave his warm wishes to all graduates, thanking them for choosing the OUC. He hoped that they cherished the sweet memories at the OUC, and would use what they had learnt at the OUC to begin a beautiful life.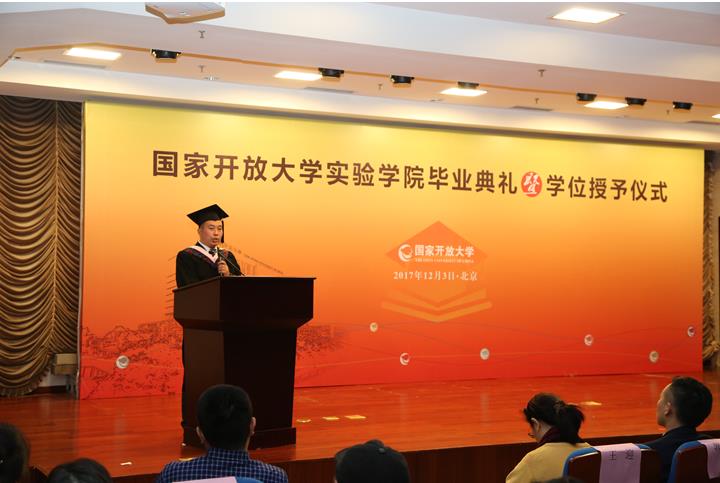 Class of 2017 Finance Major Monitor Shangguan Shaonan delivers a speech
Class of 2017 Finance Major Monitor Shangguan Shaonan delivered a speech in which he said that choosing the OUC means choosing a positive attitude towards life. He recalled the selfless devotions of the head teacher and tutors, the colorful club activities, and expressed his nostalgia and gratitude for his alma mater. He said that, in the future, he would remain true to his original aspirations and work hard.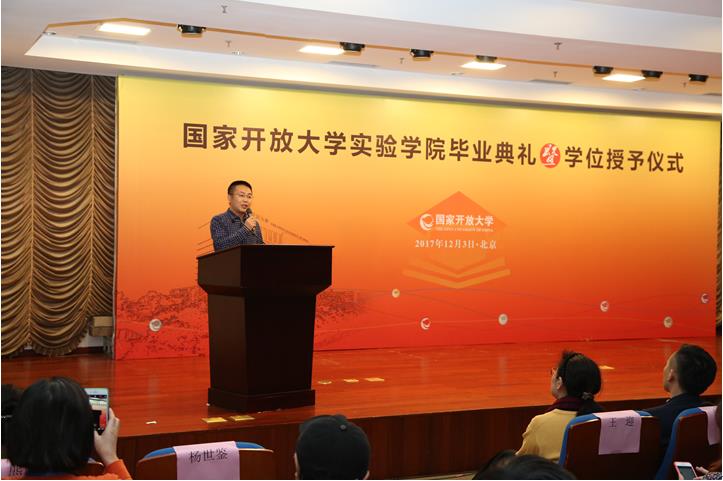 OUC tutor Yang Shijian delivers a speech on behalf of all tutors
OUC tutor Yang Shijian delivered a speech on behalf of every tutor, stating he thought highly of the students' hard work, and their proper handling of the time conflicts between work and study. He learned from their growth at the OUC, from enrollment to study, and finally to dissertation writing. He expressed his encouragement and trust in the students, hoping they would cherish, enjoy, and never graduate from lifelong learning.
At the ceremony, students also watched an OUC publicity video. The choir of the OUC sang Mount Qomolangma to the teaching staff. Finally, all participants sang the OUC school song in unison.
After ceremony, some students participated in media interviews, expressing their love and gratitude to their alma mater and tutors, their attachment to their university life, and how they cherished the new friendships they'd created among students. They sent their blessings to their alma mater.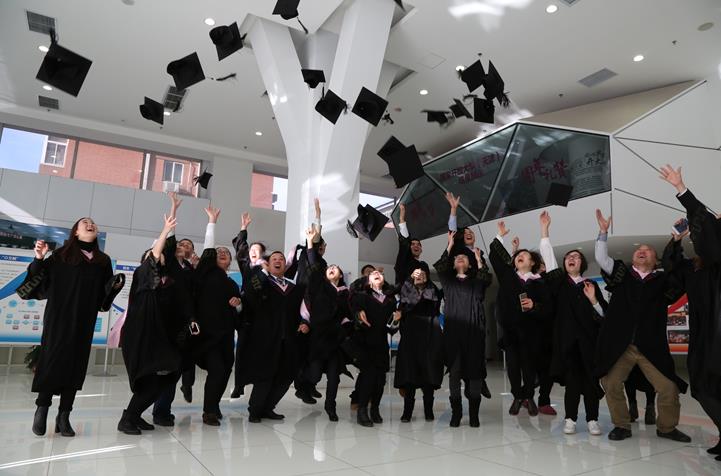 By Jiang Yanyan, Yang Yang, OUC
Photographer: Yu Zhangli