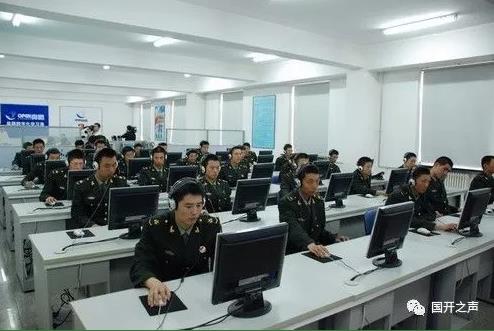 Beginning in 2000, aiming to help non-commissioned officers realise their dream of attending college while still in the military, and construct a learning-oriented military, the Open University of China (OUC) successively established Bayi School, Zongcan School, and School for the Air Force.
The OUC relies on military schools and colleges to establish tutorial centres that meet the needs of the troops. It utilises modern distance education methods, an open education style, and integration of multi-media teaching to carry out distance degree education for soldiers and officers within the army. The OUC Bayi School is a new Chinese model for learner development that integrates military and civilian strengths. The first institution in China to explore distance education for non-commissioned officers, Bayi School has made remarkable achievements, and established 1,580 tutorial centres across China, bringing online quality educational resources to border posts dissimenating knowledge to non-commissioned officers.
To enhance the fundamental educational level of non-commissioned officers on a large scale, the school has focuses on degree education since its foundation. However, with the improvement of educational levels among military officers, they now want more than a diploma. Their slogan is, "A degree is a basic requirement, but ability is more important!" The School's leadership reached a consensus that major-related study should relate to officers' posts; teaching content must closely follow each officer's occupational needs in a format acceptable to them.
Wang Huazhen is a fourth level sergeant in the eastern war department enrolled in Mechanical Manufacture and Automation at Bayi School. According to him, during the year he enrolled, the army was equipped with a batch of new infantry fighting vehicles. Because of his studies, Wang Huazhen was not confused by the new operation panels at all. In less than half a month, he had a thorough grasp of the structures and working principles of the new equipment. Later, he even renovated three pieces of equipment, innovated two operational methods, and compiled a pocket manual for the new equipment. Wang became expert at operating the equipment, and was recognised for his proficiency. Wang modestly stated that all of his accomplishments should be attributed to the distance education courses, where he learned a lot; the courses gave him immense experience he could immediately apply.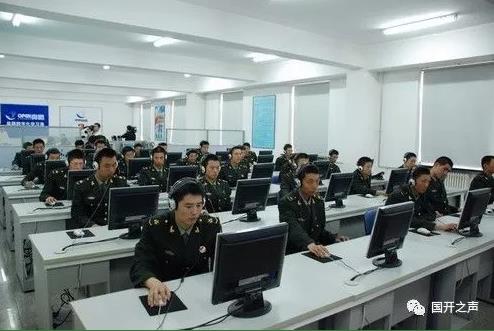 In a political education class in one company in the central war department, the teacher is neither a political instructor nor advisor. Instead, military students watch a video lecture given by Tian Yongqing, major general and political commissar of the previous general staff corps of the PLA. The lecture is on the art of success. Zhu Xianyang, a corporal monitor of the company, said pleasantly, "I didn't expect we would receive instruction from a general. General Tian's lecture is quite lively, and closely related to our life. It enlightens me a lot, helping us to open ourselves to success, and filling us with confidence and applicable methods. It is conducive to future development of non-commissioned army officers."
To enrich the army's educational resources, Bayi School introduced national quality open courses and established a cloud classroom for soldiers and officers. The School also invested in a "learning supermarket" for military vocational education in order to use the teaching resources in a more targeted and efficient. A customised digital and vocational learning platform design separates knowledge by majors, and also considers soldiers' vocations.
Baiyi School also launched "Jingwu micro-classes" that accommodate soldiers busy with training, who have little complete time to study. Soldiers and officers are given military-related instruction urgently needed in their daily work through such condensed "micro-class" videos, each five to ten minutes in length.
As of autumn 2016, OUC distance education had an enrolment of 360,000 non-commissioned officer students, and 220,000 graduates. The programme has cultivated a batch of high quality new style military professionals, enhancing their competiveness and ability to adapt to new posts when they retire from the military service. A large number of exemplary learners have shown up. Before the 90th anniversary Chinese Army Day, Wang Zhongxin, a Bayi School graduate, was awarded a "Bayi Medal," and introduced by Secretary General Xi Jinping; He Xiangmei, also a graduate, was honoured with a "May Fourth Chinese Youth Medal," "Role Model Young Soldier," "Third Session National Moral Role Model," and "2010 Figures Touching China;" Zong Daohui received a number of honours, including "All-Round Sergeant," "Special Soldier Daring to Challenge Limits," "Ten Model Learners Striving to Succeed," and "Ten Chinese Outstanding Youth."
By Yan Jingzhen, www.china.org.cn