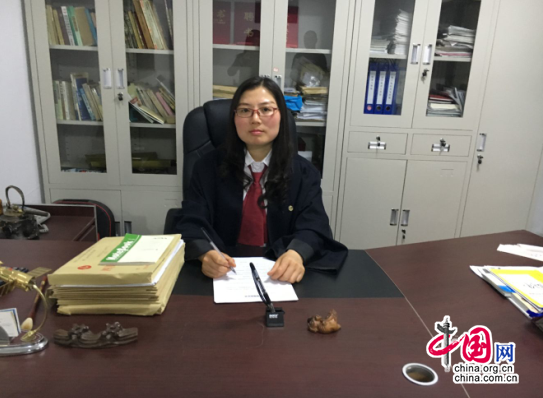 It was a Saturday afternoon and Yang Jiyan was meeting a client in her office at Sichuan Langzhao Law Firm. I waited for a while before her client left. She felt sorry and said with a smile, "We lawyers appear to be quite free. In fact, we almost have no weekends or holidays and have to work overtime to finish cases once we take them on."
Yang Jiyan, born in Jieyin Village, Baimaguan Township, Luojiang County, Deyang City, Sichuan Province, is of medium height and build. She is light-skinned with gold-rimmed glasses, and looks smart and capable in a purple suit. She states, "It is the Radio and TV University (RTVU) that has turned me from a housewife into a legal practitioner."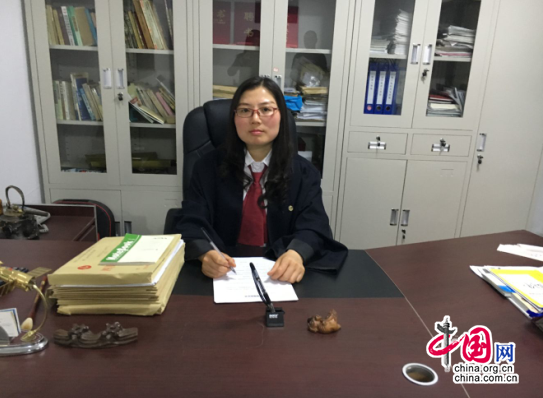 Yang Jiyan
The dream of becoming a lawyer sparked by a relative's suggestion
"I got married soon after I finished specialized secondary school and stayed at home as a housewife without going out to work. I'd been fond of reading since childhood and had always held a literary dream in my mind. After marriage, I completed my college diploma in Chinese language and literature as a self-taught student. Soon after I gave birth, I was kept busy with my child and housework all day; my literary dream seemed far out of reach and I felt totally isolated from society. When I gathered with my classmates and learned of their fulfillment in their jobs, I often felt depressed. Sometimes I found myself so alienated and wondered where I, who was once full of dreams, had come to?"
"After my child went to primary school, I felt more depressed and wanted more and more to find a way out for myself." Later, one of Yang Jiyan's male relatives heard about her depression through unintentional gossip and responded with the offhand remark, "You like reading so much, why not try sitting law examinations? I think the occupation would suit you well." Becoming a lawyer? Yang had seen many images of lawyers on the TV before and thought it to be an extremely noble profession, but one which was unreachable for her, for she had never thought she would qualify for the requisite examinations before. However, it was this comment that sparked the dream of becoming a lawyer in her mind.
A courageous journey to pursue her dream
Once the decision was made, Yang Jiyan set out to research the requirements and qualifications for law examinations and found her current qualifications insufficient. When she heard from friends that she could sit the judicial examinations with a RTVU undergraduate diploma, she resolutely signed up for the undergraduate law programme at the experimental school of Deyang RTVU. Yang was 33 years old that year and many thought it unimaginable for her to choose to study at such an old age.
Memory fails as people get older. If she couldn't remember law theories the first time she read them, she would read them again and again until she could. According to Yang Jiyan, she made the greatest efforts to prepare for the unified online English examination, which worried her the most. She arrived early for every English class. The English teacher was several years younger than her and she was the oldest student in class. She had forgotten nearly all the English words she'd learnt before and had to learn them by rote. She took extensive notes in her books and notebooks and got up early to memorize the words every morning. Luckily, all her hard work paid off, and she succeeded in passing the unified online English examination.Everyone said the judicial examination was the most difficult, and Yang Jiyan wasn't sure whether she could pass it. She prepared for the examination while she was still taking law courses at the RTVU. When she sat for the 2014 judicial examination, she was already 35. She hoped to get her judicial examination transcripts at the same time as she got her RTVU undergraduate law diploma. She waited with axiety and fear until the time came to receive her results. To her surprise, she scored 408 and succeeded in passing the examination after all. At that moment, tears of excitement were shed and all her efforts were worthwhile.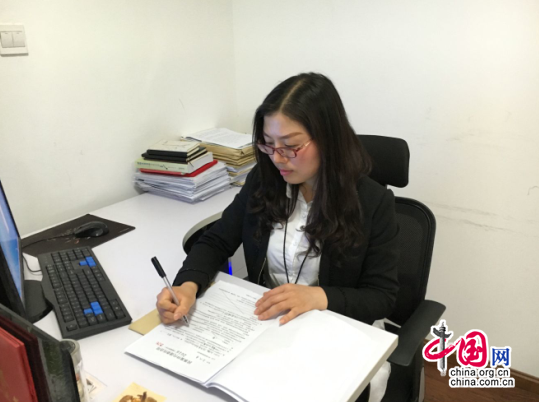 Yang Yiyan
The road ahead lit by a dream
On her first day at Sichuan Langzhao Law Firm, a fellow lawyer who was helping to familiarize her with her work, took her to discuss a case with a client. This, her first case, was handling a lawsuit from China Audio-Video Copyright Association against Lantian KTV's MV music copyright infringement.. The theoretical knowledge of copyright law she'd previously studied now came in handy. Investigation and evidence collection showed without a doubt that Lantian KTV infringed the MV music copyright of China Audio-Video Copyright Association. However, the KTV establishment had no subjective infringement intention, its business was fragile, and most of its staff had been laid-off. Based on the actual circumstances of the defendant, Yang Jiyan properly used discretionary power to accommodate the special employment difficulty of the disadvantaged group, and obtained compensation for the intellectual rights owner in the end. Both the plaintiff and defendant were satisfied with the verdict.
Yang Jiyan has been involved in nearly 60 cases since she started work as a lawyer. She has learnt to keep calm, to analyze problems objectively and to establish her thoughts on legal cases from different perspectives. Today, she has grown from a stay-at-home housewife to a legal practitioner, who is widely trusted and well recognized by clients. She states that she will not hesitate to continue on her path as a lawyer and contribute her own efforts to establishing the rule of law in China with all the legal knowledge she has developed along the way. We hope she will fully realize her dream of becoming a top lawyer very soon.
By Yan Jingzhen, China.org.cn