Page 1 of 3
Extraordinary deeds by excellent disabled students have been emerging from the OUC's system of education for the disabled constantly in recent years. Through their struggle and hard work, they vividly demonstrate the essence of core socialist values, fully display the strong-willed spiritual outlook of disabled students who ceaselessly pursue learning and maintain an inspiring spirit in pursuit of their dreams.
The results for the "Searching for 'Dream Chasers' Activity Series—Excellent Disabled Students across the OUC School System," sponsored by China.org.cn, revealed the selection of 37 students, including Yang Bozun, Lan Zhigang, and Liu Yujie. 
Yi Huixiu: Hardworking Assistant in Employment and Social Insurance Management Affairs
In 2011, Yi Huixiu was awarded "Model Worker of Korla." She is now studying at the Open University of China's Bazhou Centre of School for the Disabled. With a level-4 physical disability, she leads a different life from others. In December 1994, she graduated from Bazhou Red Flag Technical Vocational School. She then went to work at the No.3 metalworking shop at the Red Flag Machine Factory. Just when everything was on the right track, suddenly, the factory where she worked closed, thus making her unemployed. But she was not overwhelmed by the unemployment. She then embarked on the tough road of entrepreneurship. With all of her savings, she started a business selling vegetables. After accumulating more savings, she opened a Cereal & Oil shop. As she got along well with others, her neighbours all supported her business. Her business grew gradually day by day. Her disability with her hands limited her work in this business, so she sold the shop and opened a motorcycle repair shop. As she and her husband were busy with their business, they neglected family affairs and the education of their children. After carefully weighing the advantages against the disadvantages, she decided to sell the shop and focus on her family. In 2008, she came to work at the Red Flag Community in Xinier, beginning a new chapter in her life. She now assists the community with employment and social insurance management affairs. As she had never been engaged in an official position, she felt that at first she did not adapt well to community work. But she is enterprising in her work. She thought to herself, since others could do the job well, she could too. To this end, she enrolled in continuing education at the Open University of China's Bazhou Centre of School for the Disabled. In between her busy work, she studied and visited households, gradually finding her work useful. She treated every resident who came for help in the community as her own relatives, always trying her best to help them. She was deeply aware that she should improve her professional skills and establish a service-oriented frame of mind. To that end, she kept the difficulties of every household in mind, and strove to resolve problems for them. She has been working at the community for seven years, and was awarded "Advanced Individual" in several different years.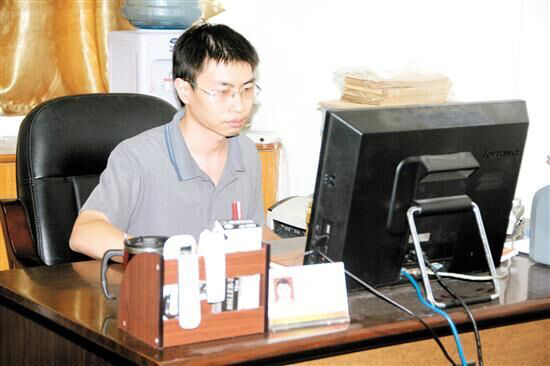 Huang Jiabin: sparing no effort to do the best
"Due to conflicts between my work and personal life, I failed to apply to an undergraduate programme after graduating from junior college. This has been my biggest regret. In 2009, when I learned that the Municipal Disabled Persons' Federation cooperated with the RTVU to open undergraduate courses, I immediately registered for a degree in social work. After three years serious study, I have greatly improved my professional skills and overall abilities, consequently greatly enhancing my interpersonal communication skills. Thanks to Jiangmen Study Centre at China Central Radio and TV University's School for the Disabled, I realized my dream of going to university!" said Huang Jiabin, who works at the Foreign Affairs Bureau of Jiangmen, Guangdong Province.
As he had suffered from polio, his left foot is deformed, making it difficult for him to walk since childhood. Though he possesses a level-3 physical disability, he has the heart to pursue his dreams. After graduation, Huang Jiabin was recommended to work in the Municipal Foreign Affairs Bureau by the Employment Service Centre for the Disabled. The bureau building is four stories tall and without elevators. Every day, Huang Jiabin drags his disabled left foot, holding documents in his arms, up and down the stairs, without any complaints. What moves him most is, no matter where he is, whether at school or at work, the people around him treat him as a healthy person; he wants to be accepted as such. He is friendly to others and devoted to his work. His colleagues praise him as "one of the best staff in the unit." "Huang Jiabin leaves a good impression on me!" Deputy Bureau Director Wu Jingsi positively affirmed Huang Jiabin's work performance. In August 2014, Huang Jiabin qualified to work as an assistant social worker. In August 2015, he became a candidate party member of China's Communist Party, a high honor.