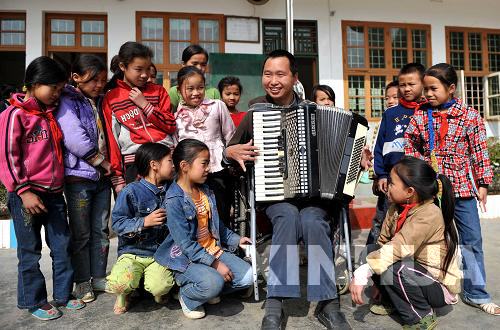 In the recently published results of the national moral model and moral pacesetter programme, Ruan Wenpin, from Nonghuai Primary School of the central school in Xiajia Town,
 Lingyun County of Baise, the excellent student of Guangxi Radio and TV University (RTVU), was named "2013 National Moral Pacesetter".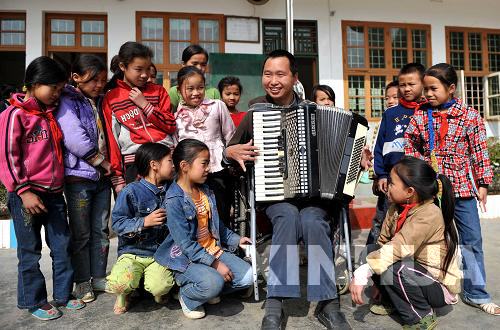 In order to encourage the fine tradition of teaching and educating others and to stimulate the moral and character growth of the new generation, the Labor Union of the National Science, Education, Culture, Health and Sport Commission, along with the Ministry of Education, organized a programme to recognize national moral models and moral pacesetters. Every province recommends its own excellent teachers, and then 10 national moral models and 90 moral pacesetters were selected through multiple rounds of online selection. 
The story of Ruan Wenpin, who, in spite of being disabled, concentrates his attention on rural education, has greatly touched countless people. Children in mountain areas don't like going to school, and so Ruan Wenpin leans on a stick and goes around with disabled legs to persuade school-aged Yao children to enter school. Braving dangerous mountain chains, he will climb for several hours, even resting many times, in order to reach a student's home, sometimes even falling and injuring himself so that he arrives at his destination with his head broken and bleeding. His patient persistence has brought a teaching unit, which had been suspended for four years, back to life. And the number of students in the unit has grown from zero to the current 84, which ensures the local enrollment rate for children of school age reaches 100%. Because Yao children in villages don't understand Mandarin, he has adapted his teaching method to their situation, and applies a "bilingual teaching method" (Yao language + Mandarin Chinese) to teach the children, so that they can later leave the mountains to go to high school and even enter universities. He cherishes his work and has been wholeheartedly devoted to his career as a teacher. As a result, for years his teaching quality has set the standard for the other schools in his county. He is able to do all these things in spite of another obstacle, the poor conditions that prevail in the area. Money has to be saved in order to buy materials to repair the school houses, and people have to be organized to help build school facilities, all in an effort to make sure that all the students can be accommodated and receive an education.     
Ruan Wenpin not only spends all his time and effort in his beloved education cause and for the children, he also spares nothing in order to enhance his teaching abilities. He and his wife enrolled in college classes for primary education in the Baise Branch of Guangxi RTVU, taking time away from their busy teaching and daily life. The teaching unit of Baise Branch is dozens of miles from Xiajia Town, but for Ruan Wenpin, even a few miles can make for a formidable barrier. Moreover, in recent years, Ruan Wenpin's poliomyelitis has continued to grow more serious, to the point that he can no longer walk with the aid of a cane, but is now confined to a wheelchair. Since many of the trails are narrow and winding, they are impassible to a wheelchair, reducing him to having to be carried on people's backs. When the road becomes passable again, he can be put back in his wheelchair and continue on to school. 
In July of 2010, the couple finished the teaching plan scheduled by the school, successfully passing their graduation exams and receiving a college diploma, in completion of their goal. As primary school teachers, they are qualified with the academic requirements for teaching, and no longer need to engage in advanced studies. However, as long as they are alive, they will continue their struggle to improve. They have started off upon their journey for realizing their dreams together—both of them have applied for an undergraduate degree in the Chinese Language and Literature major of open education in Guangxi RTVU.
Ruan Wenpin, who uses a cane to support his Yao Mountain education cause, has been teaching for 19 years. He has been awarded successively with the "National Self-Reliance Model", "China May 4th Medal", "National May 1st Labor Medals", and "Personage of the Year of Chinese People".
By Yang Ning, Guangxi RTVU