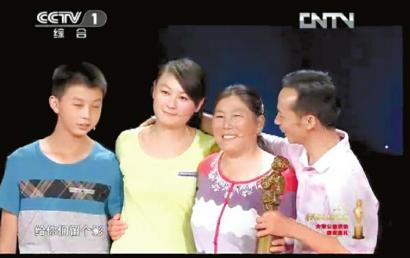 Liao Zhanfu was a student specializing in primary education,
 2008 autumn session, at Tongjiang Workstation, affiliated with Bazhong Radio and TV University. At that time he was an interim teacher, and chose to study in the university in order to pursue a teacher's dream and enrich his studies. After graduation,
Liao Zhanfu took an examination designed to recruit full time teachers, and was enrolled with a score ranking third in his county. When he was assigned a job, Liao Zhanfu gave up his right to select his favorite schools due to his excellent performance. Instead, he asked to go to Miaoziliang Primary School, which is located deep in the mountains and in need of teachers. On the other side of the mountain, his wife was continuing her teaching job at Huotiangang Primary School. Although the couple missed each other across the mountain, they shared a mutual desire to let the children there receive education in their community, and help them to go farther and fly higher in their future. Their moving story was published in the article "In the Sound of Reading, They Miss Each Other Across the Mountain" as important news on Page Six of the People's Daily on June 7th, 2013. On the eve of the 29th Teachers' Day, Liao Zhanfu and Zhang Xingqiong were both honored as CCTV's "Most Beautiful Rural Teachers".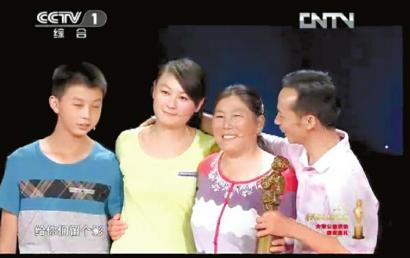 Liao Zhanfu and Zhang Xingqiong accepting the prize accompanied by their son and daughter (screen shot from CCTV)
To celebrate the 29th Teachers' Day, CCTV's "Most Beautiful Rural Teacher" Awards Night was presented formally before national audiences. With thunderous applause, Liao Zhanfu and Zhang Xingqiong from "Couples Primary School" (in Yong'an Town, Tongjiang County, Bazhong City, Sichuan Province) stepped onto the stage. At the moment they received the trophy, both of them wept tears of happiness. For the first time in their life, they went sightseeing in Beijing and stepped onto the stage of CCTV's Number One Hall. After all that had happened, they still felt like they were dreaming, even though several days had passed since the recorded show.      
On the afternoon of August 26th, Liao Zhanfu and Zhang Xingqiong arrived in Beijing by plane. They visited Tiananmen Square, the Forbidden City, the Bird's Nest stadium, and climbed up the Great Wall, accompanied by other recipients of the Most Beautiful Rural Teacher award from Helongjiang, Anhui and Guangdong Provinces, as well as the Inner Mongolia and Tibet Autonomous regions.
Standing on the top of the Great Wall, bathed in the autumn wind, both of them were filled with all sorts of feelings. More than twenty years ago, when they were both young, Liao Zhanfu and Zhang Xingqiong formed a lasting bond with each other at Huotiangang Primary School, deep in the mountains, where they went  from being colleagues to being a couple. The young seeds planted by their own hands at the side of the playground have grown into towering trees, which are a silent testimony to the changes at Huotiangang Primary School and of their simple and sincere affection and deep love for rural education.  
"I was able to go out and see the world. However, my wife could only stay in the mountain, which was really tough on her." Liao Zhanfu always felt concerned for his wife. He had never been to Beijing before. The Great Wall and the Forbidden City had always fascinated the couple. They kept dreaming of how wonderful it would be if they could climb up the Great Wall together someday. At the moment, their long cherished wish has come true, because they were both awarded as a national "Most Beautiful Rural Teacher". Liao Zhanfu told the reporters that standing on the Great Wall and having a bird's eye view of Beijing's autumn scenes gave him a sense of stunning happiness.   
On the night of August 29th, in the Number One Hall of the CCTV Building, Mr. Liao Zhanfu and Mrs. Zhang Xingqiong received the honor at centre stage.  
When Host Bai Yansong appeared, Liao Zhanfu and Zhang Xingqiong couldn't believe their own eyes. "I love watching "Topics in Focus", "News Week" and "News 1+1". Whatever programmes he hosts, those are my favorite. I never expected that I would be able to see him."
Much more surprise was on the way. While both of them received the trophy, the host invited two mysterious guests to come onto the stage. Their son and daughter stepped up to the stage under the spotlights. The moment of the four family members hugging each other saw tears of joy pouring down their faces. "We never imagined it indeed, not even in our dreams!" The couple was surprised by this arrangement. 
Jing Hua, President of Bixi Primary School of Tongjiang County, revealed the truth. The programme producers secretly invited the daughter, who was studying in a university in Chengdu, and the son, who was in the senior high school of Tongjiang County, to Beijing. The procedures were kept secret so that both Liao and Zhang were kept in the dark. All of these preparations were designed to surprise the couple, letting their daughter and son share the honor with their parents.
After the programme was recorded, Mr. Liao and Mrs. Zhang rushed back to Bazhong. Although many media outlets and companies wanted to invite both of them to participate in programmes or other activities, Mrs. Zhang turned down the favorable offers from all parties and went back to Tianhuogang Primary School, for the fear of affecting her students' study. 
After it was reported, "Couples Primary School" attracted wide focus from the media. The appearance of Huotiangang Primary School and Miaoziliang Primary School are changing day by day. As for the recipients of the award, even though they've been honored as "Most Beautiful Rural Teachers", the state of their hearts hasn't changed, not even one bit. "We are only the lucky ones among millions of rural teachers, and we are lucky enough to get this highest honor from society." Mr. Liao says that he and his wife will continue to stay in the mountains to teach more children in the community and send them off to new horizons.