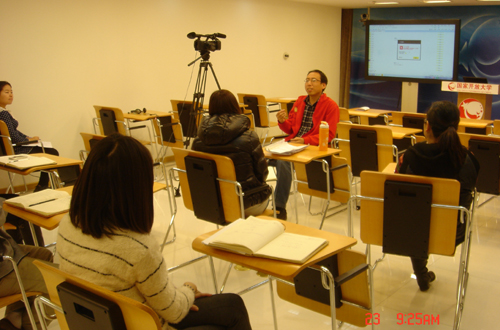 On November 23, 2012, the OUC organized the first Online Tutoring Training practical activity as part of its Application of New Technologies in Education course.
This activity is designed 
to illustrate the third module of the
Application of New Technologies in Education
course "Structural Change in the Education System
: The Flipped Classroom". After learning about
Flipped Classroom
theories online and splitting up into small groups to design teaching content, the trainees visited the OUC's studio to exchange their experiences of online learning, learn how to operate the studio, and try out
Snap! by Lectora
e-learning and authoring software. They then attempted to record streaming videos about the
Flipped Classroom
based on instructional design.
Professor Feng Liguo, tutor and deputy director of the OUC Learner Support Centre, summarized trainees' performances and led them in a discussion on the potential future applications of the Flipped Classroom at the OUC, including the opportunities, difficulties and outcomes. 
About Online Tutoring Training:
Launched in September 2009, this programme has trained over 1,000 online tutors and practitioners. The programme has developed eight courses: Learner Support, Tutoring Online, Course Design, Application of New Technologies in Education, Online Learning Tools, English for E-learning Practitioners, E-research on E-learning, Management for E-learning.  
About Application of New Technologies in Education:
The course is based on the OUC's concept of "Thoroughly Integrating IT and Education" which focuses on a brief introduction to the current applications and future possibilities of various emerging information technologies. The course uses a variety of teaching methods, including online learning and practical activities.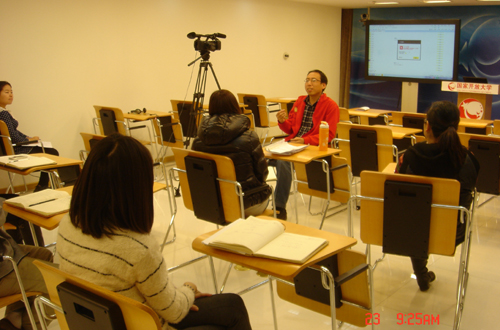 Prof. Feng Liguo summarizes Flipped Classroom online learning situations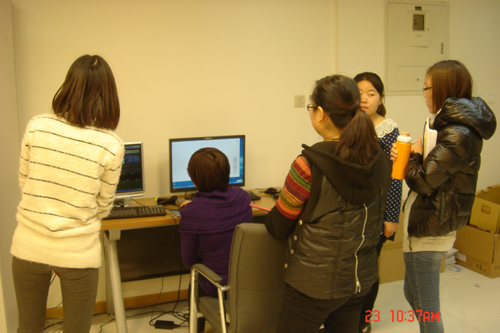 Shi Lei demonstrates the high definition automatic classroom recording and broadcasting system