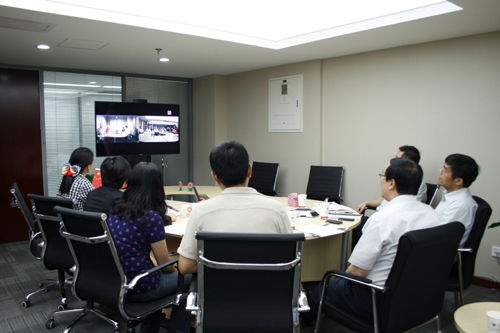 The Video Conference for the 2012 Annual Meeting and Credit Bank Programme of the OUC-TRU Joint Research Center was held on September 14, 2012. The main venue was in the OUC building for distance education.
At the conference, a report
was given on the work of the OUC-TRU Joint Research Center for 2012. In 2012, an OUC delegation visited Thompson Rivers University (TRU) and participated in the PLAR (Prior Learning Assessment and Recognition) training programme. Ms. Bai Hua, Director of the TRU International and Managing Director of the TRU World Global Operations, paid a visit to the OUC and gave lectures. The OUC researchers of the Joint Research Center published 5 academic papers on PLAR and the monograph Theory and Practice of the Recognition of Prior Learning.
The conference included a discussion of the work plan for both sides in the next phase. The OUC Vice President, Li Linshu, led a delegation to visit TRU on 21 September, focusing on credit bank and teaching assessment. They also attend the ribbon-cutting ceremony of the TRU–OUC Joint Research Center. In addition, the two sides will jointly launch other programmes such as the 2+2 undergraduate training project, which involves undergraduate students studying OUC courses for two years then following TRU training objectives for the next two years. The credits acquired will be mutually recognized.
Zhang Shaogang, Vice President of the OUC, said at the conference that it represented a new measure of the Joint Research Center for the OUC to send visiting scholars to TRU on academic missions. He expressed his hope that TRU experts in the field of prior learning assessment and credit accreditation would come to visit the OUC and give advice on the construction of the OUC credit system.
Vice President Li Linshu pointed out that this kind of online video communication conforms especially well to the future international development of the OUC, and effectively helps many teaching staff broaden their international visions. He suggested that more video communications be used for academic exchanges with colleges and universities in other countries.
Other people present at the workshop included Dr. Wes Koczka, Associate Vice President International and CEO of the TRU World Global Operations, Dr. Gordon Tarzwell, the TRU Vice-Provost for Open Learning, Mr. Christine Wihak, Director of PLAR, Dr. George Gong, Manager of the Transnational Education of the TRU World, Yang Yongbo, Director of the OUC International Cooperation and Exchange Department, Yan Xiaoping, Director of the Credit Bank Management Office, and Li Yanzhong, Director of the Development and Planning Office.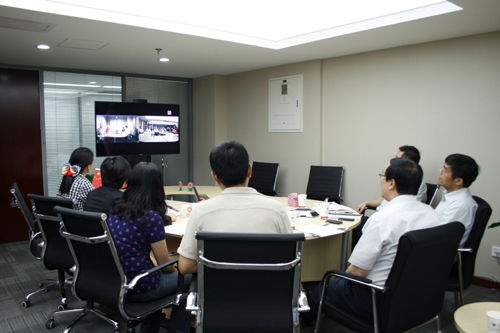 By Dai Jing and Chen Na, The OUC