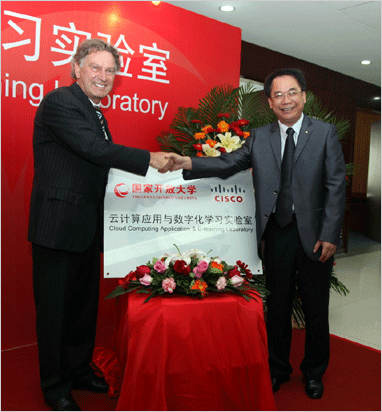 On May 21, the inauguration ceremony for the Cloud Computing Application and E-Learning Laboratory co-established by the Open University of China (OUC) and Cisco Systems (China) was held at the OUC Wukesong Distance Education Building. In attendance were OUC President Yang Zhijian and Mr. Wim Elfrink, Cisco Systems Chief Globalisation Officer and Executive Vice President of Emerging Solutions, as well as other leading personnel from both organizations.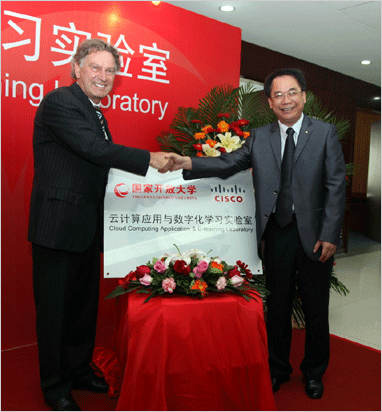 President Yang Zhijian and Mr. Wim Elfrink unveil the plaque for the lab
The aim of the laboratory is to conduct in-depth research, explore and apply advanced information technology to distance education, probe ways of improving the quality of distance education, enhance the learning experience, combine learning, testing, exam and exam monitoring into a single system, and share quality educational resources. The laboratory offers the OUC an excellent platform for advancing the integration of modern technology with education.
President Yang and Mr. Wim Elfrink share their ideas
President Yang and Mr. Elfrink discussed their views on the collaborative projects and other issues of mutual concern, and reached an agreement to take their partnership to a new level. At the ceremony, the OUC and Cisco Systems also used the HD video conference system and exam monitoring system to interact live with the cloud classroom in Beihai, Guangxi, one of the laboratory's pilot units.
Distance interaction with the cloud classroom in Beihai, Guangxi province
About the OUC "Cloud Classroom":
The cloud classroom combines the functions of distance teaching, video conferencing and exam monitoring. Equipped with an Internet connection and various types of network interfaces, it facilitates two-way HD video conferencing, real-time online teaching, live broadcast teaching and video monitoring under a variety of network conditions. The cloud classroom is also equipped with all the functions of a modern electronic classroom, including interactive whiteboard, short-throw projector, physical projector, classroom recording and broadcasting system, etc.
The first OUC "Cloud Classroom" was recently built at Beihai Radio and TV University and is now in operation. The OUC is harnessing cloud technology to construct a learning environment supporting a variety of terminals such as cloud classroom, PAD, mobile phone, mobile TV and PC. The cloud classroom is a major component of this system. The OUC will designate certain local radio and TV universities as demonstration sites and build a total of 16 cloud classrooms at these facilities. Thereafter, an experimental project dubbed "Reproductive Health Counselor" will be conducted through the classrooms to probe the demand, feasibility, and growth potential for innovative technical environments for non-degree education and modes of educational training.
By Liyang and Luqian, the OUC