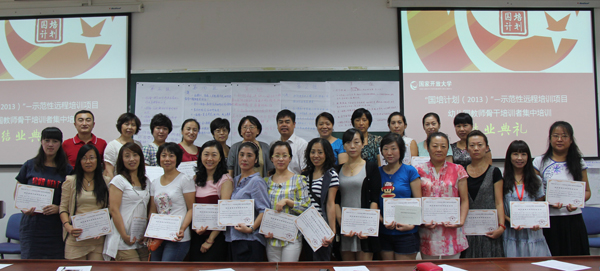 A distance demonstrative teacher training program for kindergarten teachers was recently completed in Beijing. More than 70 key teachers from Beijing, Heilongjiang, Jilin, and Jiangsu attended the one-week training.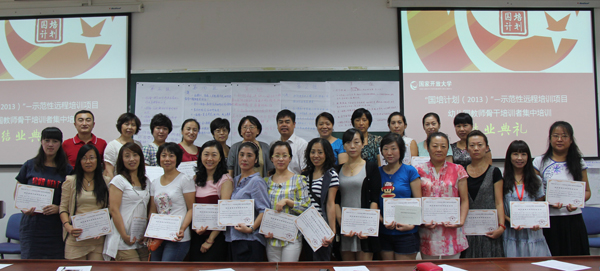 This training program is an important part of the National Teacher Training Program, and includes three sub-programs: training on research and study both at school and online; distance training for key kindergarten teachers; and training for trainers at the  county-level teacher training institutions. The Ministry of Education (MOE) has identified 15 universities that will undertake the program. Eight units including the OUC, East China Normal University, China Educational Television, and Guangzhou RTVU have jointly undertaken the program. The OUC will train 7,000 teachers. 
The OUC School of Continuing Education has undertaken this task, establishing a program leadership team and work team, and actively carrying out relevant tasks. Based on the characteristics and requirements of the program, a study platform was constructed and different roles such as experts, students, tutors and administrators were designed so as to ensure the smooth completion of each phase of the training. The training adopted a method that combines distance teaching and face-to-face teaching. The centralized training was completed between August 18 and August 22. Distance learning and expert Q&A will be carried out in the future. The study content focused on lectures given by experts. The experts for this course include professors with extensive experience in early childhood education, such as Professor Feng Xiaoxia, a member of the MOE Guiding Committee of Early Childhood Education Experts and editor-in-chief of the journal Studies in Early Childhood Education. It also includes the kindergarten heads who have been worked at the forefront of early childhood education for years, such as Hu Hua, head of the China Women's University's affiliated experimental kindergarten. Course experts will carry out field trips, provide guidance to local teachers, and answer questions from teachers on site. The 70 plus key teachers who received the training will become tutors and administrators for future training sessions.
The OUC School of Continuing Education has said that the National Teacher Training Program will strictly follow MOE regulations and continue to make innovative developments based on the characteristics of its trainees. The aim is to help front line kindergarten teachers clarify the basic characteristics of a kindergarten teacher and set a good example for children. It will help them to organize teaching activities, and become leaders who have relatively high child-care and teaching ability, relatively standard teaching and scientific research ability and relatively stronger training guidance ability, and can be the demonstrative teachers in the teaching team.