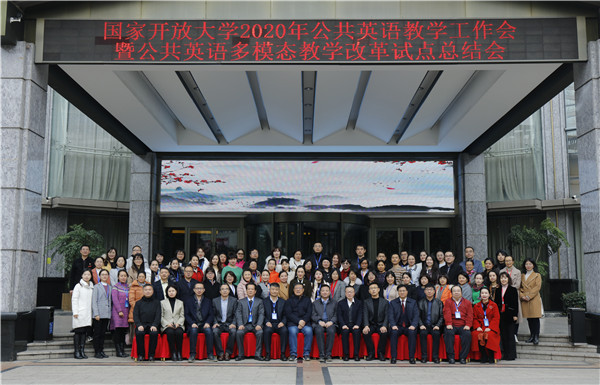 From 21 to 24 December, 2020, the Open University of China (OUC) held a conference on its 2020 Public English teaching and multimodal teaching reform pilot programme in Zhejiang province.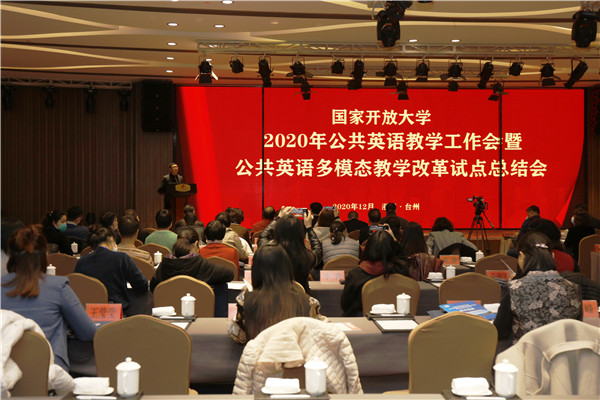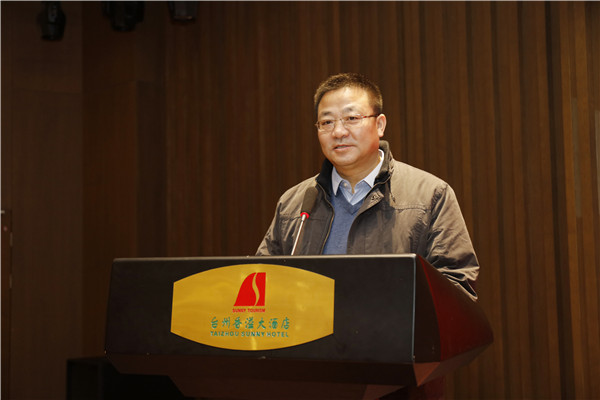 Yang Xiaotang, vice president of the OUC; Chen Zhiping, president of the OUC's Inner Mongolia branch; Lu Wenhui, vice president of Zhejiang Open University (Zhejiang OU); and Wang Xiangnian, vice president of Beijing Open University, attended the meeting. Nearly 100 English teachers, and teaching administrators from over 30 OUC branches and schools, including teaching-team leaders from three groups of teaching reform units at 24 branches and schools, also attended, and the meeting was presided over by Zheng Jipeng, deputy director the Faculty of Foreign Languages at the OUC.

Yang Xiaotang stated that the teaching reforms had gained wide recognition and student satisfaction, with further steps required in terms of teaching approaches and multimodality, as required for open education.
The 11 OUC branches and schools participating in the third group of reforms in 2020 summarised the work in terms of team building, teaching design, and assessment and evaluation, highlighting the integration of ideological and political education with technology and teaching teams. Representatives of the first and second groups shared their experiences with the teachers attending the meeting. Liu Yongquan, a professor in the OUC Faculty of Foreign Languages, gave an overview of the three years of reform work.
Zheng Jipeng gave an overview of the future of public English reforms in terms of their materials and significant features.
A ceremony marking the achievements of reform, and to launch a website publicising them, was also held. A student handbook, teacher handbook, collection of achievements and web portal were officially launched.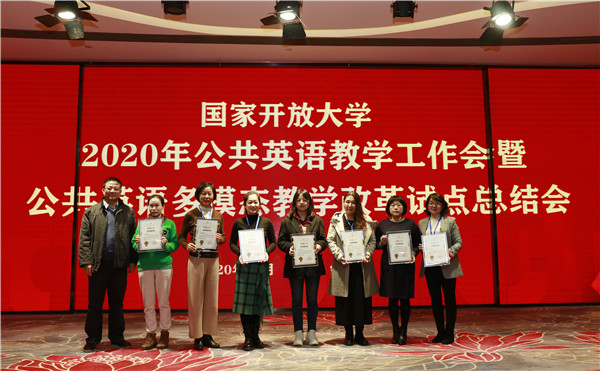 The leaders and guests presented certificates to teacher and student winners of oral-English and vocabulary contests, as well as top thesis writers. Awards for top instructors and organisers were also presented.
Students in the public-English pilot programme at the Taizhou Branch of Zhejiang OU gave a presentation to demonstrate their achievements, and interest in learning.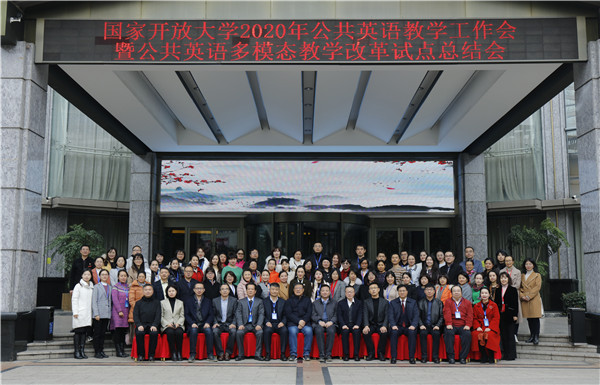 The reforms were initiated in 2018, with five OUC branches participating in the pilot programme, and another 8 joining in 2019. Enthusiasm has remained high throughout the OUC system despite the impacts of the Covid-19 pandemic since the spring of 2020. Along with the upsurge in online teaching nationwide, the teaching reforms have attracted 11 OUC branches – the 8 already mentioned, and another 3 promoting reforms at the provincial level. Reforms will continue to focus on enhancing the professional abilities of teachers in the future.
Written by Liu Ning, photos by Zhang Yi, OUC