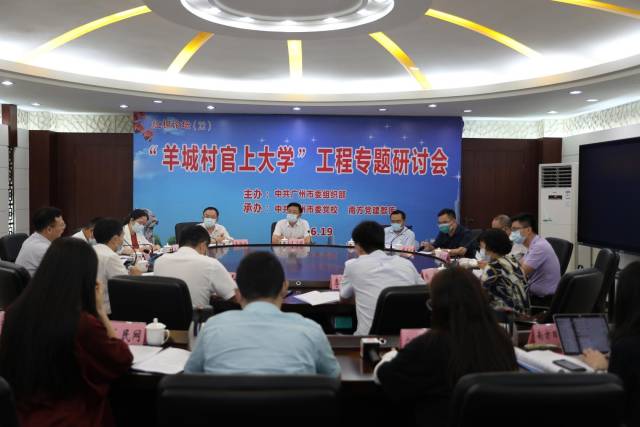 On 19 June 2020, a workshop, part of the"Guangzhou Village Officials Go to College" programme, was held in the Party School of the CPC Guangzhou Municipal Committee.
This year marked the eighth anniversary of the implementation of the programme in Guangzhou, when Guangzhou Radio and TV University (RTVU) undertook to enhance the education of all members of village"two committees"(Party-branch and villager committees), their top-ranked officials, and some Party members with education below the junior-college level in Guangzhou municipality.
Over the past 8 years, 11,939 students have been admitted to the programme, and 6,186 have graduated, so that the proportion of committee officials and secretaries of Party organisations with education at or above junior college has increased from 29% and 41% to 67% and 78% respectively since 2012.
The training has enhanced the educational levels of officials and their ability to do their jobs. As grassroots leaders, they have been able to find solutions to numerous challenges, such as virus transmission, small-scale urban renovation, and garbage classification. "Old cities" have gained "new vitality" through their efforts.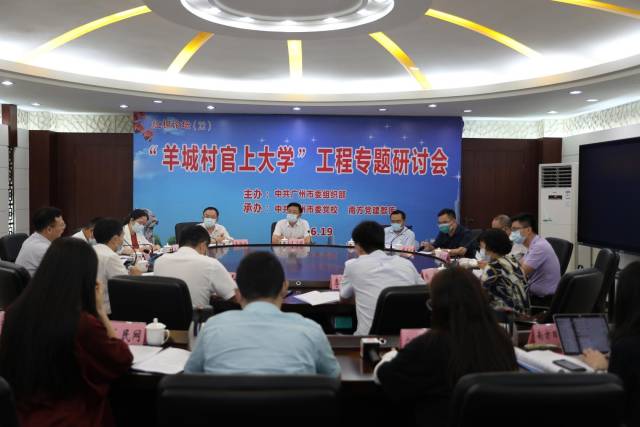 Nearly 2,000 yuan are allocated annually to train key village officials.
According to Wang Shitong, a member of the Standing Committee and head of the Organisation Department of the CPC Guangzhou Municipal Committee,"Grassroots work is very complicated, with a thousand threads for one needle. Competent execution is essential for meeting the demands of higher authorities. But some officials lack the knowledge and competence to do so, and it is hard to keep the best talents if they are not treated in ways they consider appropriate to their talents".
The leaders of grassroots-level Party organisations are the pillars and backbones of development in their communities, and their skill levels have a direct impact on the achievements of those communities, as well as the quality of the organisations. As a way of bringing the skills of these officials up to the levels demanded by their work, the "Guangzhou Village Officials Go to College" programme has become a permanent arrangement, and a key aspect of the "Bellwether" programme.
Every year, 19.88 million yuan will be allocated by the Guangzhou municipality to support grassroots Party building in administrative villages, including this programme. This funding subsidises tuition, and encourages the officials in their studies.
They only need to pay 1,500 yuan out-of-pocket to study toward undergraduate or junior-college degrees, amounting to one-fifth of the usual expense.
A team needs a leader. According to Zhang Zaoqun, head of Institute of Contemporary Marxism at the Guangdong Academy of Social Sciences,"The grassroots 'two committees' , especially the leaders of Party organisations, are generally incompetent, and this hinders rural development."
To remedy this, the programme has been carefully targeting students, and over the past 8 years has brought over 1,000 secretaries of village Party organistions, over 1,650 officials from village governments, and over 670 grassroots Party members with good political integrity and outstanding work performance to at least the level of a junior-college degree.
For the sake of the quality of training, Guangzhou RTVU has set up a teaching network covering the entire municipality for rural grassroots officials in Guangzhou, building itself into the center for the programme, with 9 branches attached to it as study centers, and 17 villages designated as teaching bases. At the same time, the blend of online and offline instruction has made its offerings convenient and far-reaching.
As far as teaching content is concerned, the programme has focused on improving skills in terms of policy implementation, law enforcement, and practical needs. Students are taught how to find solutions to common daily problems and take initiative in dealing with these.
The programme has successfully dealt with the problems arising from low levels of skill and overall learning of village "two committees" officials. Grassroots Party organisations have become better organized, and governance has improved as a result of enhanced leadership.
The secretaries of 90% of village Party organisations are to receive education at or above the junior-college level.
What will be done to make further enhancements to the programme? With the focus on village Party secretaries, it will further expand educational levels, increase the number of people it includes, and bring in more universities as educational providers of this programme, in addition to Guangzhou RTVU. A varied teaching approach will be adopted to ensure that 90% of the secretaries and 80% of the "two committees" leaders will receive education at or above the junior-college level.
Reprinted by the OUC Network from Southcn.com