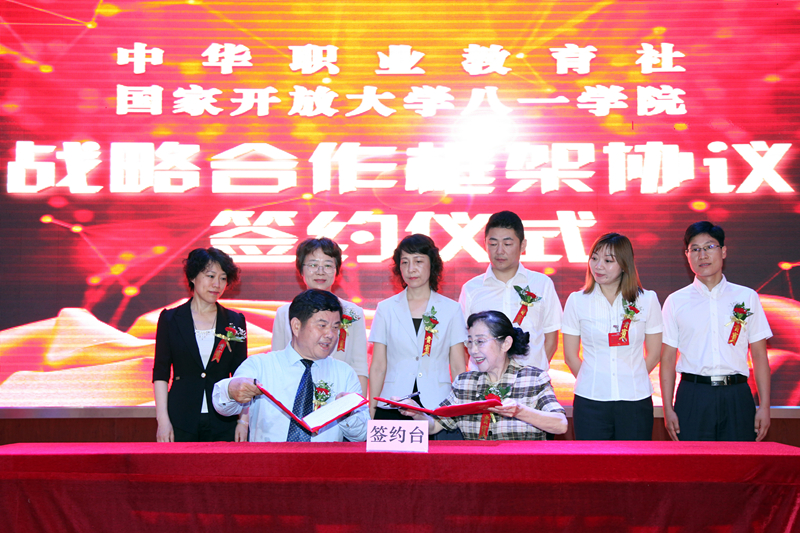 The China Vocational Education Association recently held a strategic cooperation signing ceremony with the Bayi School of the Open University of China (OUC) at the headquarters of Beijing Non-Commissioned Education.
The two sides agreed to jointly build a mutual sharing system for learner development, technology services, and resource sharing featuring the in-depth integration of military personnel and the local people. It will positively carry out education and training to assist military personnel to settle issues such as re-employment after retiring from service, as well as issues relating to their families and their children, for the purpose of providing quality human resource support to promote social and economic development. Fang Naichun, secretary of the Party Committee and director-general of the China Vocational Education Association, and Zhang Yichen, dean of OUC Bayi School, signed the cooperative agreement on behalf of the two sides.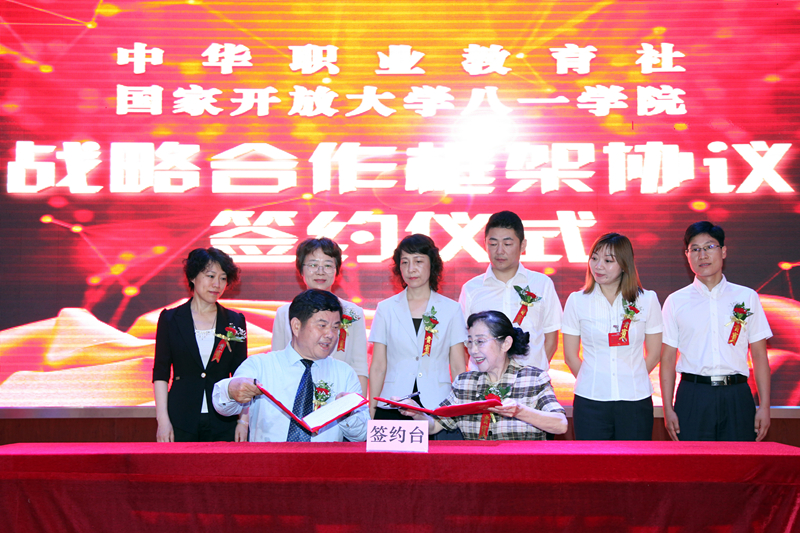 The China Vocational Education Association is a pioneer of modern Chinese vocational education. The OUC Bayi School is a new type of higher education institution dedicated to providing on-the-job degree education and military vocational education for non-commissioned officers. It has developed a mature and complete teaching management platform and system that is shared by both the military and the local units in the aspects of cultivating military professionals. The two sides will work together to carry out a pilot training system to build a general vocational education skill training promoting "one degree education certificate + graded vocational skill certificates"(1+X) system for the purpose of realising a smooth bridge between education and training for both in-service and ex-service military personnel. At the initial stages, degree education programmes and their corresponding graded vocational skill trainings will be given, such as Preschool Education, Nursing, Computer Information Management, Logistics Management, Unmanned Aerial Vehicles, Child Care, and Health Management. In addition, the two sides will work with relevant national ministries and commissions to launch the "Chinese good mothers" project to disseminate scientific child care concepts to kindergarten teachers and families of servicemen in remote regions in order to improve their literacy and level of child care.
In recent years, the Bayi School has made substantial and in-depth efforts in distance education for military personnel, helping over 32,000 people to realise their university dreams. In the meantime, the Bayi School has launched a series of projects such as the "dream-building project," "sending books to children of military personnel," and "preschool teacher (military families) training project for remote regions," developing a pattern that bridges in-service and ex-service military personnel and integrates degree education with vocational education.
By OUC Bayi School