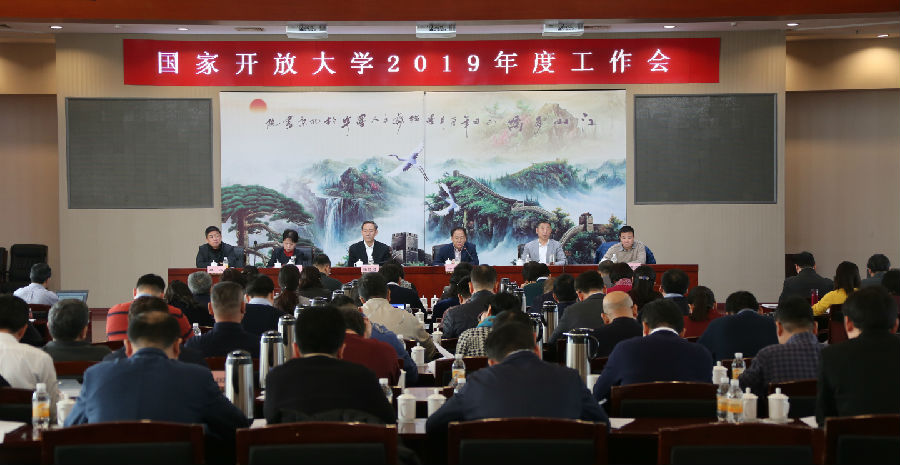 On 22 February 2019, the Annual Work Meeting of the Open University of China (OUC) was held in Beijing.
At the meeting, Yang Zhijian, secretary of the OUC Party Committee and president of the OUC, conveyed the spirit of the National Education Conference, delegated OUC work in 2019, and reported on the democratic activities of the OUC leadership in 2018. The OUC leadership and all of its middle-level cadres participated in the meeting, which was presided over by Liu Chen, deputy secretary of the OUC Party Committee. The purpose of the meeting was to further study and implement the spirit of the National Education Conference, enable the OUC to "Advance Bravely", and comprehensively promote reform and construction work, so as to realise the high-quality development of the OUC and create a university for the people.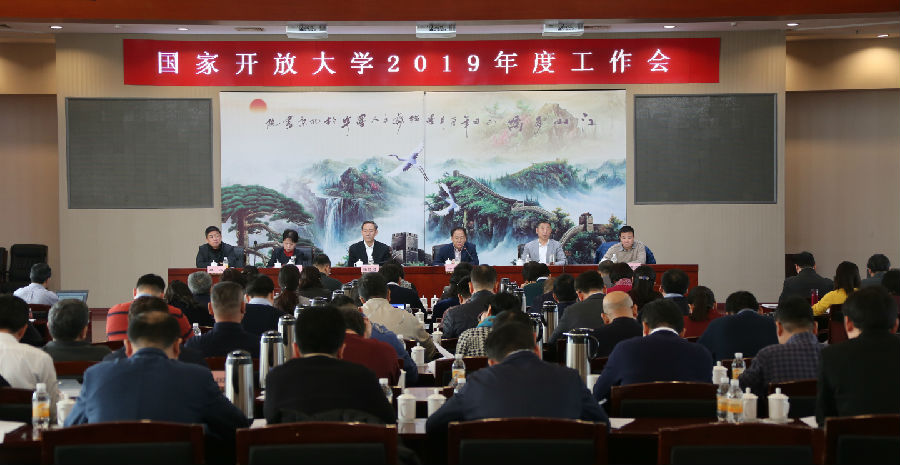 Yang Zhijian conveyed the spirit of the National Education Conference and the work conference of the Ministry of Education (MOE) in 2019. He pointed out that we should conform to the general requirements of the MOE's educational policy of "Advancing Bravely" and Minister Chen Baosheng's requirement that we "implement, implement, and implement again", make breakthroughs on difficult issues, and promote the smooth progress of work in an all-round way with the lead of the projects for which leading cadres are responsible.

Yang Zhijian emphasised that, under the guidance of the spirit of Xi Jinping's speech at the National Education Conference, the spirit of the annual work meeting of the MOE, and the main points of work in 2019, we should bring together The OUC Construction Plan, the progress of the "1314" project, and the review and summary of the past 40 years of the Radio and TV University (RTVU), and use this to set goals for enhancing core competitiveness and improving the quality of personnel training to comprehensively promote the overall work in 2019. We should give full play to our own advantages, find out shortcomings and weak links, analyze problems, clarify goals and improve solutions. We should creatively implement, refine, and reduce the quality of work in order to ensure that it is completed on time to the highest standard.

The participants held group discussions on the spirit of Yang Zhijian's speech and The OUC Key Work Points for 2019 (Draft) and put forward specific ideas for 2019 in light of the actual needs of different departments. After the meeting, the participants said that they would overcome difficulties, vigorously implement new policies, and promote the construction of the OUC, which will be a gift for the 70th anniversary of the founding of New China and the 40th anniversary of the founding of the university, according to the general requirements of the policy of Advancing Bravely proposed by the MOE's Party Committee and The OUC 13th Five-Year Plan.
By Zhuge Huanyu,OUC