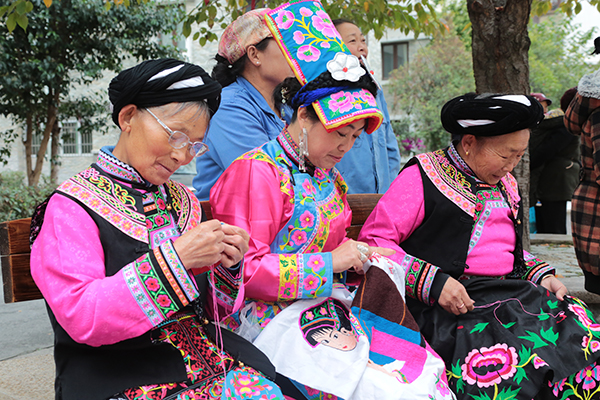 From 5-9 November 2018, a press corps organised by the Open University of China (OUC) visited Sichuan for an in-depth investigation of the implementation and progress of the Long March Belt Educational Project Targeted at Alleviating Poverty project. The press corps included Xinhua News Agency, Guangming Daily, Farmers' Daily, China Education Daily, China Education Television, China Net (china.com.cn, china.org.cn), and other media.
Over the course of five days, the press corps flitted from Rangtang County of Aba Tibetan and Qiang Autonomous Prefecture to Cangxi County of Guangyuan City in Sichuan Province. They saw examples of educational projects targeted at alleviating poverty, learnt about the initial achievements of the Long March Belt Educational Project Targeted at Alleviating Poverty, and witnessed the OUC's efforts to develop education in ethnic minority and poverty-stricken areas.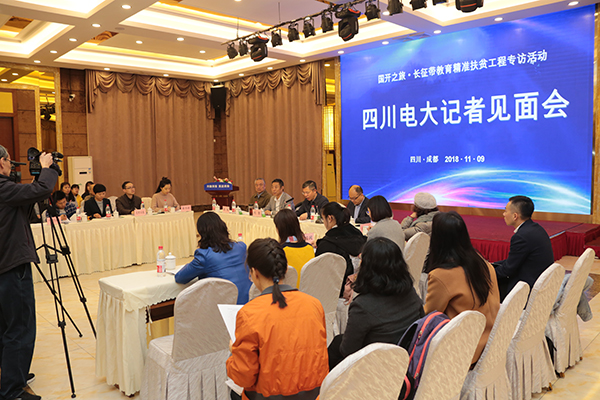 Leverage the strength of the OUC system to Put in Place the Long March Belt Educational Project Targeted at Alleviating Poverty

Education is prioritised as part of poverty reduction and the fight against ignorance comes before that against poverty. In order to thoroughly implement the decision and deployment of the Party Central Committee, the State Council, and the Party Group of the Ministry of Education on the implementation of the educational project targeted at alleviating poverty, the OUC leveraged the coordinated strength of its system and launched the Long March Belt Educational Project Targeted at Alleviating Poverty in April 2017. After raising 120 million yuan, it made a plan to spend four years (from 2017 to 2020) conducting educational projects targeted at poverty alleviation in 25 national poverty-stricken counties in 12 provinces, autonomous regions, and municipalities along the route of the Long March once taken by the Red Army.

Six major measures have been taken as part of the Long March Belt Educational Project Targeted at Alleviating Poverty. The first is to train rural grassroots cadres for free. Township carders and leading members of village Party branch committees and villagers' committees in poverty-stricken counties are offered free registration to junior college and undergraduate programmes of continuing education with the aim of strengthening government construction at the rural grassroots and training leaders alleviating poverty. The second is to offer free junior college and undergraduate degree continuing education opportunities to people filing for poverty alleviation who aspire to go to university but are unable to do so because of their needy families. The third is to train the skilled talents urgently needed by industries and enterprises. Courses are offered in cooperation with relevant industries and enterprises, and students in the poverty-stricken counties are admitted free of charge to allow them "to work while learning" and to make "admission to learn means finding jobs and university entrance means employment" a reality. The fourth is to give various kinds of free vocational and skills training to migrant workers, including migrant workers in the city and surplus rural labour force around the local characteristic pillar industries. The fifth is to establish scholarships and grants to encourage and assist the students to complete their learning. The sixth is to offer financial support for the construction of information technology infrastructure, launch various kinds of free quality learning resources, offer financial assistance for the construction of bases for educational projects targeted at alleviating poverty, and serve local economic and social development.

Since the initiation of the Long March Belt Educational Project Targeted at Alleviating Poverty, phased achievements have been made and the project has been recognised by the Party Group of the Ministry of Education. So far, RMB 200 million has been invested in upgrading the operational conditions and capacities of study centres, benefitting more than 25,000 poverty-stricken people and rural students. As of the end of October 2018, the OUC has appropriated a total of nearly RMB 2 million of special funds for Cangxi and Rangtang and a total of 470 people have been admitted to degree upgrading projects for grassroots cadres and impoverished households filing for poverty alleviation.

With the support and instruction of the OUC headquarters, the OUC Sichuan Branch worked together with the radio and TV universities in Aba and Guangyuan to put in place and promote the smooth implementation of the Long March Belt poverty alleviation projects. It has brought into play its advantages and features in open education, system operation, and resource sharing in order to deepen teaching reform, implement the blended teaching model of "internet + face-to-face tutorship + practice", conduct online and offline teaching activities, and provide teaching support services. Meanwhile, courses with local characteristics customised for Cangxi and Rangtang are also offered in order to meet actual needs such as rural revitalisation and poverty alleviation.

Train rural local cadres to lead minority ethnic groups to secure a decisive victory for poverty alleviation

Rangtang is an area at the extreme west end of the route covered by the Red Army during their Long March. Today, Tibetans account for 90 percent of the 42,000-strong population. It is a key national poverty-stricken county due to its remote location and under-developed economy.

"It is impossible to keep professionals in remote areas if employers cannot boost their academic qualifications; without this, they cannot obtain higher level professional titles or salary increases, and grassroots cadres will have no sense of achievement in their own job positions. To this end, it is necessary to improve the education level of grassroots cadres", said Yu Fu, vice director of the Education Bureau of Rangtang County. In the 2017 autumn term, 65 students from Rangtang participated in the Long March Belt project to improve the educational qualifications of grassroots cadres. So far, they have completed the study and examinations for about 10 courses and their pass rate in the final term examinations of the last two semesters has reached 93.8 percent. After more over a year of learning, the grassroots cadres have greatly improved their ability to serve, acquire wealth, and govern. They have become a surprising force in securing a decisive victory for targeted poverty alleviation. Moreover, the Rangtang County CPC Committee has proposed implementing the "Education Improvement for One Hundred Local Cadres" project in an effort to train 100 local cadres within five years with a focus on cultivating a batch of professionals who are willing to stay behind and work for their rural hometowns.

Zhou Bei, a Tibetan lady serving as a special cadre for poverty alleviation in Nanmuda Township Rangtang Country, is now studying in the undergraduate programme of Chinese Language and Literature. She previously majored in broadcasting in Chengdu but returned to Rangtang after graduation because of her love for her hometown. While getting along with the ordinary people, she discovered out her own shortcomings and signed up for further study in the Long March Belt project in order to better serve the local people. After participating in learning, she says that she is able to create her own study plan, better arrange her own tasks and time, and better serve the local people.

Luo Gang, a young man from the Qiang ethnic group serving as a special cadre for poverty alleviation in Zongke Township of Rangtang County, is now studying in the law science undergraduate programme. His previous major was accounting but he later found that his knowledge could not solve the villagers' legal problems. He signed up to study when he learned of the Long March Belt Educational Improvement Project for Grassroots Cadres. Luo Gang's favourite course is Commercial Law. Although it is difficult, it helps to solve real problems and settle debt disputes among villagers. Conflicts once triggered by money that affect rural harmony can now be resolved with his legal assistance. Using legal channels to solve problems not only guarantees the villagers' legitimate rights but also maintain social stability.

President Xu Shuolin of Aba Radio and TV University (RTVU) indicated that Rangtang Work Station of Aba RTVU has given impetus to the solid progress of Rangtang's local economic and social development and poverty alleviation project by taking the initiative to become integrated with county development, positively exploring the cultivation of a new type of grassroots cadres, and giving effective assistance to targeted poverty alleviation and social work.

Innovate teaching according to local conditions so villagers can learn real skills in the practical class

Cangxi, where the Fourth Front Army of the Chinese Workers' and Peasants' Red Army started their Long March, is a national poverty-stricken county. As a leading producer of red kiwifruit and snow pears, it is blessed with distinctive industrial and teaching advantages. The OUC has intensified educational poverty reduction by implementing the Long March Belt poverty alleviation project in Cangxi.

The reporters paid an on-site visit to Cangxi RTVU's Teaching and Practice Centre for E-Commerce and looked around the show table of goods and the students' classroom. The classroom, which can accommodate over 100 people, was packed with students taking notes of the new knowledge and skills being taught by the teacher. The practice base is not only for lectures; it is also where students get training in five development models: e-commerce + sale of goods, e-commerce + talent cultivation, e-commerce + small scale farming, e-commerce + agricultural enterprises, and e-commerce + cooperatives. The teacher gave the students training on the basic operation of e-commerce, helped them to master the general sales process of e-commerce, and set up a platform to link social consumption and producers, thus discovering a good solution to agriculture problems in poverty-stricken mountainous areas and opening a path toward prosperity in rural areas.

In Jiangjun Village of Cangxi's Yuanba Township, Yan Shugui, who had just finished a lecture on the theory of the control and prevention of kiwifruit diseases, took the students of the Long March Belt Educational Project Targeted at Alleviating Poverty programme to the teaching and practice base for kiwifruit cultivation and gave a demonstration of how to judge pests and diseases. "With technology, it is a money tree, and without technology, it is just a locust tree," Secretary Luo Quanming of Cangxi County's Guihua Village Party Branch Committee said jokingly after listening to the teacher. In the class, he learned in class that it was not true that the more branches on a tree the better and that it was not necessary to cut down all the unspecified trees around the kiwifruit trees because they were wind proof. "Many of our improper practices in the past have been corrected. After returning to the village, we will pass on these technologies to the four households of kiwifruit growers in our village."

According to He Ning, head of the Organisation Department of the CPC Cangxi County Committee, a number of students with the capacity to acquire wealth and the power to set an example from the project have emerged. These students understand rural areas and farmers. The next stage is to have them give lectures at the RTVU so as to lead more people to become rich.

Driven by the OUC's Long March Belt poverty alleviation project, Cangxi RTVU has been integrated with the Training Project of Rural Local Cadres (One Thousand People Plan) of the Organisation Department of the CPC County Committee. Its goal is to encourage rural grassroots cadres to enter open education jointly funded by the OUC headquarters and the Organisation Department of the CPC Cangxi County Committee, and to lay a solid foundation for local rural revitalisation and human resource reserves. President Che Mengliang of Cangxi RTVU told the reporter that a total of 227 students had been admitted to study in the Long March Belt educational project of poverty alleviation in the 2017 autumn term, including 198 students in the junior college programme and 29 students in the undergraduate programme. 2018 enrolment covers 175 students, including 143 in the junior college programme and 32 in the undergraduate programme. Twenty-nine students from poverty-stricken families filing for poverty alleviation have been admitted free of charge.

The OUC will make further efforts to put in place all measures of the Long March Belt Educational Project Targeted at Alleviating Poverty to launch training projects in information technology and e-commerce for teachers, provide financial assistance for the construction of computer rooms, cloud classrooms, OUC Taofen book house, and the e-learning resource centre demonstration project. It will give full play to the important role of education in poverty reduction and development.

Deputy secretary Liu Chen of the OUC CPC Committee indicated that only preliminary achievements had been made in the Long March Belt Educational Project Targeting at Alleviating Poverty. The OUC will take more forceful measures and adopt more accurate methods with a more practical attitude in order to smooth away all difficulties. It will honour its commitments in line with the requirements of the Party Central Committee and secure a decisive victory. It will not only have a profound understanding of the arduous nature of the educational endeavour targeted at alleviating poverty but also strengthen its determination and confidence. It will continue to summarise useful experience and continue to improve the relevance and accuracy of poverty reduction. It will further enhance planning and coordination to mobilise the enthusiasm of all parties, uniting the poverty reduction efforts of the OUC and all of its branches towards coordinated development that demonstrates their own advantages and characteristics.
According to Liu Chen, only when we keep to the original mission of education can we succeed in rural revitalisation. The original mission of educators is to serve the Long March Belt Educational Project Targeted at Alleviating Poverty and to operate education in rural areas. It is also an inexhaustible motive force for the OUC system to go forward.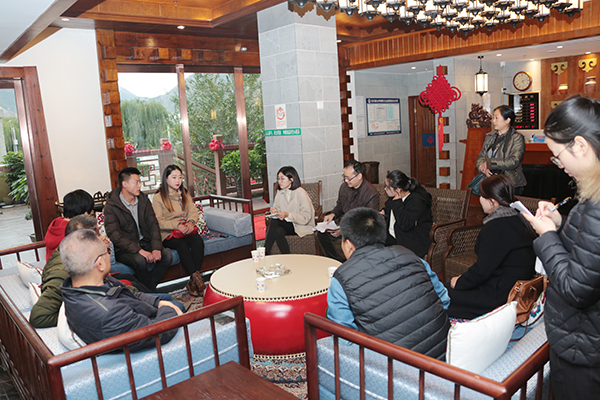 The reporters having a round table meeting with the students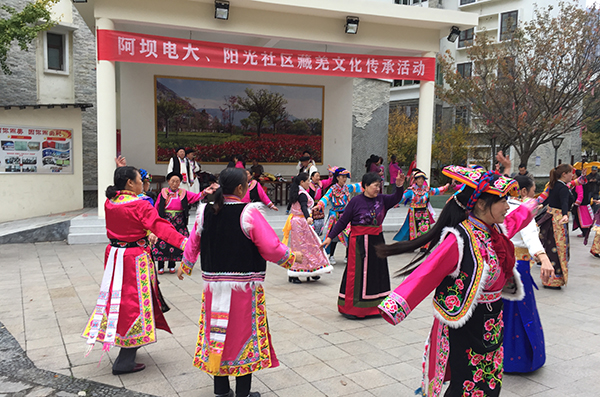 Aba RTVU Celebrating the Qiang minority new year with community residents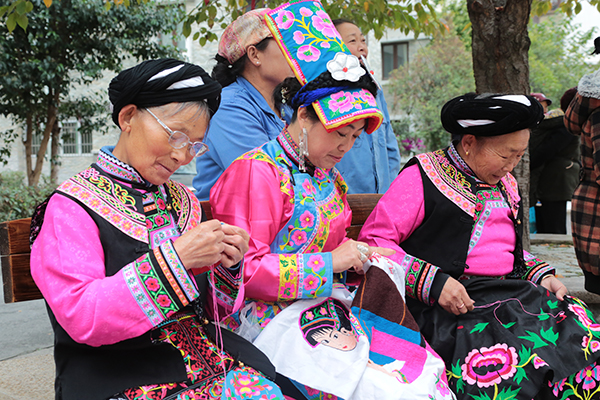 Qiang minority community residents demonstrating Qiang embroidery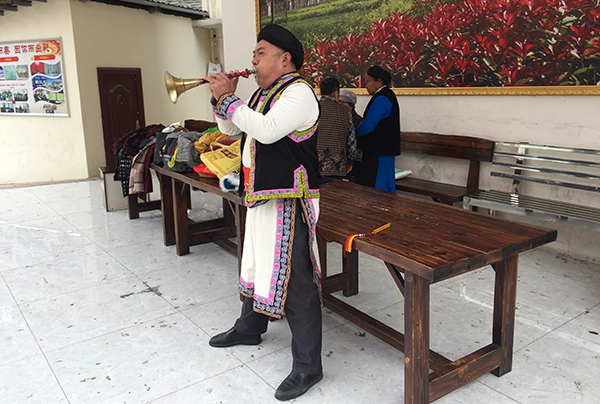 A Qiang minority flute player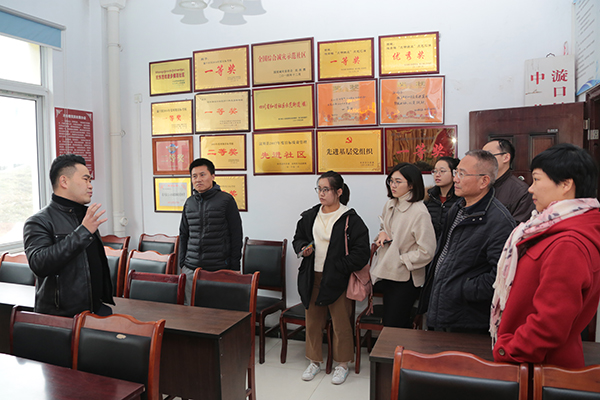 A student from Xuankou township talking about his work experience in the community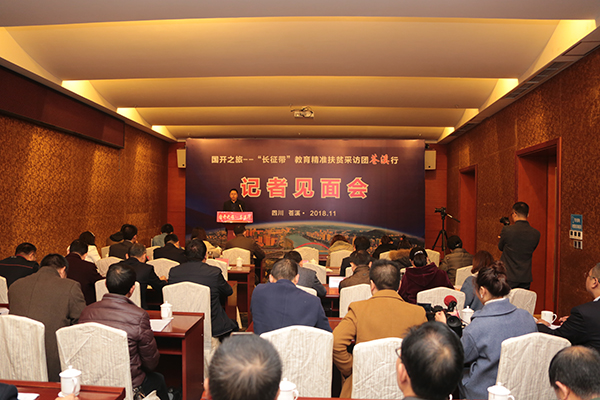 Press meeting in Cangxi County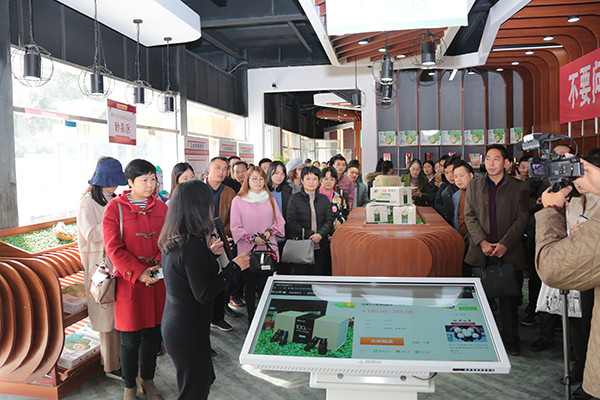 Students receiving practical training in e-commerce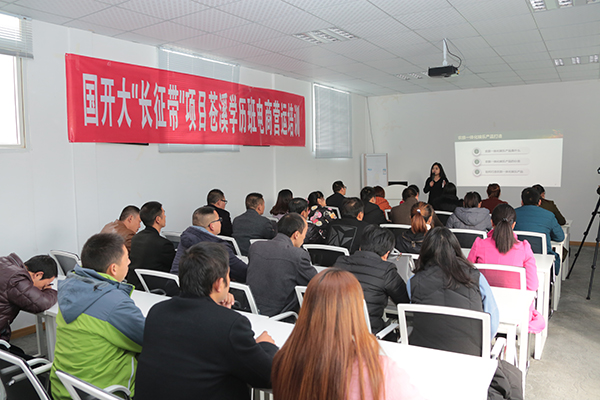 Students receiving theoretical training in e-commerce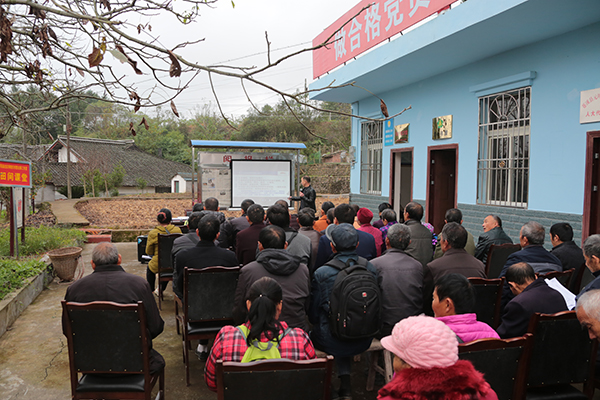 Villagers learning agricultural technology in a field class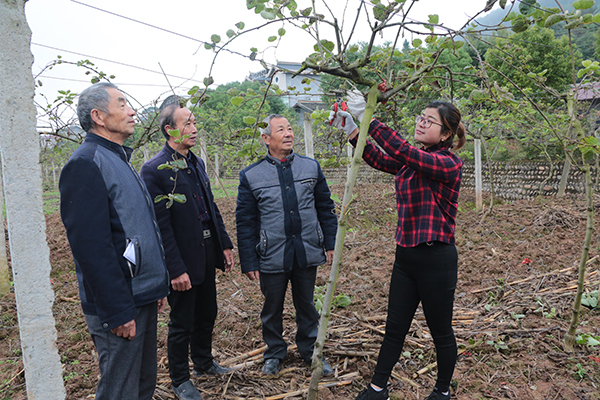 Students practising pruning kiwi trees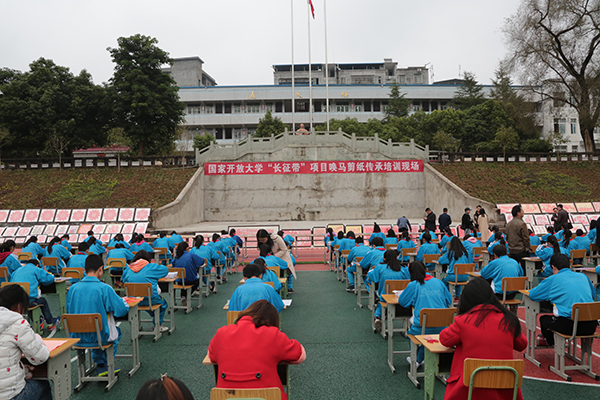 Training in paper cutting in Huanma Township, Cangxi County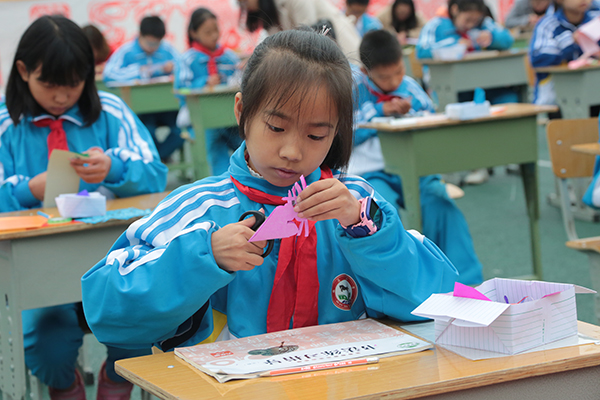 Pupils learning paper cutting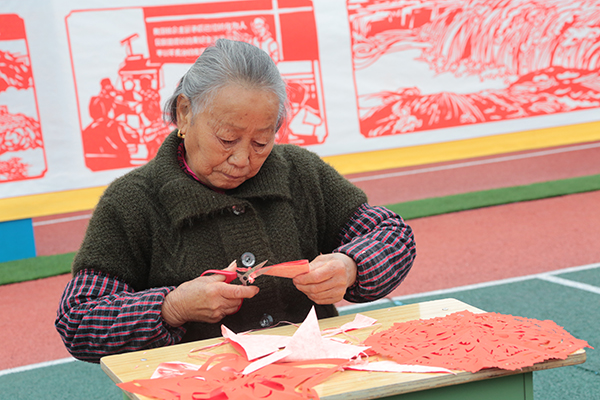 An old lady who is an expert at paper cutting
By He Jing, OUC