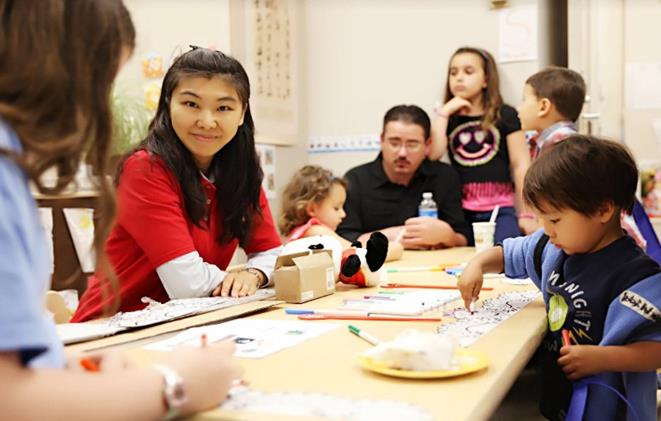 A computer, a headset, and an ethernet cable form her world. In this world, online tools take the place of blackboard and chalk, and the physical classroom is replaced by the virtual Adobe Connect Meeting Room. Zhao Yun has built a bridge to Chinese language and culture at the Confucius Institute of Michigan State University (CI-MSU).
Talking about her work at CI-MSU puts a smile on her face. She says, "Even though I taught Chinese for more than 10 years, the online classroom always thrills me. Every time I ask a question, I can see the hand-raising icons flashing on the screen, letting me know that I am 'not alone in battle'. This is completely different from offline teaching."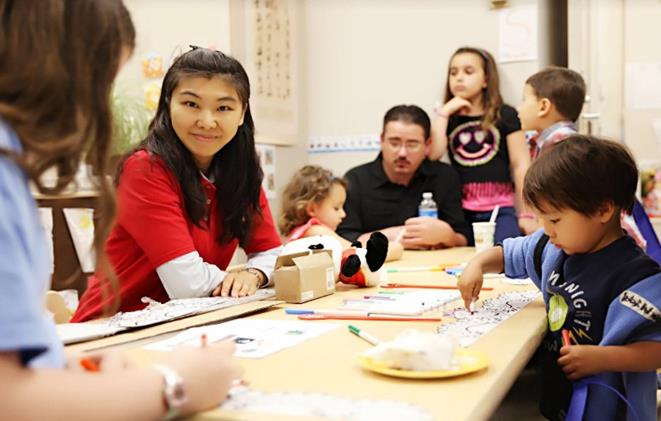 Ms. Zhao Yun overseeing activities.

As one of four tutors working at CI-MSU, Zhao Yun is proud to be designated a "Culture Envoy." The Confucius Institute is a non-profit educational organisation established through the cooperation of China with foreign universities, and caters to regional demand for education in Chinese language and culture. It facilitates educational and cultural exchanges between China and other countries, developing friendly relations, and promoting the development of cultural diversity. By the end of 2017, China had set up 525 Confucius Institutes and 1,113 Confucius classrooms in 146 countries and regions around the world.

The Chinese Language Centre at the Open University of China has an important role in this glorious cause. As the Chinese Learning Resources Development Centre at the Confucius Institute of Michigan State University, the Chinese Language Centre of the Open University of China is responsible for Chinese instruction at CI-MSU. In May of 2006, with the support and guidance of the Confucius Institute Headquarters (Hanban), the Open University of China (OUC) and Michigan State University (MSU) jointly established the world's first online Confucius Institute, conducting Chinese teaching via the internet. CI-MSU started to enroll students in June of 2006, and is now engaged in web-based teaching of Chinese language and culture to learners across 22 states in the US and some regions of Australia. To date, it has about 40,000 registered students.

Since the founding of the CI-MSU, the Chinese Learning Resources Development Centre there has been aiming at openness, responsibility, quality, diversity and internationalisation in carrying out distance education. The Centre has been constantly developing its operations, cooperation, and distance-teaching resources, adding a variety of Chinese courses to help CI-MSU expand its enrollment and scope, and achieving fruitful results in R&D.

Enhancement of resources

CI-MSU has developed resources such as the Chinese Language Video Classroom series by expanding the contents of China Panorama and Easy Chinese, to help Chinese teachers use videos in their overseas teaching. To deal with the goals and styles of learners in other countries, the Institute has also developed learning resources suited to local conditions, and covering a variety of aspects of Chinese language and culture. A 10-level Chinese-language programme has been set up for senior high-school students in the US, covering levels 1A to AP, designed for both junior and advanced learners, and so far reaching an enrollment of over 4,000.

In 2013 and 2014, through an investigation and analysis of domestic and international mobile-learning products, the CI-MSU integrated teaching materials in a variety of media, such as paper textbooks, CDs/DVDs, and web-based PC and mobile courses, in an attempt to develop 170 mobile-learning products covering the categories of children, culture, and the HSK exam. It also set up 25 iTunes courses on Chinese language and culture, as well as teacher-training. These courses and associated apps have been downloaded over 100,000 times.

In particular, six multimedia courses, including Chinese Your Way, Exploring Chinese Culture, Character of the Day, and Time to Talk Chinese for Children, have been named "China Key Publication Projects for International Promotion" by the Chinese State Administration of Press, Publication, Radio, Film and Television. Chinese Your Way and Zon have been given the award for "Innovative Multi-Media Courseware" by the Hanban/Confucius Institute Headquarters, while Exploring Chinese Culture has been selected by Hanban as a guidance package for volunteer instructors teaching abroad.

Creating an online learning environment

Learning Chinese online provides flexibility. In 2008, the MyEChinese online teaching system was launched, designed to help students of Chinese language and culture all over the world through the "Easy Chinese" platform, offering them instruction and guidance, as well as support services for distance learners; providing services to Chinese-language teachers, teacher trainees, and volunteers; providing training and support for career access, career training, lifelong learning and teaching assistance; and providing virtual-community services to teachers and students of Chinese all over the world through "Easy Campus". In 2010, at the 10th International Conference on Chinese Language Teaching and the 5th Confucius Institute Conference, the teaching and resources in a variety of media specially developed for the global Confucius Institutes by MyEChinese, and based on the concept of ubiquitous learning (U-Learning), received high praise. The demonstration class was named "Innovative Demonstration Course" by the Hanban/Confucius Institute headquarters, and the "MyEChinese Chinese Distance Education and Publication System" was selected to be part of the first batch of demonstration programmes of the national news-publications industry in October 2016.

Since the launch of the "MyEChinese Cloud Teaching Platform", the CI-MSU has continually upgraded the platform based on feedback received from the Confucius Institute of Western Kentucky University and CIs in Indonesia, Hong Kong and Bangladesh. This includes user-centre modification, transcript optimisation and payment-function improvement. In addition, the OUC has a collection of 30,000 degree and non-degree education courses, 215,000 individual media resources, 400,000 minutes of video, and a 7,390 TB resource library, all of which Confucius Institute students have free access to.

Improving the quality of the teaching team

In order to enhance the skills of teachers sent overseas to teach Chinese and increase the number of teacher trainees, the OUC has set up classes on teaching Chinese as a foreign language. The participants include Confucius Institute teachers to be sent overseas, teacher trainees, and volunteer teachers from nine vocational colleges from across the country being sent to teach in Zambia. So far, 20 training sessions have been carried out through a combination of online and offline training, and have included nearly 300 people. 16 government-sponsored teachers were selected, and sent to teach at Confucius Institutes in the Americas and Europe, along with personnel to help them with management, including applying for local teacher-qualification certifications.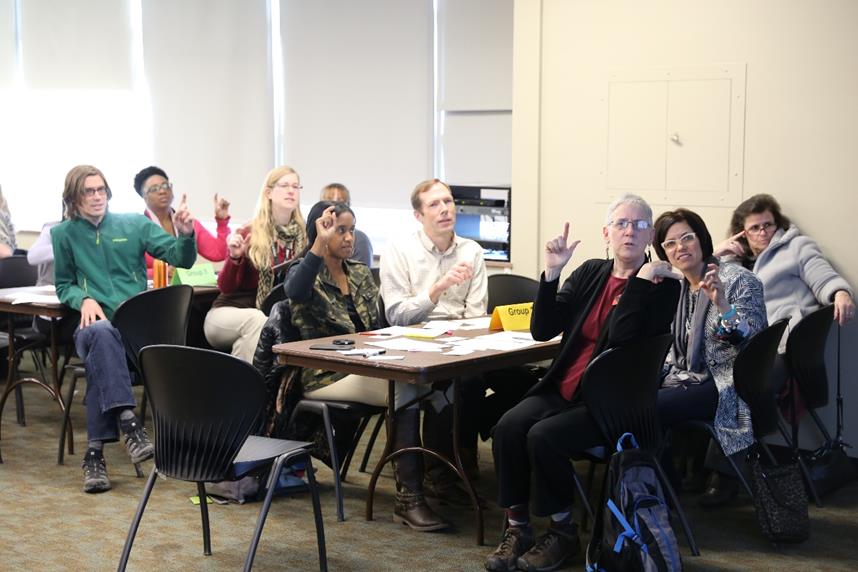 Teaching staff practising Chinese tones

In addition, 33 participants in the CI-MSU's teacher-training programme in the United States were sent to nine school districts in four states (Michigan, Indiana, Arizona, and Wyoming) to carry out immersion teaching of Chinese in primary and secondary schools, Chinese for primary schools, and classes in Chinese culture, as well as Chinese-language courses for secondary and high schools, to a total of 8,500 students.

Carrying out cultural activities

One of the goals of the CI-MSU is to entertain and educate through a variety of cultural activities. In 2017 alone, it launched 29 cultural events, including K-12 language and cultural activities, a Chinese culture summer camp, cultural pavilion tours, book donations, Spring Festival celebrations (a Temple Fair and a Spring Festival Gala), a dragon-boat race, and a Chinese film festival. More than 6,000 people participated in these.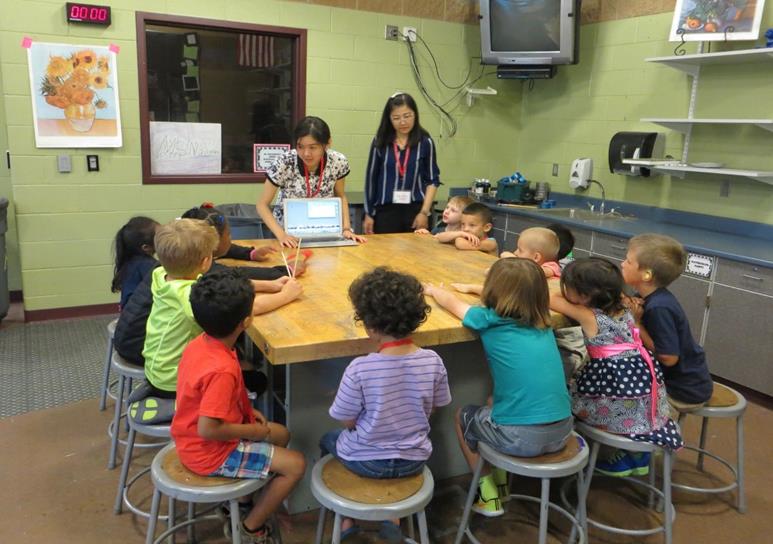 Chinese culture summer camp at the CI-MSU

Along with these activities, organised innovative programmes such as the Confucius Institute Open House, China Film Festival, and Chinese Language and Culture Workshop.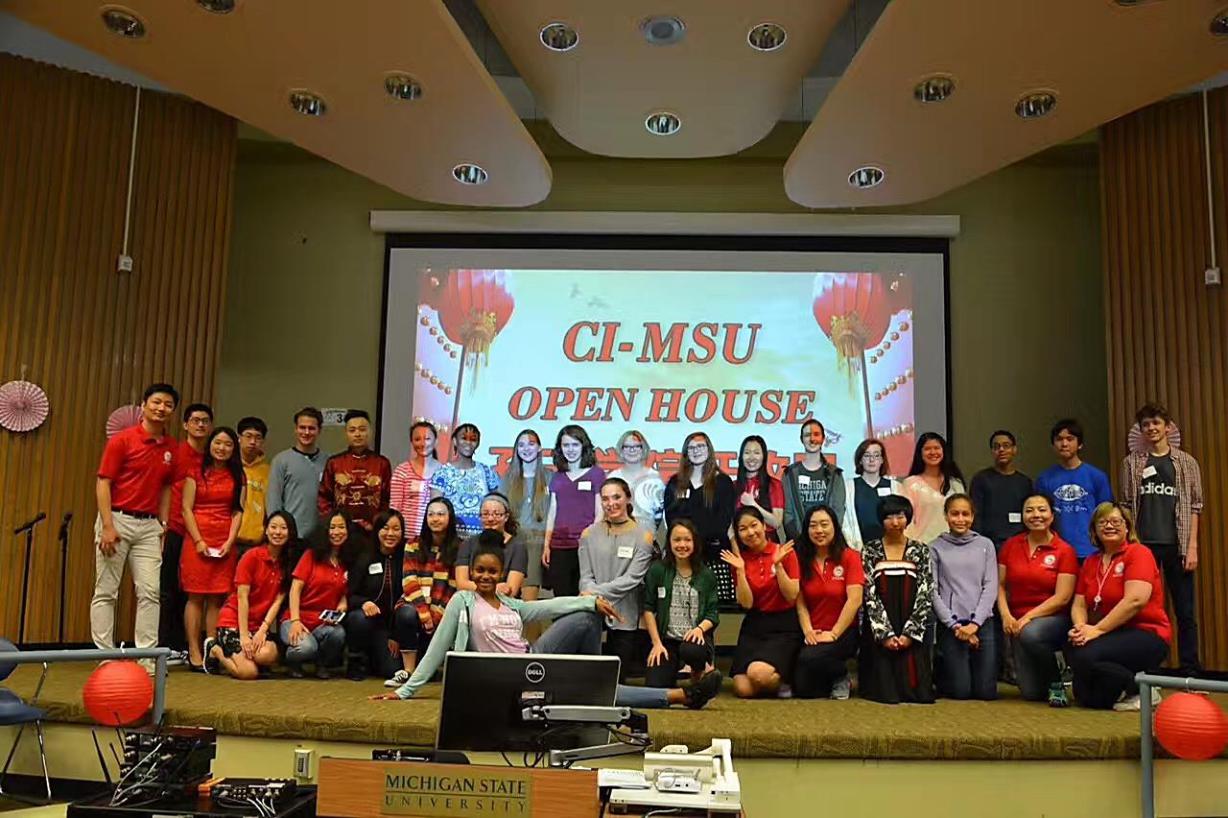 First CI Open House
Through a variety of activities and games, students and parents were immersed in Chinese culture, and online students were given opportunities to interact with their teachers. These activities not only enhanced the connections between teachers and students, but also provided opportunities for parents and students to learn about Chinese language and culture.

On the 27th and 28th of January and 11th of February, 2017, the CI-MSU helped organise three large-scale Year of the Rooster celebrations in the Lansing region, including a Spring Festival Temple Fair held together with the Chinese Students and Scholars Association of MSU; a Spring Festival Gala organised with the undergraduate student union; and a Spring Festival Carnival hosted with the Lansing Chinese Association. More than 3,000 students and other people participated in these.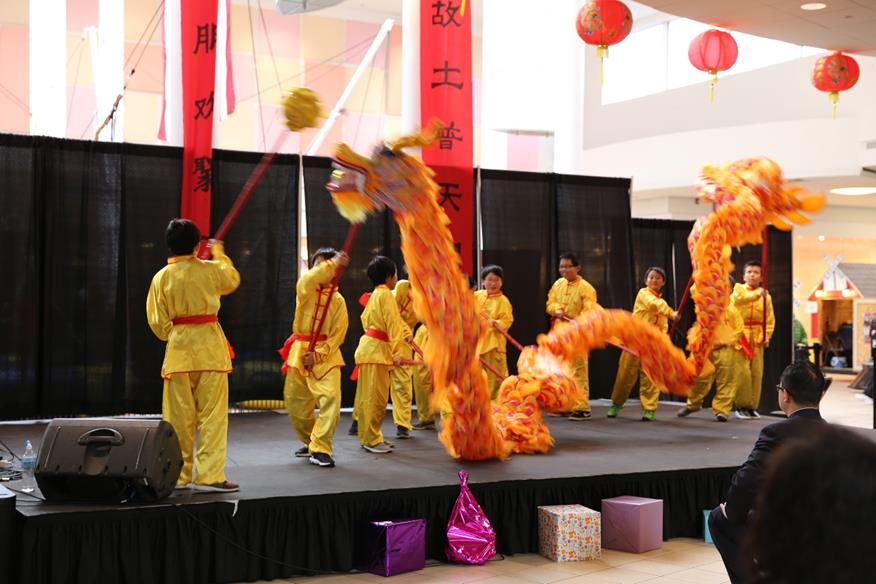 Dragon and lion dance show at the Spring Festival Carnival
In the future, the OUC will continue to explore new models of teaching Chinese language and culture overseas, enhance resources and teacher training, develop high-level online learning platforms, and provide technical support and services for Chinese international education at other Confucius Institutes.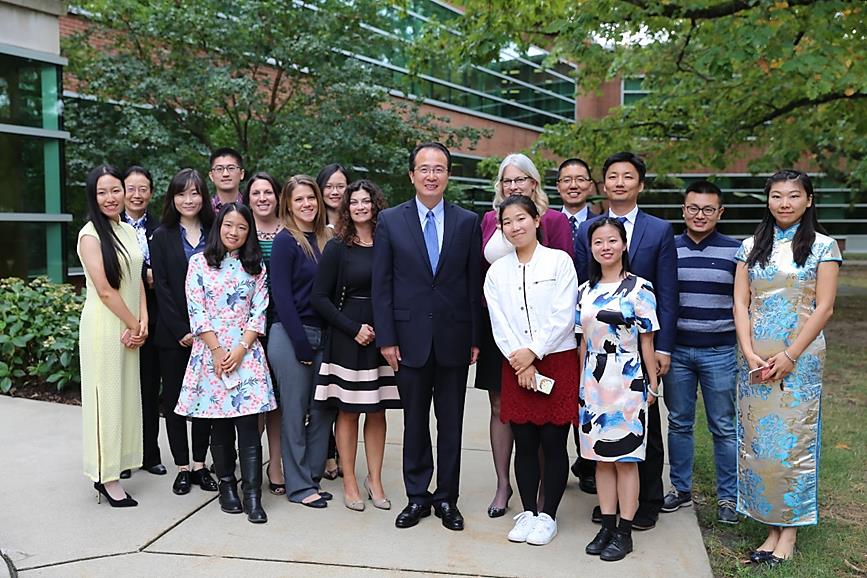 Hong Lei, Consul General of the Chinese Consulate in Chicago, and staff of the CI-MSU

By Wu Yaqi, OUC