Electoral units across the country held Party meetings to elect 2,287 delegates, in accordance with directives from the Central Committee of the Communist Party of China(CPC).
Among them was Zhang Yiping a Radio and Television University(RTVU) alumnus, grocery operations department team leader at the Zhapu Port Operations and Management Company in Jiaxing city, Zhejiang province, and 2002 graduate of Administrative Management from Pinghu School.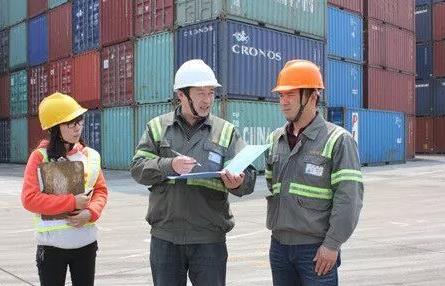 Zhang Yiping (Middle)
From Layman to Elite
In 1995, Zhang Yiping, after retiring from the army, went to work at Zhapu Port. He was hired in one of the most difficult positions, the tally clerk. Despite the fact that he was neither a professional, nor familiar with the business, he was not disheartened. He rose early, and worked late nights, assiduously learning port operations, production, management, and other professional skills, quickly rising to an elite status among the team at the warehouse. Zhang Yiping has served as the warehouse's team leader since 1996. In order to perform better as management, and add to his professional knowledge, Zhang enrolled in administrative studies at Pinghu School. In the process, he overcame time conflicts between work and studies, as well as the added difficulty of long distances between his work and the school. He always maintained a strong thirst for knowledge, and seriously studied management skills with an open mind, regularly asking for teachers' advice. He also applied what he learned to his work. Because of his professional proficiency and outstanding ability in management, Zhang Yiping served as a team leader on the machinery team, as director of scheduling, and as container operation team leader.
In 2012, in order to coordinate sea and river transport in northern Zhejiang province, Zhang Yiping joined related departments to conduct more than 10 research projects and hold numerous discussions. After market research, the company smoothly launched a docking facility at an inland terminal, which serviced a container route connecting Zhapu Port with inland waterways at Dongzhou. The terminal development featured handling technologies, equipment security, staff cohesion, and emergency plans. In 2013, in order to improve intelligent operation and automatic controls, a container Terminal Operation System (TOS system) was developed at Jiaxing port that integrates real-time controls, a standardized data processing center, new EDI processing monitoring, and intelligent statistical analysis. The information communications technological company responsible for the system's development worried about the fact that the Jiaxing port team was unable to adapt to the new system due to their lack of experience. Zhang Yiping, however, did not say anything. Instead, he led the team through preliminary design, functional optimisation, operations training, and simulation exercises to strengthen their skills. After more than half a year, the new TOS was successfully adopted, and operation efficiency returned to prior levels within one week of implementation. Normally, according to the information communication technology company, switching systems affects operational efficiency for at least a month. As such, Zhang Yiping's quick adaptability and professional ability, as well as his skilled team members, won praise from employees at the information company responsible for the development of the system.
The Spirit of a Model Worker
Production organisation informatisation, diversification of production and operations, and internal management have all helped realise quality improvement during the development of container business at Jiaxing port. Zhang Yiping's courage to bear responsibility and take initiative is embodied by his "Three Zeros" work ethic: "zero tolerance" in security, "zero breaks" in production organization, and "zero complaints" regarding freight quality. For twenty-two years, he has passed on the "red boat spirit" into a "model worker spirit", always adhered to the nature of keeping commonplace as a CPC member, and assisted with the big development of Jiaxing port again and again!
He remained modest when praised.
When given honourary titles, such as Jiaxing Model Worker, Moral Model of Jiaxing to Model Worker of Zhejiang, and then both National Model Worker and Delegate of the 19th CPC National Congress, Zhang Yiping modestly expressed that he was just an ordinary worker, forging ahead on the port's frontlines.
"I am very grateful for the skills I gained at the RTVU. The administrative management knowledge gained at the RTVU was a great help to my daily management work!" Zhang Yiping said that, after taking a management position, he felt it necessary to continue studying. If given the opportunity, he would still like to go back to the RTVU for further studies in order to further improve himself!
By Ding Lijuan, Zhejiang RTVU, www.china.org.cn