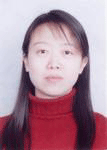 Wang Ran, is involved in the course construction of Computer Networks (undergraduate), responsible for teaching design and courseware design.
She was born in 1978 and graduated with a masters' degree from School of Computer Science of Beijing University of Posts and Telecommunications in 2006. She is employed as an assistant lecturer in the School of Engineering of the OUC.
She is a course leader for Network Information Edit, System Development Standard and Documentation, and Flash Animation.