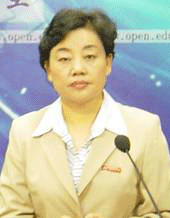 Wang Chunfeng, associate professor, is now the course leader of Data Structure (undergraduate) and Visual Basic Programming in the OUC.
She graduated from Tianjin University in February 1982, and got her master's degree in computer technology engineering from Beijing University of Technology. She is mainly engaged in the teaching, teaching management and research of subjects such as Visual Basic Programming, Management Information System, Data Structure, ERP Principles and Application, and is in charge of related work for the information system development and maintenance programmes (diploma).
In recent years, major teaching materials and teaching videos to which she has contributed include Visual Basic Programming, Experiments of Visual Basic Programming, Standards of System Development and Documentation, Case Study on Information System Development and others.
In scientific research, she was in charge of "Design and Practice of Multi-Media Teaching Materials Based on Task-Driven Teaching Methods", one of the projects included in the OUC 10th Five-Year Plan. She is now involved in the study and practice of related projects in the OUC 11th Five-Year Plan.