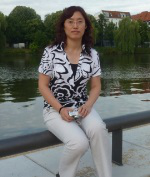 Wang Lan is chief lecturer and editor of the Mechatronics Interface Technology and Micro-computer Control and Interface Technology courses. Wang Lan graduated from Harbin Engineering University in 2004 and obtained her doctor's degree majoring in control theory and control engineering. She completed her research work in the postdoctoral research station of mechanical engineering at Harbin Engineering University in 2008 and became a doctoral supervisor for mechatronic engineering at the same university.
In recent years, Wang Lan has been engaged in research work in rehabilitative training robots, service robots and electromechanical control. In addition, she participated in the "Multifunctional Walker Aid Robot" research programme of the 863 Key Projects.
Wang Lan has led a number of research programmes, including projects supported by the Natural Science Foundation of Heilongjiang Province and the Harbin Foundation. She received the third provincial award for scientific and technological advancement on one occasion. Furthermore, she took part in two programmes supported by the National Natural Science Foundation of China: "Research on Key Technology of Mud-based Robots" and "Research on Key COBOT Technology ".
Wang Lan has published over 40 academic papers in state publications and international conferences, including 11 indexed by EI. She has authored three textbooks and instructed 15 postgraduate students.
In addition to having been the chief lecturer and editor of major courses at the OUC since 2003, Wang Lan has also participated in the co-construction of the Mechanism Design, Manufacturing and Automatization programme jointly developed by the OUC and Harbin Engineering University, making a great contribution to the development of engineering programmes and the expansion of the OUC's teaching resources.